Contribute
Your support helps us cover dance in New York City and beyond! Donate now.
Camille Boitel's L'IMMÉDIAT at NYU Skirball Center for the Performing Arts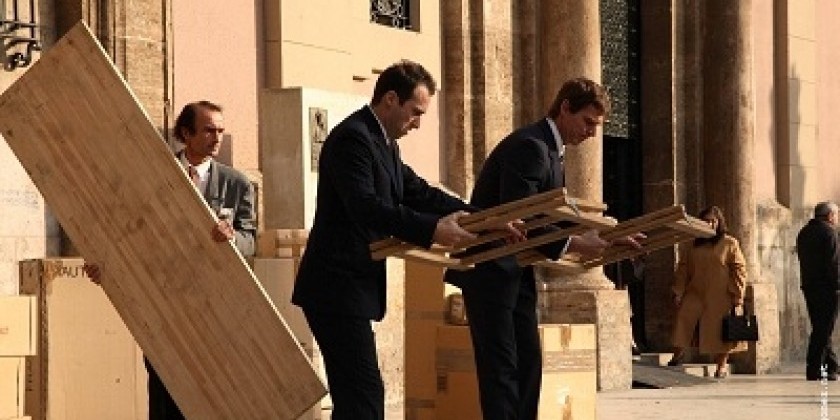 Company:
Camille Boitel
L'IMMÉDIAT (N.Y. Premiere)
L'Immédiate                                                                                                     March 9 – 13, 2016
On a stage crammed with machinery, objects, junk and bric-a-brac of every kind, L'Immédiat (2012) is a tumultuous visual commentary on the uncertainty and mayhem of modern times. In sixty minutes of beautifully orchestrated circus-theater chaos, seven young acrobat-adventurers defy a tsunami of unstable forces with optimism, dark humor and breathtaking physical skills.
Created by the award-winning performing artist Camille Boitel, an original member of the renowned mime and physical theater artist James Thierrée's Junebug Symphony Company, L'Immédiat has toured successfully throughout Europe and was awarded the Prix Mimos Prize at the 2010 Mimos international  festival of mime and physical theater. siparhasard.com/index.php?/les-spectacles/limmediat                                                                                                                                       
Dates/Times: March 9 – 12 at 8 pm; March 13 at 3 pm
Tickets: $35 – $65
2015-16 Dance, Opera and Contemporary Circus Performances
The 2015-16 season at NYU Skirball Center for the Performing Arts features a wide array of acclaimed dance companies and contemporary circus performances, showcasing and supporting diverse and eclectic talent from across the country around the world.
The season's dance programs include the launch of DANCE SPEAKS, a new annual series showcasing dance works that explore current issues that shape our lives and reflect our times.  The inaugural DANCE SPEAKS series will open with Spectrum Dance Theater's The Minstrel Show Revisited, a powerful dance/theater piece that takes a satirical look at the derogatory song and dance tradition of minstrelsy whole commenting on today's race-related events, and continues with a program celebrating the 25th Anniversary of the Americans with Disabilities Act, featuring performances by Heidi Latsky Dance and AXIS Dance Company.
This season, NYU Skirball welcomes the internationally acclaimed Pilobolus with the North American premiere of their groundbreaking multimedia event Shadowland, running for three weeks beginning November 20.
The season also includes three programs of contemporary circus. Following last season's sold-out festival, Circus Now: International Contemporary Circus Exposure 2016 will feature new critically-acclaimed international and American companies displaying their cutting edge circus artistry. Swedish duo Magmanus presents the N.Y. premiere of Attached, and the award-winning French performance company l'immédiat ends the circus season with a beautifully-orchestrated circus-theater work by the acclaimed performing artist Camille Boitel.
 
TICKETS
Tickets for the 2015-2016 season may be purchased online at www.nyuskirball.org or in person at the NYU Skirball Center Box Office: Tuesday-Saturday, 12:00–6:00 P.M. The NYU Skirball Center for the Performing Arts is located at 566 LaGuardia Place at Washington Square, New York, New York 10012.
 
ABOUT NYU SKIRBALL CENTER FOR THE PERFORMING ARTS
NYU Skirball Center for the Performing Arts is the premier venue for the presentation of cultural and performing arts events for New York University and lower Manhattan. Led by Executive Director Michael Harrington, the NYU Skirball mission is  to showcase and support diverse and eclectic talent from around the world, while cultivating audiences for live performance through deeper engagement opportunities. For more information visit:  www.nyuskirball.org.