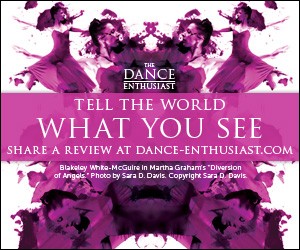 Carla Perlo Featured in Arts Club's Extraordinary Artists Series
Company:
Dance Place
Photo of Carla Perlo © Stan Barouh

Carla Perlo Featured in Arts Club's
Extraordinary Artists Series
Dance Place Founding Director Carla Perlo tells her story as an artist, administrator and nationally recognized presenter as part of the Evenings with Extraordinary Artists series presented by the Arts Club of Washington on Wednesday, October 23 from 6:30-8:30pm.

Join Carla for wine, hors d'oeuvres, memories, reflections and discussion about the role of the arts in community revitalization, education and the quality of life. Carla will share her personal journey as a young artist in search of a space to train, create work and perform. She'll chart how her career path led her from the inner city of Cincinnati, back to her home in Washington, DC, to directing Dance Place in it's original Adams Morgan location and finally to Brookland.  The evening will include video footage of dancers from 1980-1986 and many nationally recognized artists that performed at Dance Place early in their careers such as Garth Fagan, Bebe Miller, David Rouseve, Victoria Marks, Eiko & Koma, Reggie Wilson, and Ron Brown. Followed by an open discussion about where the field of dance is going today and a preview of our upcoming season.

 
WHAT: Evenings with Extraordinary Artists featuring Carla Perlo

WHEN: Wednesday, October 23 from 6:30-8:30pm

WHERE: Arts Club of Washington, 2017 I St NW, Washington, DC 20006

TICKETS: $20 (includes wine and hors d'oeuvres)

To purchase tickets call 202.331.7282 ext 3



About Dance Place:
Founded in 1980, Dance Place builds a community of artists, audiences, and students through high quality performances, commissions, training and educational program. We are committed to enriching the field of dance locally, nationally and internationally. Our thriving arts campus serves as an anchor in the development of our Brookland neighborhood in Washington, DC.