Carmen de Lavallade's "As I Remember It" makes NY Premiere at Baryshnikov Arts Center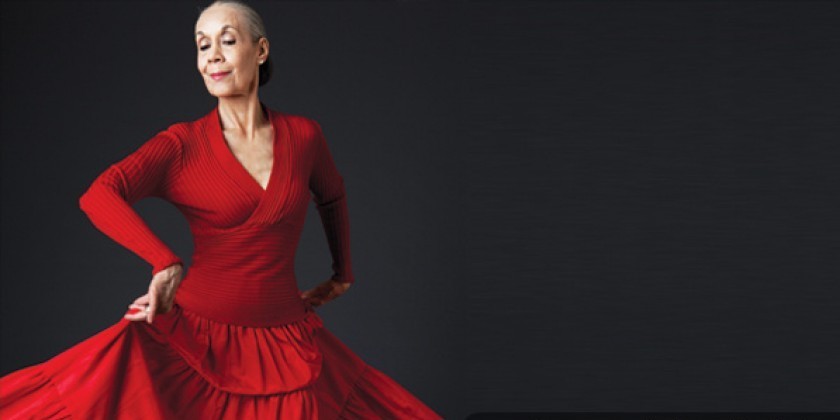 Company:
Carmen de Lavallade
BARYSHNIKOV ARTS CENTER PRESENTS THE NEW YORK PREMIERE OF CARMEN DE LAVALLADE'S AS I REMEMBER IT
February 19—25, 2015
New York, NY — As part its 10th Anniversary Spring 2015 season, Baryshnikov Arts Center (BAC) proudly presents the New York Premiere of Carmen de Lavallade's As I Remember It, February 19—21 and 24 at 8PM, and February 25 at 1PM in the Jerome Robbins Theater. This intimate autobiographical performance combines movement and storytelling to weave a poignant memoir of Carmen de Lavallade's extraordinary career, highlighting the legendary artist's singular place in cultural history.
As I Remember It is an original solo work tracing Carmen de Lavallade's unparalleled six decades in dance, theater, film, and television, beginning in her hometown of Los Angeles with Lester Horton Dance Theater. Ms. de Lavallade, now age 83, recounts through movement, film, and spoken word, moments from her life as one of America's most venerable performers, working with luminaries Lena Horne, Josephine Baker, Harry Belafonte, and Alvin Ailey, among others. Her remarkable career included appearances on Broadway, such as Truman Capote's House of Flowers; onscreen in Carmen Jones and Odds Against Tomorrow, among other films; and on stage with American Ballet Theatre, Metropolitan Opera, and Yale Repertory Theatre.
In As I Remember It, large-scale projections of her younger self and some of her significant collaborators accompany Ms. de Lavallade on stage. Following the work's World Premiere at Jacob's Pillow Dance Festival in June 2014, dance writer Deborah Jowitt wrote: "It's enthralling to see de Lavallade fall in with movements she sees on screen and hint at some steps she performed—as if they're flickering through her body—and then deliver certain gestures with full power."
As I Remember It was developed by Ms. de Lavallade during two residencies at BAC (2013 and 2014), in collaboration with director Joe Grifasi (One Slight Hitch, The 39 Steps, Heaven Can Wait, and more) and co-writer/dramaturg Talvin Wilks, who has worked with Ping Chong and Bebe Miller, among others.
The New York engagement at BAC represents a homecoming for Ms. de Lavallade in the middle of a national tour of As I Remember It, which is dedicated to the late Geoffrey Holder, her husband and sometimes stage and screen partner. This presentation of As I Remember It was made possible by the New England Foundation for the Arts' National Dance Project. Generous support is provided by Jeremy Smith. 

Performance and Ticket Information
Carmen de Lavallade
As I Remember It (N.Y. Premiere)
February 19—21, Thursday—Saturday, and February 24, Tuesday at 8PM
February 25, Wednesday at 1PM
Baryshnikov Arts Center, Jerome Robbins Theater (450 W. 37th Street)
Tickets: $30 (Orchestra) and $25 (Balcony), can be purchased online or by phone: bacnyc.org / 866 811 4111
Carmen de Lavallade began her performance career with the Lester Horton Dance Theater—the first multi-race dance troupe in the United States. She persuaded a neighborhood friend named Alvin Ailey to join her in studying with Horton. While in Los Angeles, Lena Horne introduced the then 17-year-old de Lavallade to the filmmakers at 20th Century Fox where she appeared in four movies, including Carmen Jones (1954) with Dorothy Dandridge and Odds Against Tomorrow (1959) with Harry Belafonte. During the filming of Carmen Jones, she met Herbert Ross, who asked her to appear as a dancer in the Broadway production of House of Flowers. Her dance career includes ballets created for her by Lester Horton, Geoffrey Holder, Alvin Ailey, Glen Tetley, John Butler and Agnes de Mille. She succeeded her cousin Janet Collins as principal dancer with the Metropolitan Opera, becoming the second black dancer to perform on that stage. She was a guest artist with the American Ballet Theater. Ms. de Lavallade has choreographed for the Dance Theatre of Harlem, Philadanco, the Alvin Ailey American Dance Theater, and the productions of Porgy and Bess and Die Meistersinger at the Metropolitan Opera. Ms. de Lavallade also has had an extensive acting career as a member of the Yale Repertory Theatre and the American Repertory Theatre at Harvard, performing in numerous Off-Broadway productions, and as an instructor at the Yale School of Drama, where she taught many up and coming "super stars," including Meryl Streep and Henry Winkler. Her television and film credits include The Cosby Show, Sherri with Sherri Shepherd, John Sayles' Lone Star, and Big Daddy with Adam Sandler. Ms. de Lavallade and her husband, Geoffrey Holder, were the subjects of the film Carmen & Geoffrey (2005), which chronicled their sixty-year partnership and artistic legacy. Her most recent theatrical work includes Step-Mother by Ruby Dee (2009), Post Black by Regina Taylor (2011), and the Broadway revival of A Streetcar Named Desire (2012). She is also a founding member of the dance company Paradigm. Lauded by numerous institutions, Ms. de Lavallade received the Dance Magazine Award (1964), an honorary doctorate of Fine Arts from the Juilliard School (2007), the Duke Ellington Fellowship Award and Dance USA Award (2010). In 1999 the Dance Heritage Coalition named her one of America's "100 Irreplaceable Dance Treasures."