Casebolt and Smith's Constant Conversation at 92Y Harkness Dance Festival‏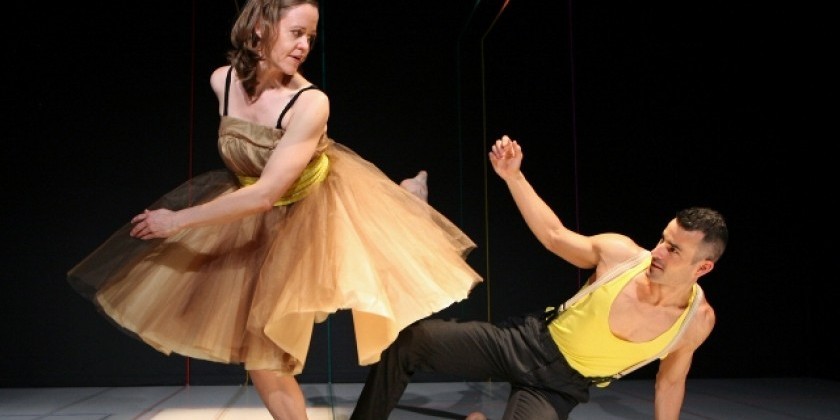 Company:
92Y Harkness Dance Festival‏
CASEBOLT AND SMITH'S O(H)
AT 92Y HARKNESS DANCE FESTIVAL
February 28 - March 2
NEW YORK, January 23—Liz Casebolt and Joel Smith do more than dance in O(h), which they'll perform at the 92nd Street Y Harkness Dance Festival from February 28 through March 2. They talk, they sing and they joke, all the while exploring how choreographers create dances. That's part of why Festival curator Doug Varone asked casebolt and smith, who are based in Los Angeles, to bring the dance here - O(h) seeks to demystify dance-making, just as the Stripped/Dressed format of the Festival does.
Part of that demystification comes through humor. "When we see dance shows together," Smith notes, "I often think, 'Why are they taking themselves so seriously?'" O(h) is a fast-paced work laden with pop culture references and Casebolt and Smith talk and joke throughout the dance. At the same time, they tackle serious issues, like the expectations created by gender and sexuality, appropriation in dance, or how artists make decisions about what to do. The talking while dancing emerged in the studio. When they discussed not performing a particular dance because it seemed too romantic, they decided to address the issue head-on and incorporate the conversation into the dance.
So how do you "strip" a work that already deconstructs dance? Casebolt and Smith plan to show audiences the strategies behind incorporating text in their dances – "how we decide to speak here and not there, or be more conversational here and use theatrical speech there," Smith explains. 
O(h) has appealed to audiences who don't normally go to dance, as well as to people who already love it and appreciate the warmth and insight casebolt and smith bring to the stage. In Los Angeles, where the company is based, the dance ran for six weeks in a theatrical venue (rather than a "modern dance" one). Although O(h) premiered in New York in 2010, the work has since doubled in length and hasn't been seen here in its current form.
WHAT:            92nd Street Y Harkness Dance Festival: Stripped/Dressed
                        Week Two: casebolt and smith: O(h)
WHEN:            Fri, Feb 28 & Sat, Mar 1 at 8 pm; Sun, Mar 2 at 3 pm
WHERE:         92nd Street Y, 1395 Lexington Ave, New York, NY, 10128
TICKETS:       $25 at 92Y.org or 212.415.5500
Upcoming performances at 92nd Street Y Harkness Dance Festival:
WEEK ONE
NORA CHIPAUMIRE: Rite riot
Fri, Feb 21 & Sat, Feb 22 at 8 pm; Sun, Feb 23 at 3 pm
WEEK THREE
NETTA YERUSHALMY: WORK-IN-PROGRESS
Fri, Mar 7 & Sat, Mar 8 at 8 pm; Sun, Mar 9 at 3 pm
WEEK FOUR
KYLE ABRAHAM / ABRAHAM.IN.MOTION: THE RADIO SHOW
Fri, Mar 14 & Sat, Mar 15 at 8 pm; Sun, Mar 16 at 3 pm
WEEK FIVE
DAVID DORFMAN DANCE: LIGHTBULB THEORY and IMPENDING JOY
Fri, Mar 21 & Sat, Mar 22 at 8 pm; Sun, Mar 23 at 3 pm
About 92nd Street Y Harkness Dance Center
In 1935, what became 92nd Street Y's Harkness Dance Center provided a home to the fledgling American modern dance movement and its leader, Martha Graham. In the decades that followed, every great American dancer and choreographer – visionaries including Alvin Ailey, Merce Cunningham, Jerome Robbins, Agnes de Mille, Robert Joffrey and Donald McKayle – spent time at the Y, building the foundation for modern dance as we know it. Through the generous support of the Harkness Foundation for Dance, the Dance Center continues this proud tradition of dance teaching, creation and performance, serving the professional world and the community at large. Technique classes range from ballet and modern dance to hip-hop and Flamenco. Rounding out the program are several performance programs including the annual 92nd Street Y Harkness Dance Festival; a professional development program for dance educators; and several teen dance troupes. For more information, please visit www.92Y.org/dance.