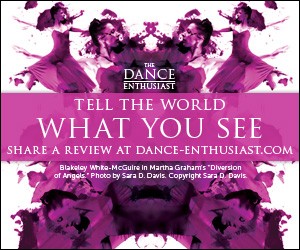 Cassations
Danspace Project Presents DOUGLAS DUNN & DANCERS
Danspace Project Presents
DOUGLAS DUNN & DANCERS
Cassations
February 7-9, 2013 [Thu-Sat] 8PM
FOR IMMEDIATE RELEASE, New York, NY, January 29, 2013
- Celebrated choreographer Douglas Dunn
remounts his latest work for the sanctuary at St. Mark's Church in-the-Bowery. Dunn's history with Danspace Project spans nearly 40 years. A former member of Merce Cunningham Dance Company and Grand Union, Dunn formed his company in 1976 and has gone on to receive recognition for his choreography including commissions worldwide, a Bessie Award, and the insignia of the French Ordre des Arts et Lettres.
In a New York Times
review, Claudia La Rocco described Cassations
as "a marvelously wrought world, an imaginative feast that mashes up court dances and images of creepy crawlies, twining the ridiculous and the sublime. It is structured and poetic and distinctive, performed by a fiercely talented cast." In Cassations,
inspired in part by Carol Gilligan's The Deepening Darkness and Wendell Berry's The Unsettling of America, operatic arias provide a base for a suite of dances that bring together and separate men and women in changing configurations.

A cassation is a musical form of the 18th century. The word also refers to the ability of one court of law to nullify the decision of another. "

This esoteric definition fits well with my inner evolution regarding format," explains Dunn in a recent Brooklyn Rail
interview.
Longtime collaborator Mimi Gross provides set and costumes and Dunn's cast of dancers, "all of them gifted and wonderfully individual," says Deborah Jowitt (DanceBeat), includes Miguel Anaya, Kira Blazek, Grazia Della-Terza, Douglas Dunn, Liz Filbrun, Gabriella Hiatt, Gwyneth Jones, Kihwa Kim, Emily Pope-Blackman, Jin Ju Song-Begin, Jake Szczypek, Timothy Emmett Lee Ward, Christopher Williams.

Lighting Designer Kathy Kaufmann
Douglas Dunn
first presented dancing -- One Thing Leads to Another, a collaboration with Sara Rudner -- in Laura Dean's loft on Crosby Street in Manhattan in 1971. After a number of years of solo and duet work, especially Gestures in Red, an hour-long solo presented in numerous US and European venues, Douglas Dunn & Dancers took shape. 1978 saw the first of five invitations to the Autumn Festival in Paris. In 1980 the Autumn Festival and the Paris Opera Ballet commissioned Dunn to choreograph Stravinsky's Pulcinella, a forty-minute ballet for fifteen dancers. With touring to France, Italy, Germany, Poland, England, Australia, Sweden, Portugal, Holland, Brazil and Switzerland, the company also presents annual seasons in New York's downtown venues: The Joyce Theater, Dance Theater Workshop, The Kitchen, Danspace Project/St. Mark's Church, PS 122 and Dance New Amsterdam. In 2009, under the auspices of the 92nd Street Y Harkness Dance Program, the company danced at the Ailey Citicorp Theater in midtown, featuring a revival of Pulcinella set on New York modern dancers. Over the last few years the company has also been hosting Salon Events at the Douglas Dunn Studio, showing work by Dunn and others. Dunn has been commissioned to create dances for the Groupe de Recherche Choreographique de l'Opera de Paris, the Grand Ballet of Bordeaux, New Dance Ensemble of Minneapolis, Repertory Dance Theater of Salt Lake City, the Ballet Theatre Francais de Nancy, the Walker Art Center, WGBH-TV (twice, each resulting in a half-hour video-dance), the Perth Institute of Contemporary Art, and Portland State University, among others. He has been guest artist at major institutions across the United States and abroad and has received fellowships from the National Endowment for the Arts, the New York State Council on the Arts, the John Simon Guggenheim Memorial Foundation, the New York Foundation for the Arts, the Lila Wallace-Reader's Digest Fund, the Foundation for Contemporary Performance Arts, and the Creative Arts Public Service Program, among others. Dunn's commissions for site specific work include the Institute for Contemporary Art in Boston (Second Mesa), the Lower Manhattan Cultural Council (Multiple Undo), Dancing in the Streets (Glass Sea), and the Ancram Opera House in Ancram, NY (Informations). A graduate of Princeton University (AB in Art History) who took his first class at the Princeton Ballet Society in 1963, and studied as a scholarship student with Ted Shawn at Jacob's Pillow the same year, Dunn began his career performing with the Merce Cunningham Dance Company and was a founding member of the groundbreaking improvisatory group Grand Union. Known for his artistic collaborations, Dunn has worked on film and video-dances with Charles Atlas and Rudy Burckhardt; with artists (Mimi Gross, David Ireland, Uli Gassmann, Jeffrey Schiff, Christian Jaccard), composers (Joshua Fried, Bill Cole, Eliane Radigue, Alvin Lucier, Robert Ashley, Linda Fisher, John Driscoll, Ron Kuivila, Tali Roth, Marina Rosenfeld, Steve Lacy), poets (Anne Waldman, Reed Bye), playwright Jim Neu and lighting designer Carol Mullins. In 1998, Dunn received a New York Dance and Performance Award, a "Bessie," for sustained achievement. In 2008, the French Government presented Dunn with the insignia of the French Ordre des Arts et des Lettres, inducting him as "Chevalier," one who has "significantly contributed to the enrichment of the French cultural inheritance." Further information on Douglas Dunn and the company is available at
www.DouglasDunnDance.com
.
LOCATION: Unless otherwise noted, all performances and events take place at Danspace Project in St. Mark's Church in-the-Bowery, 131 East 10th Street, New York, NY 10003.
TICKETS
: Unless otherwise noted, tickets are available for purchase at
www.danspaceproject.org
or by phone at (866) 811-4111.