Cecilia Bengolea and François Chaignaud at The Kitchen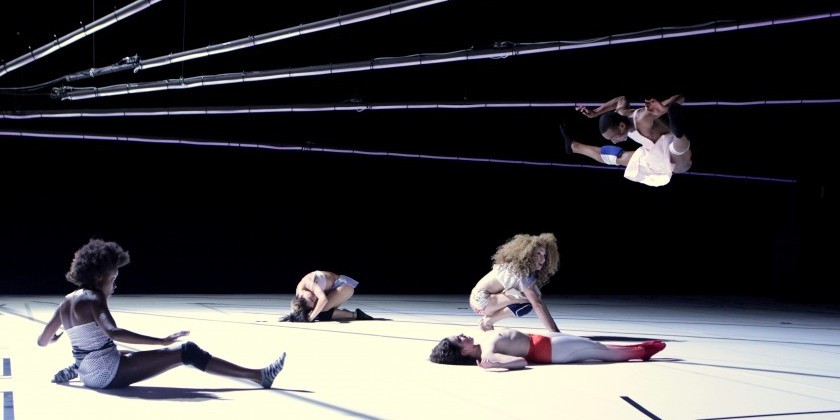 Company:
The Kitchen
Image © Jean-Marie Legros


THE KITCHEN PRESENTS CHOREOGRAPHERS CECILIA BENGOLEA AND FRANÇOIS CHAIRGNAUD, MAY 3–5
Choreographers Mine Rituals of Club Dancing in U.S. Premiere Presented As Part of DANSE: A French-American Festival of Performance and Ideas

altered natives' Say Yes to Another Excess – TWERK 
Cecilia Bengolea and François Chaignaud

The Kitchen (512 W. 19th Street, Manhattan)
May 3 – 5 at 8pm; $20 ($15 students, seniors)
thekitchen.org; 212.255.5793 x11

As part of DANSE: A French-American Festival of Performance and Ideas, The Kitchen will present Cecilia Bengolea and François Chaignaud's altered natives' Say Yes to Another Excess – TWERK on May 3–5 at 8pm. Choreographer-dancers Bengolea and Chaignaud continue their reflection on popular dance forms, drawing from extensive involvement in the dance-club scenes. In this U.S. premiere, the duo—along with dancers Alex Mugler, Ana Pi and Elisa Yvelin—share their choreographic backgrounds, ranging from Graham technique to house dancing to movement inspired by Grime, the electro music from London's East End around which their latest exploration centers. Featuring DJs Elijah and Skilliam of the London label Butterz, the artists embark on a trans-genre journey, challenging the expressive, poetic and discursive powers of dance.

Performances of altered natives' Say Yes to Another Excess – TWERK will take place May 3–5 at 8pm at The Kitchen. The Kitchen is located at 512 West 19th Street in Manhattan. Tickets, which are $20 ($15 students, seniors), are available online at thekitchen.org and by phone at 212.255.5793 x11.

Cecilia Bengolea and François Chaignaud founded the company Vlovajob Pru in 2008, which grew quickly after the premiere of their work Pâquerette. Five more pieces followed. Through these works Bengolea and Chaignaud have developed their primary themes: confronting dance with body modification mechanisms, engraving contemporary writing into a polyphonic dance history, investigating the erotic power of the public body, as well as locating identity and aesthetic urgency in urban dance forms. Each project has also been an opportunity to forge artistic collaborations with diverse personalities in France and abroad. In addition to The Kitchen, the Company has presented its work at the Avignon Festival, Paris Automne Festival, Impulstanz in Vienna, and at Tanz im August in Berlin, among others.

Cecilia Bengolea was born in Argentina and studied modern-jazz, classical and anthropological dance in Buenos Aires, followed by studies at the University of History of Art in Buenos Aires, 1998-2001. Since 2001, she has been working in Europe as a dancer, writer, choreographer and singer. In 2004, she attended ex.er.c.e, Centre Chorégraphique de Montpellier. Among others, Bengolea has worked as an interpreter or in collaboration with Joao Fiadeiro, Claudia Triozzi, Edouard Leve, Marc Tompkins, Tiago Guedes, and Yves-Nöel Genod, collaborated with Joris Lacoste, Alain Buffard, Alice Chauchat, and Mathilde Monnier. Since 2004, she has collaborated with François Chaignaud in several projects; Pâquerette, Sylphides, Castor et Pollux, Free dance of François Malkovski.  Francois Chaignaud is choreographer based in France. He graduated from the Conservatoire National Supérieur de Musique et de Danse (CNSM) in Paris in 2002. Since then he has collaborated as a dancer with various choreographers such as Boris Chamatz, Emmanuelle Huynh, Gilles Jobin, Tiago Guedes and Alain Buffard. Since 2004, he has shown several performances and concerts on different stages in France and Europe : Pompè – procession urbaine (2004), He's one that goes To sea for nothing but to make him sick (2005), La Culture des Individu.e.s (2006), Aussi bien que ton coeur, ouvre moi les genoux (2008), The Clodd and the pebble (2008). Since 2005, he has collaborated with Cecilia Bengolea. He published a book about French early feminism called L'Affaire Berger-Levrault – les féminismes à l'épreuve (PUR, Rennes, 2009). Learn more about him on his blog: http://reliefsouterrain.blogspot.com/.


Funding Credits

The performance altered natives' Say Yes to Another Excess –TWERK is part of DANSE: A French-American Festival of Performance and Ideas, New York City, May 1-18, 2014, organized by the Cultural Services of the French Embassy in the United States with additional support from the French Ministry of Culture and Communication, Institut français, Région Poitou-Charentes, and FUSED, a program from New England Foundation for the Arts's National Dance Project in partnership with FACE and the Cultural Services of the French Embassy.

Dance programming at The Kitchen are made possible with support from Mertz Gilmore Foundation, The Jerome Robbins Foundation, and The Harkness Foundation for Dance.


About The Kitchen 

The Kitchen is one of New York City's most forward-looking nonprofit spaces, showing innovative work by emerging and established artists across disciplines. Our programs range from dance, music, performance, and theater to video, film, and art, in addition to literary events, artists' talks, and lecture series. Since its inception in 1971, The Kitchen has been a powerful force in shaping the cultural landscape of this country, and has helped launch the careers of many artists who have gone on to worldwide prominence.
 
Facebook: facebook.com/TheKitchenNYC
Twitter: twitter.com/TheKitchen_NYC
Instagram: Instagram.com/TheKitchen_NYC