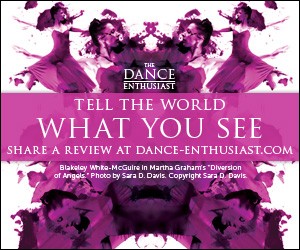 Charlotte Vincent is back with a jaw-dropping American Premiere!‏
Company:
Peak Performances

MOTHERLAND
Oct. 17 and 18 – 7:30 p.m.
Oct. 19 – 8:00 p.m.
Oct. 20 – 3:00 p.m.
Alexander Kasser Theater
All Seats - $20
Motherland is a funny, moving show about having it all. Appealing to both sexes through its potent blend of live music, theatre and dance, Motherland is a call to arms: one that raises a finger (guess which one) at the shallow hypocrisies of our time and asks 'where are we now?'
BONUS EVENT! – A Community Conversation with Charlotte Vincent and Liz Lerman will take place on Oct. 19 – immediately after the performance. Liz Lerman, 2002 MacArthur Fellow and choreographer, will lead an interactive discussion with Charlotte Vincent, Artistic Director of Vincent Dance Theatre. Lerman will facilitate the dialogue using her Critical Response Process for constructive feedback and two-way questions between audience and artist.
Motherland is commissioned by Brighton Dome and Festival, Corn Exchange Newbury, South East Dance, The Point Eastleigh and Peak Performances @Montclair State University, New Jersey. Charlotte Vincent is Resident Artist at South East Dance. VDT is Associate Company at Brighton Dome. VDT and Yorkshire Dance are Artistic Partners. VDT is a National Portfolio Organization, funded by Arts Council England.