Chengwu Guo announced as The Australian Ballet's latest principal artist‏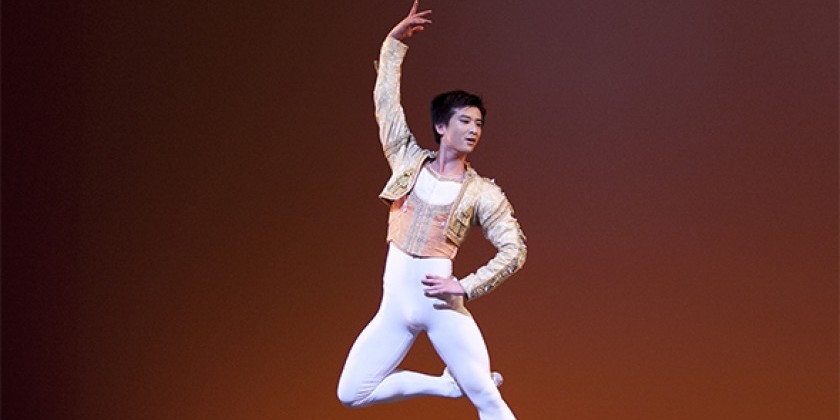 Company:
The Australian Ballet
Chengwu Guo in Don Quixote. Photo by Lisa Tomasetti


Chengwu Guo rockets to the top of The Australian Ballet
Acclaimed dancer announced as the company's newest principal artist
One of The Australian Ballet's most exciting young stars, Chengwu Guo (pronounced Cheng-woo Gwa), has been promoted to the company's highest rank of principal artist.

Artistic Director David McAllister made the surprise announcement onstage during the curtain call of tonight's closing performance of the La Sylphide season at the Sydney Opera House. Guo's proud parents were secretly flown in from Melbourne to experience this milestone moment in their son's ballet career.

Earlier in the evening, Principal Artist Olivia Bell took her final curtsey to a rapturous standing ovation. She has retired from The Australian Ballet after an illustrious career spanning 18 years.

McAllister said Chengwu was a dancer to watch from the instant he joined the company in 2008.

"Chengwu has had a remarkable rise to the top of the company in just five short years. He has stage charisma in spades, an almost pyrotechnic technique that lights up any role he takes on, and can match any dancer in the world for showmanship and dazzling moves." McAllister said.

"This is the perfect time for Chengwu to join our wonderful group of principal artists. I'm sure his dancing will continue to excite audiences as much it does all of us who work with him every day."

At age 24, Chengwu becomes the youngest of eleven principal artists at The Australian Ballet. This is his second promotion this year, having been appointed a senior artist in April.

Chengwu has found success at every turn since leaving the Jiangxi province of southern China at age eleven to begin ballet training at Beijing Dance Academy. He won the prestigious Prix de Lausanne in 2006; his prize was a dance-training scholarship, which he chose to undertake at The Australian Ballet School. 

In 2009 Chengwu won the Chinese version of So You Think You Can Dance in front of a TV audience of 80 million. That same year he appeared as the teenage Li Cunxin in the smash-hit film Mao's Last Dancer.

In 2011 Chengwu made history when he was the first male dancer to win both the Telstra Ballet Dancer Award and its public-voted equivalent, the Telstra People's Choice.

Chengwu is a dancer known for his astounding technical ability, with audiences regularly breaking into cheers and applause at the sight of his spectacular leaps and speed-of-light pirouettes. His breakthrough role came in 2009 as Kostchei in Graeme Murphy's Firebird. Since then, his fanbase has grown through electrifying performances as Basilio in Rudolf Nureyev's  Don Quixote and Mercutio in Graeme Murphy's  Romeo & Juliet.
Those keen to see Chengwu in action can do so during the company's 2014 season. Tickets and casting details are available through australianballet.com.au

Broadcast quality footage of the onstage announcement is available on request. To view Chengwu Guo's biography, click here.
What the critics had to say about Chengwu:

"rare and delightful charisma, physical charm and character"
Crikey on Don Quixote, 2013

"explosive energy"
The Age on Telstra Ballet in Bowl, 2013

"even those with only the most rudimentary knowledge of ballet, quickly realised that they were watching an extraordinary performance from a remarkable young dancer"
Canberra Critics Circle on Telstra Ballet in the Park, 2012

"Chengwu Guo impressed with his commitment and energy"
Dance Australia on The Narrative of Nothing, 2012

"a quick-fire performer who uses the language of dance to tell perfectly executed jokes"
Australian Stage Online on Chengwu Guo as Mercutio in Romeo & Juliet, 2011

"mention must be made to soloist Chengwu Guo, whose gravity-defying solo in Act II had the audience hollering for more"
The Daily Telegraph on The Merry Widow, 2011

"Chengwu Guo stands out with his impressive leaps and turns"
The Sun-Herald on The Merry Widow, 2011

"The evil Kostchei is danced with great conviction by Chengwu Guo, who shows charismatic acting skills and superb acrobatics"
Sunday Herald Sun on Firebird, 2009

"Chengwu Guo's slithering, athletic Kostchei must surely soon lift him out of the corps de ballet"
The Australian on Firebird, 2009