Contribute
Your support helps us cover dance in New York City and beyond! Donate now.
Cherylyn Lavagnino Dance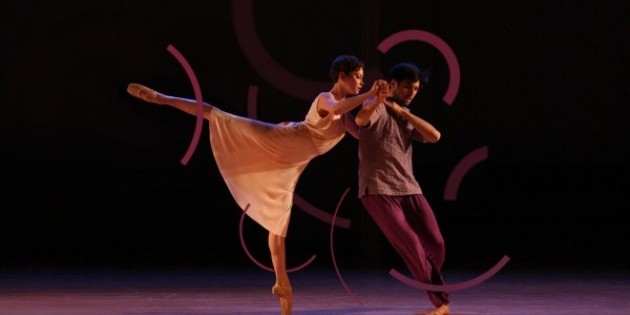 Company:
Cherylyn Lavagnino Dance
Cherylyn Lavagnino Dance presents its 8th annual season, including the World Premiere of "Body Talk", on June 1 – 2, 2011 (Wednesday and Thursday at 7:30pm) at the 5th Floor Theater at NYU Tisch Department of Dance, 111 Second Avenue, between East 6th and 7th Streets, NYC. Tickets are 8 (2 for students and FREE for current NYU Tisch students), and will be on sale at 800-838-3006, www.brownpapertickets.com beginning April 1, 2011. Appropriate for all ages.
The program features the World Premiere of "Body Talk", a collaboration with composer / performer Guillermo Brown, who has created an original score for the piece and whose music is influenced by rock, electronica, free jazz and hip hop. The new fusion ballet echoes the current culture's obsession with video games and the pixilated visual quality that creates broken images. In "Will" (2009), featuring the World Premiere of a new score, a double duet employs raw energy to display a cool, internally driven performance quality that shows detachment and an impasse in communication. Recently Ms. Lavagnino returned to this material with long-time collaborator, violinist and composer Jane Chung, who created the new score. Ms. Chung will perform onstage on electric violin with amplification. Drawn from Ms. Lavagnino's emotional response to photos of American mistreatment of Iraqi prisoners, "Snapshots" (2004) deals with shattered notions of humanity and assumptions about the inherent benevolence of women. The percussion score by composer Kyle Olson was commissioned by Ms. Lavagnino in 2010 to heighten the existing choreography's emotional tenor and he will perform live onstage. Inspired by the distortion and beauty of Edward Degas' ballet sculptures, "Ménage" (2010) stresses the exaggeration of hips and rib cage in contrast to the organized vertical beauty of traditional ballet technique and features an original score by co-composers Scott Killian, Jane Chung and Jacob Lawson.
Funds supporting the performance of live music and composer's commission for this performance were provided by the American Music Center Live Music for Dance Program.