Choreographer Liz Gerring to receive $25,000 Jacob's Pillow Dance Award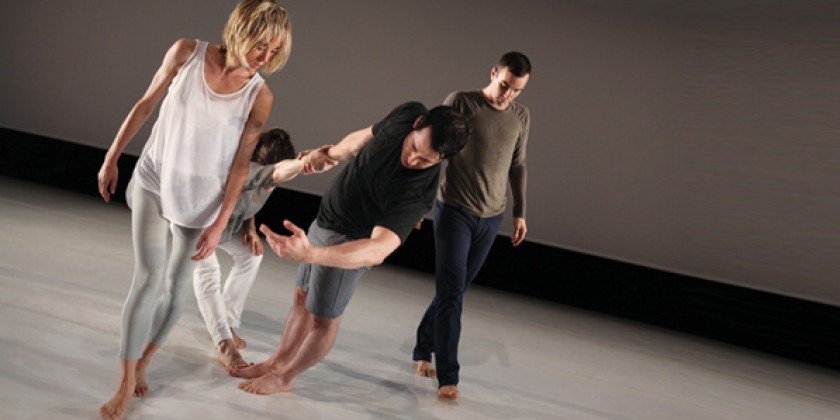 Company:
Jacob's Pillow Dance
2015 JACOB'S PILLOW DANCE AWARD GOES TO
ARTIST LIZ GERRING
CHOREOGRAPHER AND ARTISTIC DIRECTOR OF LIZ GERRING DANCE COMPANY
AWARD CARRIES $25,000 CASH PRIZE
GERRING TO ACCEPT IN PERSON AT SEASON OPENING GALA JUNE 20
April 20, 2015 (Becket, MA) — This year's Jacob's Pillow Dance Award, a prestigious honor carrying an unrestricted $25,000 cash prize, will be presented to contemporary choreographer Liz Gerring in recognition of her talent and outstanding contributions to the dance field. Active in the dance world for nearly 20 years, Gerring regularly garners acclaim for her "enthralling and important" works (Alastair Macaulay, The New York Times) that also "reveals the dancers as the splendid athletes that they are" (dance critic Deborah Jowitt). Gerring will accept the Award and members of Liz Gerring Dance Company will perform at the Pillow's Season Opening Gala on Saturday, June 20 in the Ted Shawn Theatre. The company will return to perform the evening-length work glacier in the Doris Duke Theatre August 19-23. Previous recipients of the Jacob's Pillow Dance Award include tap artist Michelle Dorrance, the legendary choreographer Merce Cunningham, 2013 MacArthur Fellow Kyle Abraham, and Tony Award winner and director of New York Live Arts Bill T. Jones, among others.
"It is a pleasure to recognize Liz Gerring for her distinguished work," says Jacob's Pillow Executive and Artistic Director Ella Baff. "She is a fascinating dance-maker. While you are enjoying the impressive athleticism and rigor of her dances, your eyes and mind open up to the creative inner workings of how dances are made. She is adventurous, super-intelligent, and a true original."

"It's wonderful to be recognized for all the hard work our company has put in," comments Gerring. "It's an honor to receive this recognition from the Pillow, an organization that, for me over the many years of my work in choreography, has always been an icon in terms of representing the best of dance in America. Ella's efforts and commitment have obviously been a large part of this, and we want to thank her and the staff for this Award. I am hoping everyone can come out and see us at the Festival this summer."

The Jacob's Pillow Dance Award was created in 2007 through an annual anonymous gift of $50,000, of which $25,000 is given to an artist of exceptional vision. In commemoration, the honoree receives a custom-designed glass award sculpture by Berkshire-based artist Tom Patti, whose work is in the collections of the Metropolitan Museum of Art and the Museum of Modern Art in New York, among other prominent institutions worldwide. The inaugural Award was given in 2007 to Annie-B Parson and Paul Lazar, co-directors of Big Dance Theater, who will return to the Doris Duke Theatre for Festival 2015. Subsequent awardees are Alonzo King (2008), Artistic Director of Alonzo King LINES Ballet, also appearing in Festival 2015; Merce Cunningham (2009), whose company gave its final performances during his lifetime at Jacob's Pillow later that season; Bill T. Jones (2010), who accepted the Award weeks after receiving his second Tony Award for the Broadway hit FELA!; Crystal Pite (2011), international choreographer and Artistic Director of Kidd Pivot; Kyle Abraham (2012), dancer, choreographer, and Artistic Director of Abraham.In.Motion; and Festival 2015 artist Michelle Dorrance (2013), dancer, choreographer, and Artistic Director of Dorrance Dance. The 2014 Jacob's Pillow Dance Award went to John Heginbotham, who presented the world premiere of Chalk and Soot in the Doris Duke Theatre that same season. Another new work of Heginbotham's will be premiered by Kristen Foote Dance Company as part of the Pillow's 2015 Inside/Out series.
The donor's annual gift of $50,000 also provides for $25,000 of annual support for Jacob's Pillow commissions, presentations, and the Creative Development Residency Program, which has funded residencies for numerous dance artists including John Heginbotham, Michelle Dorrance, Andrea Miller, Adam H. Weinert, Kyle Abraham, Camille A. Brown, Suzanne Farrell, MADBOOTS DANCE, Big Dance Theater, zoe | juniper, Stephen Petronio, Kimberly Bartosik, Rashaun Mitchell, Silas Reiner, and many others. During Creative Development Residencies, artists are invited to spend one to three weeks at the Pillow creating or rehearsing new work, with free housing for the company, unlimited use of studio space, and access to the Pillow's rare and extensive Archives and other Pillow resources. In the beautiful, retreat-like atmosphere of the Pillow, the Creative Development Residencies are rare opportunities for artists to focus on the creative process without distraction.
Notable artists who have created or premiered dances at the Pillow include choreographers Antony Tudor, Agnes de Mille, Alvin Ailey, Donald McKayle, Kevin McKenzie, Twyla Tharp, Ralph Lemon, Susan Marshall, Trisha Brown, Ronald K. Brown, Wally Cardona, Andrea Miller, and Trey McIntyre; performed by such artists as Mikhail Baryshnikov, Carmen de Lavallade, Mark Morris, Dame Margot Fonteyn, Edward Villella, Rasta Thomas, and hundreds of others.
ABOUT LIZ GERRING:
As the lauded founder and Artistic Director of Liz Gerring Dance Company, Liz Gerring's artistry has gleaned the highest praise of dance-lovers and critics alike, including that of The New York Times chief dance critic Alastair Macaulay: "the work of the choreographer Liz Gerring is something rare". A 2014 New York Dance and Performance ("Bessie") Award nominee, Gerring's work has been likened to that of dance greats Trisha Brown and Merce Cunningham: "both opulent and restrained, intimate and grand" (The New Yorker).
A native of California, Gerring studied dance at Cornish Institute in Seattle, Washington, and received a B.F.A. from The Juilliard School, where she studied with Kazuko Hirabayashi and Doris Rudko. In 1998, Gerring founded the Liz Gerring Dance Company, a contemporary dance ensemble which explores non-narrative, abstract movement, often derived from natural gesture. Noted for its close collaboration with contemporary music and visual artists, the company's movement is evolved from cause and effect rather than storytelling and framed by independent media elements. In addition to her appearances at Jacob's Pillow Dance Festival, Gerring's company regularly performs in venues in New York City and beyond, including The Joyce Theater, Baryshnikov Arts Center, Danspace Project, New York City Center's Fall for Dance, the 92nd Street Y, and Montclair State University's Peak Performances, among others. Gerring was recently commissioned by the legendary Martha Graham Dance Company to create a new work for their Lamentation Variations project, to honor the 85th anniversary of the iconic solo.  Other choreographers on the project have included Kyle Abraham, Aszure Barton, Lar Lubovitch, and Yvonne Rainer, among other acclaimed artists.

In 2001, Gerring and longtime collaborator Michael J. Schumacher founded the nonprofit organization TonalMotion Inc., which is dedicated to the creation and presentation of movement and sound art, which includes the activities of the Liz Gerring Dance Company and Diapason Gallery. After an initial appearance as part of the Inside/Out series in 2006, the company made its Jacob's Pillow debut in the Doris Duke Theatre in 2012, where it will return to present Gerring's acclaimed work glacier during Festival 2015.
Related video in Jacob's Pillow Dance Interactive: Liz Gerring Dance Company in 2012
http://danceinteractive.jacobspillow.org/dance/liz-gerring-dance-company?ref=artist&refcar=/artist/g-h
ABOUT THE 83rd SEASON OPENING GALA, JUNE 20:

The Season Opening Gala is the Pillow's signature fundraising event. Executive and Artistic Director Ella Baff has curated an exclusive program featuring American Ballet Theatre principal dancer Daniil Simkin, New York City Ballet principal dancer Sara Mearns and soloist Russell Janzen in The Bright Moon by Justin Peck, members of the legendary Martha Graham Dance Company, and the dancers of the Ballet Program of The School at Jacob's Pillow in a world premiere created on them in four days by BalletX founder Matthew Neenan. Nurit and Rick Amdur and Mark and Liz Williams serve as Co-Chairs of the event. Live and silent auctions, dinner by Old Inn on the Green, and dancing with DJ BFG follow the performance. All proceeds benefit the non-profit programs of Jacob's Pillow Dance, a National Historic Landmark and National Medal of Arts recipient. Gala tables and tickets are currently on sale via phone; for tickets and more information call 413.243.9919 x123.
ABOUT LIZ GERRING DANCE COMPANY, AUG 19-23 IN THE DORIS DUKE THEATRE:
Liz Gerring's glacier is rich with beautiful and intriguing contradictions of elegance, athleticism, serenity, and passion. Alastair Macaulay of The New York Times describes glacier as "wit without quirkiness, passion without emotionalism: its moods change like the weather, and its ebbs and flows carry aspects of poetry and excitement." The evening-length work features set design by Robert Wierzel and is performed to an original score by Liz Gerring Dance Company resident composer Michael J. Schumacher, whose piece "Glacier" originated during a summer stay near Colorado's Glacier Lake.

Performance and ticket information
Doris Duke Theatre
Wednesday, August 19 — Saturday, August 23, 8:15pm
Saturday, August 22 & Sunday, August 23, 2:15pm
•       Tickets $25-35. Now on sale via phone at 413.243.0745 and online at jacobspillow.org.
ABOUT THE PILLOW
Jacob's Pillow, celebrating its 83rd Festival in 2015, is a National Historic Landmark, recipient of the National Medal of Arts, and home to America's longest-running international dance festival. Each Festival includes more than 50 national and international dance companies and 350 free and ticketed performances, talks, tours, classes, exhibits, and events. The School at Jacob's Pillow, one of the most prestigious professional dance training centers in the U.S., encompasses the diverse disciplines of Ballet, Cultural Traditions, Contemporary, and Musical Theatre Dance, as well as an Intern Program in various disciplines of arts administration, design, video, and production. The Pillow's extensive Archives, open year-round to the public, chronicle more than a century of dance in photographs, programs, books, costumes, audiotapes, and videos. Year-round Community Programs enrich the lives of children and adults through public classes, residencies in area schools, and an extensive schedule of free public events. Through Jacob's Pillow Curriculum in Motion®, a nationally-recognized program, Artist Educators work with Berkshire County teachers and students grades K-12, transforming curricula such as biology, literature, and history into kinesthetic and creative learning experiences. Creative Development Residencies, in which dance companies are invited to live and work at the Pillow and enjoy unlimited studio time; choreography commissions; and the annual $25,000 Jacob's Pillow Dance Award all support visionary dance artists and choreographers. Virtual Pillow is aimed at expanding global audiences for dance and offers the opportunity to experience dance and Jacob's Pillow from anywhere in the world via online interactive exhibits, global video networks, and social media. As part of the Virtual Pillow initiative, Jacob's Pillow Dance Interactive is a curated online video collection of dance highlights from 1936 to today. On March 2, 2011, President Obama honored Jacob's Pillow with a National Medal of Arts, the highest arts award given by the United States Government, making the Pillow the first dance presenting organization to receive this prestigious award. For more information, visit www.jacobspillow.org.