\"Cinco Por Cinco\"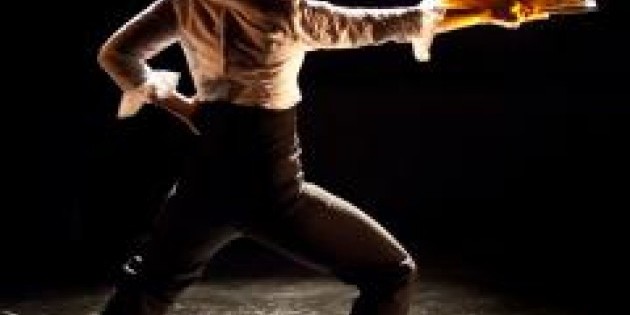 Company:
A Palo Seco Flamenco Company
Rebeca Tomás and her A Palo Seco Flamenco Company return to Theatre 80 Saint Marks May 17 to 19 in "Cinco Por Cinco
."
nn

n
n
n
WHERE AND WHEN:
nMay 17 to 19, 2013
nTheatre 80 Saint Marks
n80 Saint Marks Place, Manhattan
nFri & Sat at 8 PM, Sun at 3 PM
nTickets 5-40. 0 Students/Seniors with valid ID at door. Box office (212) 388-0388 (Mon-Fri 1-5pm)
nOnline ticketing available at: www.theatre80.net
nArtist's website: www.apalosecoflamenco.com
nRuns 1:15.
n
With a new program of innovative and edgy repertoire, Rebeca Tomás, brings her A Palo Seco Flamenco Company back to Theatre 80 Saint Marks from May 17 to 19, presenting a new production, "Cinco Por Cinco." Tomás, a fierce and feminine NY-based Flamenco artist, will direct her company of five dancers, two singers and three musicians in a show that promises to be true to her vision of upholding Flamenco's traditions while also pushing its boundaries and giving it a distinctive New York City feel.
n
The evening will feature the premier of two new choreographies. "Cinco por Cinco," the production's namesake, will feature the cast of five female dancers in a rhythmic call-and-response, each using one of five percussive elements within Flamenco: Zapateo (Footwork), Palmas (Rhythmic Hand-Clapping), El Abanico (the Spanish Fan), Castanuelas (Castanets), and el Baston (the Percussive Cane). The second piece, "La Farruca," which is a typically masculine-style of Flamenco dance, will be set as a duet for two females, clad in high-wasted pants and bolero jackets. The piece will capitalize on the linear nature of this dance style with its heel-turns and musically intricate footwork. Musical accompaniment will include guitar, violin, and a female vocalist who plays an integral role in the choreography.
n