CollabFest 2014 at Triskelion Arts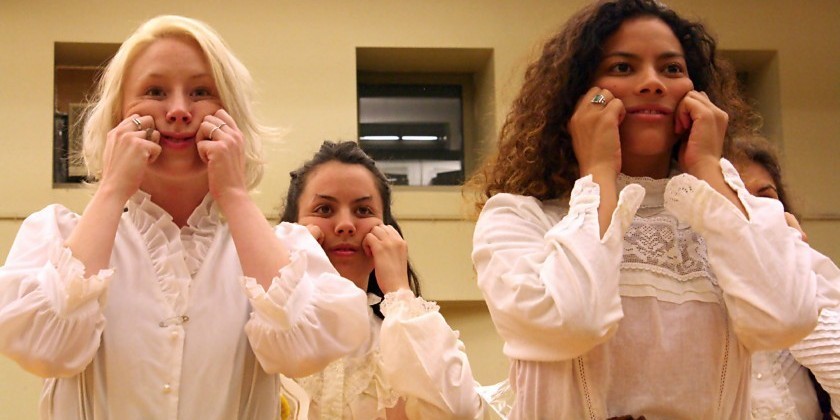 Company:
Triskelion Arts
COLLABFEST 2014
The 6th Annual Collaborations in Dance Festival
Triskelion Arts' Aldous Theater
118 N. 11th Street, 3rd Floor, Brooklyn, NY 11249
September 11-14, 2014 @ 8pm
Brooklyn, NY – This four-night festival will showcase new works by choreographers and their collaborators in dance, film, music, visual arts, and a smorgasbord of other disciplines. CollabFest is a celebration of artists reaching across boundaries to embrace a shared creative process. The result is a collection of experimental pieces that have the potential to reach further and say even more. We hope you can join us for this thrilling festival of new works!
The full line-up of artists for this year's festival includes: The Stillness Rebellion, Natasa Trifan Performance, Ariel Rosen Brown and Trina Mannino, E.lind Dance Collaborations, Lindsey Mandolini, Jade Daugherty, Lauren Slivosky, Inimois Dance, caitlin+dancers, The Lovelies, Michael Abbatiello/lostinflow, Kyle Marshall, Liz Charky + Company, Lydia Mokdessi, Same As Sister (S.A.S.), Miriam Gabriel, Kate Lee, Sarah Richman, Artichoke Dance Company, LJ Leach/Movement Arts

About the Artists
Michael's Abbatiello's company, lostinflow, premieres PLAYGROUND in collaboration with Spectre Waltz, a piece focusing on the full-bodied and playful nature of children while using this as a vehicle to show a grittier side to women. 
When does the control you have over your body or the ability to make a choice become diverted? Try this on for size captures the moments in which a woman is jeopardized by internal and external manipulations. Choreographed and performed by Lauren Slivosky, this solo is a reflection of the subconscious ability to succumb to the unattainable demands of modern society.
caitlin+dancers is proud to premiere Stranger Story, a touch upon the fleeting conversations between strangers. It assumes that a stranger will remain so after parting and finds the unexpected comfort of confiding intimate hopes and thoughts, which evidences of will disappear along with a face. Original score by Sean McVerry and costuming by Dora Novak.
Trina Mannino's and Ariel Rosen Brown's dance-theater work follows a group of female neighbors getting together for a party on Long Island in 1958 — on the precipice of the feminist movement. They each experience the pressures of being the "perfect" woman, in ideal dress or domesticity, and at times succumb to silly stereotypes. 
Convergent Mirror created and performed by Artichoke Dance Company's Artistic Director Lynn Neuman and composer/musician Joshua Davis, plays with loops and layers in rhythmically complex ways. Modular material is manipulated in real time by both performers in response to one another's choices, creating a unique unfolding of the work each time.
Kate Lee's new work combines a rich, vocally layered operatic sound score with the rough, high-energy of dance-theater. Inspired by and for weapons as fashion and alternative fabrics, this is a work about aesthetics and texture; where sound generates shape, clothes define people, and bodies create culture.
Often humorous, sometimes quirky, and always honest, present and open, The Lovelies work to uncover, establish, and conclude the present through discovery. Makers of dance and sound, sculptors of space, and designers of time, The Lovelies push each other, question the possibilities, listen to the thing and generally help, hinder, intersect, bypass, support, infiltrate, destroy and create pieces in the moment. For this latest untitled work, The Lovelies seek to work collectively to establish an environment with everyone involved (dancers, musicians, and audience members) to build a dance spontaneously.
Dancer/choreographer/performance artist Lindsey Mandolini brings you WTF is Hip Hop? Volume 1: Gender, a satirical lecture demonstration engaging audience members as students of academia while informing them of pressing issues within the genre. This premiere marks a dual collaboration between Mandolini, dance artist Alex Dean Speedie, and musician/sound designer Brian Parker.
Combining distinct movement with original video and sound, Same As Sister's Mizaru, Kikazaru, Iwazaru...Shizaru? investigates the conflicting cultural interpretations of the proverb, See No Evil, Hear No Evil, Speak No Evil. Using the image of the Three Wise Monkeys as a motif, the collective will create an environment of unexpected characters and scenarios that questions our moral compass as humans.
Choreographer Megan Harrold of Inimois Dance and composer Charlie Rauh present Bath Water, a movement narrative depicting a couple slowly falling out of love through their bath-time ritual.
Natasa Trifan Performance Group premiere's Les Amies, a tragic-comic duet based on the relationship of two friends and their experiences onstage and off-stage. Natasa Trifan and Christopher Poeschl create an entire world of different characters that they perform with grace and humor. 
Jade Daugherty and Natalie Canizare's piece, And This Is What You'll Eat, explores guests' tactile and gustatory senses by creating a multi-sensory integration of food, dance, and sound. Presented by two cryptic hosts, And This Is What You'll Eat manipulates the rapport between performer and audience member, while highlighting the differences in our modes of consumption.
Miriam Gabriel's company presents A.C.L, a collaboration with visual artist Rory Rosenberg and musician Ian Kenselaar, investigates abstraction, form, and energy. 
The Stillness Rebellion's latest piece, Kaleidoscope, is a collaborative work with video editor Christian McLauren. The work is a visual experience incorporating the aesthetic and formulas of kaleidoscopes, using the human form in place of gems and beads and video projections in place of mirrors. For inspiration, the group explored the visuals involved in many music shows.
Magnolia Dares the Storm Come In is a multi-media collaboration between the Brooklyn-based choreographer and movement artist, E.lind Dance, and indie band, The Soon-Another. The piece explores the vivid fantasy world of a young girl named Magnolia as she befriends the mythical sea serpent, Leviathan, who she has discovered trapped in the pages of a storybook. This piece draws on the embodied childhood memories of the collaborators, and presents the retelling of a classic story from the standpoint of a person with alternative sensibilities.  
LJ Leach/Movement Arts and Nikki Padula's new work asks: What kind of storytelling is possible when it is understood that you are never anywhere but where you truly are? In releasing tension in the neck, mouth, jaw, shoulders, and entire self, how can we release the body knowledge of our ancestors? Clear instructions. Mothering. Old photos. Neo-Futurist theater and dance meet. 
Lydia Mokdessi and Benjamin Wagner's no subject lineage/a dance for them is a live-composed dance-theater work. As registered domestic partners, their vocabulary is informed by ancestry, domestic life, private/shared histories, and adopted/co-opted body languages. They are investigating new ways of generating performance without shared craft or training, and have set up a performative structure that allows for decision-making; the mechanics are exposed and the lineage of the dance is visible.
Soundboard began as an existential work questioning how and why Kyle Marshall creates choreography. The piece juxtaposes extremely different qualitative choices becoming erratic and ultimately unpredictable for both the viewer and performer. The soundscore blends Allen Ginsberg's poem "Transcription of Organ Music" and Jody Redhage's tensile musical composition "Static Line," thus setting a reflective tone appropriate for the solo. 
Liz Charky + Company presents I love that negative space !, a new work expressing individual and collective experiences of intimacy and relationships. The work is a collaboration between choreographer Liz Charky, costume designer Tory Gordon, composer John Dodig and performers Rhea Corson-Higgs, Amy Gernux, Lucia Knell, Sammi Shay, Grace Phelan, and Skyler Volpe. Dancers deliver moments of repetition, endurance, and humor to convey both abstract and relatable representations of romance.
Sarah Richman presents Wandering, a piece about the in-between. When you look at life as more then a beginning and end point, you find that the exploration and seemingly insignificant moments may end up being the best parts.
For further details and the full festival schedule, please visit www.triskelionarts.org.
Tickets are $16, general admission.
To reserve press tickets, please email us at info@triskelionarts.org.
Photo: Liz Charky + Company © Cecilia Brown.