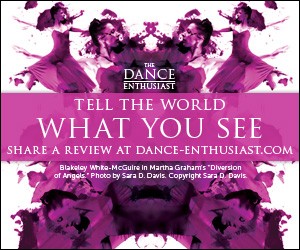 CoolNY Dance Festival
Post-Sandy Unveiling on the 10th Anniversary
CoolNY Dance Festival, originating in 2004 as a component of Cool New York, the City's winter celebration of arts and parks events, honors its milestone 10th Anniversary CoolNY 2013 Dance Festival this January 30th - February 10th. Curated by Young Soon Kim, Artistic Director of WHITE WAVE, CoolNY 2013 kicks off with an OPENING NIGHT BENEFIT to commemorate another outstanding season and the company's remarkable resilience. WHITE WAVE will proudly unveil its newly renovated space, hit hard by the storm, now transformed – with a basement doubled in size, a new classroom and dressing room, and greater office and storage facilities.
This two-week extravaganza will present the vast spectrum of facility by burgeoning ensembles led by inventive rising choreographers along with dancemakers with a definitive national and international zeal. CoolNY will feature two Saturday matinees dedicated to kids and families to provide an entertaining and educational experience for everyone. With the exception of Opening Night, The CoolNY 2013 Dance Festival is FREE and contributions are greatly appreciated in order to continue festival presentations.
All performances take place at WHITE WAVE John Ryan Theater located at:
25 Jay Street (on the DUMBO waterfront/entrance on John Street), Brooklyn NY 11201
Subway directions: F Train to York Street; A or C Trains to High Street
Featured companies include:
Amos Pinhasi, Jennifer Mellor Dance Project, Inclined Dance Project, ANAHATA Dance, NEVILLE Dance Theatre, FLUSSO Dance, Raw Delivery, Andrew Jannetti, FluidEdge, "NOT for reTAIL", Cori Marquis + the Nines [IX], Sapphire Moon Dance Company, Anne-Flore de Rochambeau, A.H. Dance Company, MUSE309, KDNY, The Brooklyn Dance Ensemble, 4thrightdance, RG Dance Projects, Enzo Celli-Celli Contemporary Ballet, Dorcas Roman Dance Theatre / DRDT, ADANZAVECVOS, Core Dance Contemporary, Hwa Suk Lee Dance Project, Olsi Gjeci, BAXco, Brooklyn Arts Exchange Teen Company, Liz Piccoli, Bo Kyung Lee, Adams Company Dance, Tamara LaDonna Moving Spirits, Inc., Kyla Ernst-Alper,
Juhwan Hwang, Theodora Boguszewski and more…
The Opening Night Benefit on Wednesday, January 30th at 7pm will launch the CoolNY 2013 Dance Festival with a dazzling evening of performance and celebration followed by a wine and cheese reception. Benefits are a rare opportunity to mingle and converse with featured performers and choreographers.
Tickets: $50; RSVP at coolny2013@gmail.com
Performance Schedule:


10th Anniversary Opening Night: Wednesday January 30th at 7pm
Thursdays through Saturdays: 7pm & 9pm shows
Saturdays: 2pm matinees - A Day for the Family
Sundays: 4pm & 6pm shows
Detailed performance schedules will follow in the coming weeks.