DAMAGEDANCE presents its Spring Season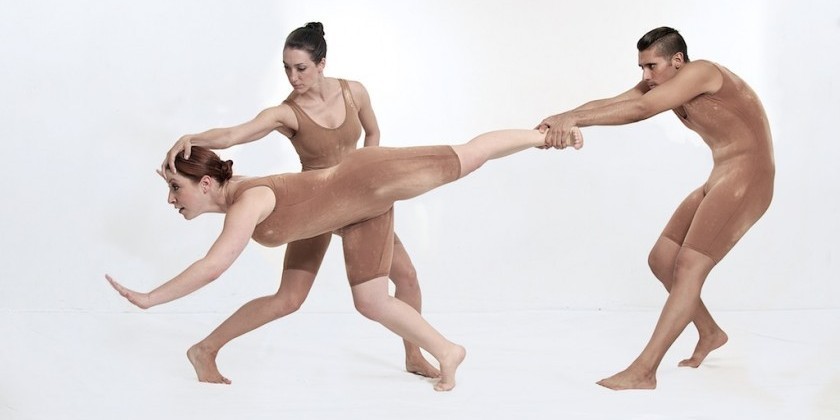 Company:
JESSICA TAYLOR/DAMAGEDANCE
JESSICA TAYLOR/DAMAGEDANCE RETURNS TO MANHATTAN MOVEMENT AND ARTS CENTER
WITH TWO PROGRAMS FOR AN ENGAGEMENT MAY 3-4, 2014
Artistic Director Jessica Taylor announces innovative repertory featuring world premiere with original music score and costumes
Tickets starting at $15 are on sale now
New York, NY - April 12, 2014 - Jessica Taylor/DAMAGEDANCE, will present a world premiere during their New York City Season May 3-4, 2014 at Manhattan Movement and Arts Center (248 West 60th Street, New York, NY).  Artistic Director Jessica Taylor has revealed this season's repertoire, which offers two programs.  Program A (Saturday, May 3 at 3:30 pm and 7:00 pm) features guest artist Antonio Brown of Bill T Jones/Arnie Zane Dance Company, and Program B (Sunday, May 4 at 4:00 pm) features guest artist Nicole Corea of Lar Lubovitch Dance Company.  DAMAGEDANCE's season promises to deliver impressive talent, and innovative choreography.  
"The world premiere of WannaBe is an exciting moment in my choreographic career," said Jessica Taylor.  "This piece will emote my personal struggles with breaking through gender barriers.  Gender identification is a timely theme, and I can't wait to share WannaBe with our audience this May."
WannaBe is a solo exposing expectations of gender identity. This dance is designed to be performed interchangeably either by a female or male dancer.  Ximena Borges, one of Venezuela's most successful and versatile musical artists, has been commissioned to create a fresh sound score with her signature "looping" technique.  DAMAGEDANCE Costume Director Laura Nitz is designing new costumes. The season also includes the company's latest sextet Our Masks, which plays with instincts of social survival in different settings - large groups, romance, friendships, relationships with oneself - and how personalities are adopted to accommodate each situation, as well as more DAMAGEDANCE repertoire favorites.
Jessica Taylor's choreography is "reminiscent of Picasso's monumental dancers from his 'classical' period... If the chance comes to see more from them, take it," said Mark Harding, The Shimmy Skinny, Edinburgh.  An emerging NYC-based dance troupe, DAMAGEDANCE explores the diversity of the human experience. Through performance and outreach, DAMAGEDANCE fosters a creative community dedicated to dance. DAMAGEDANCE believes great dance results from a confluence of committed physical and psychological intensity; when mind and body are equally invested, meaningful and resonant dance is created. DAMAGEDANCE strives to find this connection, making dances that are energetic, thoughtful, innovative, and heartfelt.
Tickets starting at $15 can be purchased online at http://ticketf.ly/1sqcE9N.  For further information about DAMAGEDANCEs please visit www.DAMAGEDANCE.com.
The 2014 DAMAGEDANCE season is supported, in part, by Black Balloon Publishing.
The 2014 DAMAGEDANCE Spring Benefit was sponsored by Mobile Commons.
About Jessica Taylor/DAMAGEDANCE
DAMAGEDANCE has presented work internationally at the Edinburgh Fringe in Scotland with The Booking Dance Festival, and has been commissioned to perform at Spring to Dance Festival hosted by Dance St. Louis. DAMAGEDANCE holds annual New York City seasons, and is actively showcased in dance festivals. The company has performed at Judson Church, Bryant Park, Ailey Citigroup Theater, Dumbo Dance Festival, Manhattan Movement and Arts Center, Baruch Performing Arts Center, and PS 199, among others. DAMAGEDANCE looks forward to presenting work at the 2014 KoDaFe International Dance Festival.
In 2010, Artistic Director Jessica Taylor founded DAMAGEDANCE. Taylor has choreographed for Point Park University, SUNY Purchase, Squonk Opera, among others, and has held workshops at Brooklyn Urban Garden School, Peridance Capezio Center, and Dance Arts New York, among others. Currently, Taylor is planning a creative camp for kids ages 5-10 suffering with Post Traumatic Stress Disorder, and is launching DAMAGEDANCE's 2014 season at Manhattan Movement and Arts Center May 3-4. Taylor began her dance training at the Center of Creative Arts in St. Louis, Missouri and thereafter received her degree in dance from Point Park University Dance Conservatory in Pittsburgh, Pennsylvania.

# # #


Jessica Taylor/DAMAGEDANCE
www.damagedance.com

DAMAGEDANCE Spring Season at Manhattan Movement and Arts Center - May 3-4, 2014

DAMAGEDANCE seeks, through dance, to explore the diversity of the human experience, increasing our awareness, understanding, and appreciation of our unique struggles, questions, and triumphs.