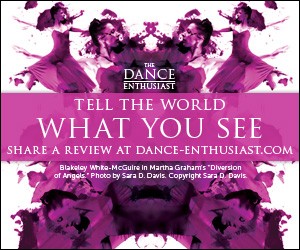 DANCE NEW AMSTERDAM WELCOMES BACK
NEAL BEASLEY AND BRADLEY TEAL ELLIS
DANCE NEW AMSTERDAM WELCOMES BACK NEAL BEASLEY AND BRADLEY TEAL ELLIS TO PRESENT TWO WORLD PREMIERE WORKS
Second SPLICE Program of the 2012-2013 DNA

PRESENTS

Season Showcases Five Performances of Beasley's

every adam belonging to me

and Ellis¹s

(american)guilt


Dance New Amsterdam

(DNA) welcomes back two of its veteran artists,

Neal Beasley

and

Bradley Teal Ellis, to the 2012-2013 DNA

PRESENTS

season for the second installment of the SPLICE series. This set of performances matches unique artists that share a common thread into a performance setting that offers insightful perspectives into the breadth of contemporary dance. Beasley¹s

every adam belonging to me

and Ellis¹s(american)guilt

both deal with personal, gender-centric journeys of interrogation en route to a more nuanced definition of identity. Performances are

February 6-9. All shows are at

7:30 p.m., with an additional matinee performance on Saturday, February 8

at

3:00 p.m. A corresponding gallery exhibit will also be on view during the run.
"The artist's unique reference to Americana and identity idioms is what spurred the idea of bringing Beasley and Ellis together for SPLICE; both are inventors of ways to experience and adapt to space. They are creating an installation-style performance, interweaving their works throughout the hour-long program. They will perform and guide the audience on a journey where viewing is not the only experience," says executive and artistic director, Catherine Peila. "As resident artists DNA is fortunate to be a part of their professional development and success. They are prime examples of our commitment to artists who are coming into their own.
Deriving its title from the opening lines of Walt Whitman's

Song of Myself, Beasley's

every adam belonging to me

is a series of vignettes inspired by images of American frontiersmen, a queer perspective on life in the deep South, and Beasley's persistent belief in the expressive body.

every adam belonging to me

began as a short solo entitled

frun teer

in DNA's 2011-2012 LateNite series. Beasley¹s piece contends with questions surrounding his relationship to dance and his experience with desire.
Ellis's

(american)guilt

addres
ses similar issues, grappling with timely and relevant themes and an additional emphasis on his personal concept of a decadent life. Like Beasley, he will also offer a series of vignettes; the use of projections, neon lighting and installations set the space. In
(american)guilt
the performers are masked, their identities concealed from the viewer. Permission is given to the performer, through the vehicle of the mask, to act out their own guilty conscience, pleasures and habits without judgment. The only exposed face the audience will see will be one of their own.
"It is amazing how much time, space, and various resources it takes to create a piece of performance. To be given an opportunity to work towards presenting something so personal and elusive, to have the luxury to grapple with big questions and study oneself and one¹s craft, is truly exceptional. DNA has provided me with the space and the means to do just that, and I am grateful," states Beasley.
A member of the Trisha Brown Dance Company (2003-2007, 2010-current),

Neal Beasley

has participated in the creation of several original works and received a 2004 Princess Grace Fellowship for his work with the company. From 2007-2009, he was a member of Ballet Preljocaj in Aix-en-Provence, France. From 2009-2010, he worked with the John Jasperse Company on the production

Truth, Revised Histories, Wishful Thinking, and Flat Out Lies. His own work has been shown at Dixon Place, The Kitchen (Dance and Process), DNA¹s LateNite series and the Movement Research Festival (2004 and 2012). Beasley grew up in Mississippi, is a graduate of Idyllwild Arts Academy in Southern California, and holds a BFA in dance from NYU/Tisch School of the Arts.
A Brooklyn-based improviser,

Bradley Teal Ellis

has studied and practiced Contact Improvisation for 13 years with teachers Nancy Stark Smith, Danny Lepkoff, Nita Little, K.J. Holmes and many others. He has performed improvisation at Dance Theater Workshop/NY Live Arts, PS1: MOMA, Joyce SoHo, 92nd

Street Y, The Cunningham Studio, Movement Research at Judson Church, Performa and other institutions. Bradley has been a guest teacher at UNC-Greensboro, University of the Arts, Temple University and DNA, and is a faculty member at Movement Research. He has presented work at DNA, The Tank and Rooftop Dance Festival and frequently collaborates with other artists. Bradley is a 2012-2013 Artist in Residence at Dance New Amsterdam. Originally from North Carolina, he received a BFA in acting from the University of North Carolina Greensboro.
Wednesday, February 6 ­ Saturday, February 9
All performances 7:30 p.m., with an additional 3:00 p.m. matinee on February 9
Tickets may be purchased online at

www.dnadance.org

, by calling 212.227.9856, or on site two hours before curtain. Cost is 7 for general audiences, 2 for DNA members and advanced sales. Discounted tickets are available by phone for groups of six or more.
DNA is located at 280 Broadway (entrance at 53 Chambers Street), New York, NY 10007, near the R to City Hall, 4/5/6 at Brooklyn Bridge, J/M/Z, A/C/E or 1/2/3 at Chambers Street, and 2/3 at Park Place.