DANCENOW Joe's Pub presents Gregory Dolbashian, Jordan Isadore, and Deborah Lohse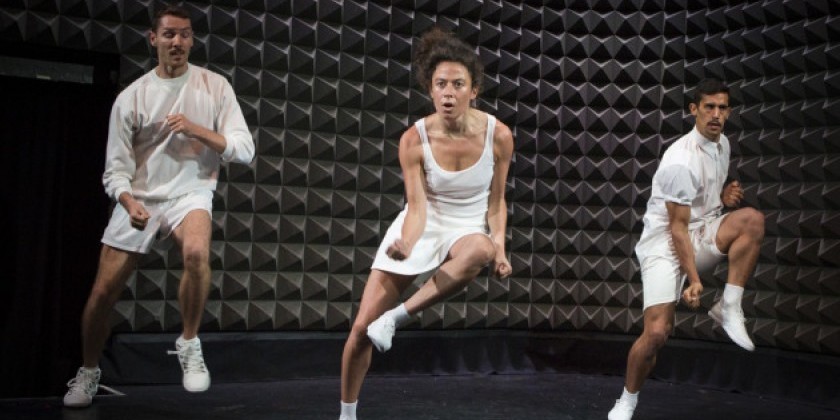 Company:
DANCENOW Joe's Pub
DANCENOW JOE'S PUB presents Gregory Dolbashian, Jordan Isadore, and Deborah Lohse
as part of its Dancemopolitian Shared Program Series, November 7 and 8, 2014
New York, NY, September 24, 2014 РDANCENOW Joe's Pub will present a shared program featuring new works by three strikingly different and engaging choreographersaۥGregory Dolbashian, Jordan Isadore, and Deborah Lohseaۥon Friday, November 7 and Saturday, November 8, at 7pm, at Joe's Pub.  
Gregory Dolbashian will present Awkward Magic, a series of movement stories combining text, voice, and dance told through the dancer-choreographer's urban movement language. Drawing from Dolbashian's adolescence in New York City, and set to an eclectic mix of music ranging from hip-hop to opera, Awkward Magic reflects on some of life's more unseemly moments, and well as on the City's redeeming magic.
Jordan Isadore's new work, Thousands Place, is based on his memories of Y2K and the decade that followed. Drawing on multiple sources such as Riverdance, MySpace, and MTV's Spring Break, Isadore explores how his interests, at the peak of his "cool period," withstood the rapidly shifting millennium. Isadore will be joined by several guest performers.
Deborah Lohse will perform as her stage alter ego TruDee, offering colorful and unapologetic truth-serving storytelling, song, and dance.
All three artists are DANCENOW Festival Challenge winners, selected by the audience: Gregory Dolbashian in 2012, Deborah Lohse in 2012 and 2014, and Jordan Isadore in 2014. Their works have been commissioned by DANCENOW's Dancemopolitan Commissioning Fund, a program that supports the creation of new work specifically for Joe's Pub.
Performances will take place at Joe's Pub at the Public Theater, 425 Lafayette Street (between East 4th Street and Astor Place). Tickets are $15 in advance/$20 at the door. Tickets can be purchased by calling 212-967-7555, online at www.joespub.com, and in person at The Public Theater box office from 1pm to 6pm.
About the Artists
Gregory Dolbashian, born and raised in New York City, made his professional stage debut at the age of eight with the Glimmerglass Opera Company. Soon after, he was cast in the Philip Glass/Robert Wilson world tour of Einstein on the Beach. He received his dance training at the Alvin Ailey School on a fellowship scholarship and then graduated cum laude from SUNY Purchase dance conservatory. Since then he has gone on to dance and choreograph with a variety of artists, performing with Patrick Corbin, Nelly van Bommel, Sylvain Emard, and The Chicago Ballet.  Dolbashian is a recipient of a Bessie Schoenberg Residency at The Yard, winner of The Pretty Creatives Competition for Northwest Dance Project, and of The Hubbard Street 2 international choreographic competition. Dolbashian has received commissions from Atlanta Ballet, TU Dance in Minnesota, and CityDance Ensemble in Washington, D.C. He debuted his own company, The DASH Ensemble, in December 2009 at Joyce SoHo. The company has gone on to present works at the Skirball Center, Dance Theater Workshop, The Gershwin Hotel, and The Joyce Theater. The company also recently premiered a film at New York's Tribeca Cinemas in collaboration with fashion film director Charlie Wan. Dolbashian is also a co-founder of the The Playground, a choreographic initiative that was selected as one of "25 to Watch" in 2013 by Dance Magazine.
Originally from Northern California, dancer/choreographer Jordan Isadore started dancing at age ten. In 2009 he received his B.F.A. in dance from California State University, Long Beach. He was a recipient of a Baker scholarship and a three-time recipient of the Lana Alper dance scholarship. Upon graduating, Isadore worked with the Los Angeles company BodyTraffic, performing works by Barak Marshall, Alex Ketley, and Guy and Roni. In 2011 he relocated to New York and has since worked with Christopher Williams, Andrea Miller, Sydney Skybetter, and Jennifer Edwards. Most recently, Isadore has become a core member of Shen Wei Dance Arts, performing and touring in New York City; Beijing; Naples, Italy; St. Petersburg, Russia; Hong Kong; Colombia; Peru; and throughout Brazil.
Isadore is one of the creators and editors of the blog SARADUJOUR.COM. He and San Francisco- based artist Nicole Bridgens remix contemporary dance, pop culture, and dance history through a satirical lens. Along with its online success, SARA has been presented at The Museum of Arts & Design New York, The 92nd Street Y, Joe's Pub, Triskelion Arts, The Garage Theater in San Francisco, and other venues.
Born and raised in California, Deborah Lohse trained and performed with the Sacramento Ballet and San Diego Ballet. Upon receiving B.A.s in dance as well as theater from the University of California, San Diego, Lohse relocated to New York City where she performed and toured with Monica Bill Barnes & Company for eight years. Lohse has presented and performed her own live performance work at The Clark Theater at Lincoln Center, Dance Theater Workshop, Joyce SoHo, Joe's Pub, Dixon Place, and Dance New Amsterdam. Lohse was an Artist in Residence at Dance New Amsterdam and a Bessie Choreographic Residency Artist at The Yard. She has received yearly invitations to SILO Residency and Acadia Summer Arts Program. In 2008, Lohse joined the cast of the Bessie Award-winning production Fräulein Maria, created by choreographer Doug Elkins, with whom she continues to work and tour. As a performer, Lohse has also appeared in the work of visual artist Suzanne Bocanegra. In 2010 she received a professional certificate in filmmaking from New York University. She has received various awards for her film studies, including The Caroline H. Newhouse Scholarship Fund and Andreas Zahler Scholarship for Advanced Filmmaking Studies. Her film Hunger was awarded Best Art House Film at the Philadelphia Independent Film Festival, Best Experimental Film Nomination at the Female Eye Film Festival in Toronto and an Outstanding Achievement Award from the NYU-SCPS Faculty.
About DANCENOW
DANCENOWNYC is produced by directors Robin Staff, Sydney Skybetter, and Tamara Greenfield.
Since launching at Joe's Pub in 2003, DANCENOW's programming at the Pub has defied the standard and embraced the space's limitations as a powerful source of creativity. By encouraging artists to think outside the box and utilize this unique space, DANCENOW has created an inspiring platform for dance. Over the past several years, DANCENOW has produced numerous critically acclaimed works at Joe's Pub including Doug Elkins' Fräulein Maria, David Parker's ShowDown and Misters and Sisters, Nicholas Leichter's The Whiz and 20/20, Kyle Abraham's Heartbreaks and Homies, Nicole Wolcott and Vanessa Walters' Alley of the Dolls, Camille Brown's One Second Past the Future, Monica Bill Barnes' Snow Globes, Takehiro Ueyama's Somewhere Familiar Melodies, and Claire Porter's SEN-TENCE.  
DANCENOW's mission is to support new dance innovators and to connect audiences to these artists. DANCENOW builds relationships with dance makers at varying stages of their development in an effort to move their artistic careers forward. Without a performance venue of its own to maintain its endeavors, and an office that exists only online, DANCENOW has learned how to do more with less and to embrace limitation as a powerful source for creativity. This policy is key to DANCENOW's sustainability as well as its artistic vision.
Now in its 19th year of promoting New York City artists, DANCENOW has deepened the connections between its New York City programming (DANCENOW Joe's Pub – The Festival and Dancemopolitan Commissioned Artist Series, and DANCENOW Raw) and its Pennsylvania-based programming (DANCENOW Silo and DANCENOW SteelStacks, a new presenting platform). Through this expanded programming, DANCENOW gives across-the-board assistance to its artist base, while offering audiences from New York City to Bucks County/Lehigh Valley new and exciting artistic experiences. For more information, visit dancenownyc.org and silokirklandfarm.dancenownyc.org.
DANCENOWNYC is supported, in part, with funds from the Barbara Bell Cumming Foundation, Jerome Robbins Foundation, Harkness Foundation for Dance, NYC Department of Cultural Affairs, Mertz Gilmore Foundation, and the New York State Council on the Arts, a state agency.