DANCENOW presents the premiere of Take Dance's "Somewhere Familiar Melodies"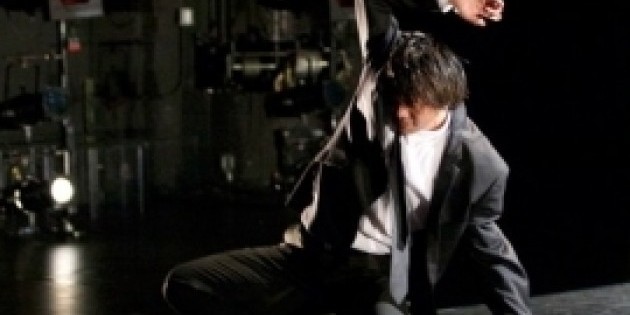 April 12-13th at Joe's Pub
DANCENOW Joe's Pub Presents the World Premiere of TAKE Dance's Somewhere Familiar Melodies
April 12–13, 2013
New York, NY, March 13, 2013 – DANCENOW presents TAKE Dance's new evening-length work, Somewhere Familiar Melodies, as a part of its 2013 Dancemopolitan Commissioned Artist Series. Performances will take place Friday, April 12 and Saturday, April 13, at 7pm.
Directed and choreographed by Takehiro Ueyama, Somewhere Familiar Melodies explores how past events can be ignited by sense memories–-sights, scents, places, and sounds. With this work, Ueyama embraces a range of emotions sparked by memories of time spent with family and friends in Japan. In talking about Somewhere Familiar Melodies, Ueyama said, "After the Tohoku earthquake and tsunami in March 2011, I felt that my heart was torn apart by the tragedy and devastation to my country and my people. Wanting to reflect back on the memories in Japan that gave me joy, I found myself listening to the music that flooded my ears through records, radio, and television during the 70s and 80s. Nostalgic memories came rushing back with every song creating a window back into my childhood in Tokyo." Somewhere Familiar Melodies is set to these popular Japanese songs and will be performed by Kristen Arnold, Brynt Beitman, Jill Echo, John Eirich, Kile Hotchkiss, Gina Ianni, Lynda Senisi, Jeff Sykes, Kristi Tornga, and Marie Zvosec. Costume design by Jesse Dunham.
Tickets are 5 in advance / 0 at the door. Tickets can be purchased by calling 212-967-7555, online at www.joespub.com, and in person at The Public Theater box office from 1pm to 6pm. Joe's Pub at The Public Theater, 425 Lafayette Street (between East 4th Street and Astor Place). Subway: N/R trains to 8th Street/NYU or 6 train to Astor Place.