DANCEROULETTE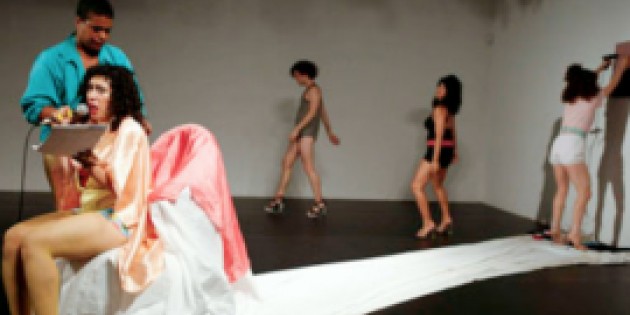 Pieces by Jill Sigman/thinkdance/Larissa Velez-Jackson
DANCEROULETTE:
jill sigman/thinkdance //
Larissa Velez-Jackson

Thursday, February 7, 2013 @ 8:00 pm

DANCEROULETTE is a festival of performing artists working within movement, sound, spatial design, visual cacophony, choreography, improvisation, ephemerality, and theatrical re-imagining.

http://roulette.org/events/danceroulette/
Larissa Velez-Jackson
Star Crap in Progress "still in progress"
With Marissa Perel, Talya Epstein, Monifa Kincaid, Joey Kipp, Caitlin Marz
Star Crap in Progress "still in progress" (2011) is LVJ's aptly-named "permanent work-in-progress" that collages improvisations in dance, song, sound poetry, and standup comedy to reveal what's beneath the surface of a microphone-wielding façade.


jill sigman/thinkdance last days/first field [excerpt]
Composer/musician: Kristin Norderval
Dancers: Hadar Ahuvia, Corinne Cappelletti, Donna Costello, Sally Hess, Irene Hsi, Paloma McGregor, Jill Sigman

jill sigman/thinkdance will show an excerpt from "last days/first field", a full evening work in process for 7 dancers with a live original score by Kristin Norderval. The final piece will involve two parts: a movement section and a planting ritual in which performers plant a field of seedlings in the performance space.
General Admission: 5
Members/Students/Seniors: 0
Buy tickets to this event.

ROULETTE Concerts are held at
509 Atlantic Ave (On the corner of Atlantic & 3rd Aves
DOWNTOWN BROOKLYN
2, 3, 4, 5, C, G, D, M, N, R, B & Q trains and the LIRR
Click here for directions.
ROULETTE IS ACCESSIBLE BY WHEELCHAIR.
Roulette's

mailing address

is Roulette, 30 Third Ave #208, Brooklyn NY 11217