DNA PRESENTS 2013-2014 SEASON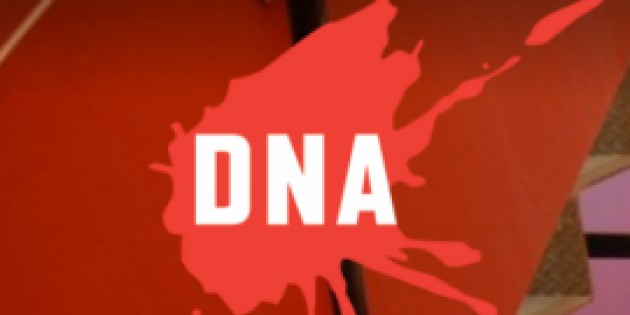 Season Opens September 17th 2013 and Features Seven World Premieres and Two U.S. Premieres
DANCE NEW AMSTERDAM ANNOUNCES DNA PRESENTS
2013–2014 SEASON
Season Opens September 17, 2013 and Features Seven World Premieres and Two U.S. Premieres
NEW YORK, July 15, 2013 ­–
Though
Dance New Amsterdam
(DNA) filed for Chapter 11 bankruptcy this past May, the organization had a successful first filing and continues forward while working with its community ties and partnerships. Artistic and Executive Director Catherine Peila is pleased to announce an exciting roster of both new and returning artists as part of
DNA PRESENTS 2013–14 season.
To kick off the season, a
launch party on September 17, 2013
will feature performances from season artists and special guests DJ's.
The A.O. Movement Collective opens the season October 25.
DNA introduces new projects with Artists in Residence
Daniel Clifton , Catherine Galasso, Monstah Black
and
Kendra Portier,
with return LateNite alums
Victoria Libertore
and
Jaamil Olawale Kosoko
In furtherance of DNA's mission to support dance development, the 2013–14 DNA
PRESENTS
Season demonstrates a growth in DNA's artistic vision. The
Artist in Residence (AIR) program
at DNA is an adaptive model in which each residency is designed in collaboration with the artist. DNA is also excited to announce its new
Building Entrepreneurial Arts Models (BEAM) program.
This leader-and-cohort program provides artists not only with performance opportunities, development space and monetary support but also entrepreneurial training to aid in the discovery of new models for a sustainable future from studio-to-stage and beyond.
DNA
PRESENTS
continues to command the downtown dance scene and offers a unique blend of boundary-breaking performances from solo and group works to the provocative
LateNite
series, coupled with installations, talk backs and artist led jaunts. DNA
PRESENTS
also provides opportunities for emerging and mid-career artists in the
RAW Material
and
RAW Directions
intensives. DNA will also present the 2nd annual
Spectrum Dance Festival,
an organization-wide APAP festival offering performances, showings, discounted classes, panel discussions, gallery exhibits and more by DNA's diverse family of artists. DNA will also pair with New Dance Alliance to co-present the
Performance Mix Festival
, a presentation of local, national and international emerging and seasoned artists who challenge the definition of dance.
"DNA is committed to working with the artist and upholding its reputation as a center of progressive training and practice linked to choreographic development," says
Artistic and Executive Director Catherine Peila
. "As a part of the performance season, DNA challenges our artists to experiment with ways to publically expose their process and develop their craft. Works-in-progress showings, panel discussions, art exhibitions and cultural round tables provide opportunities where synergy between artists and the community can be discovered and implemented."
TICKETS (ON SALE AUGUST 1)
Tickets may be purchased online at
dnadance.org
, by calling 212.625.8369, or on site two hours before curtain. Cost is 7 for general audiences, 4 for members and advanced sales. Discounted tickets are available by phone for groups of six or more. All sales are final.
VENUE INFORMATION
DNA is located at 280 Broadway (entrance at 53 Chambers Street), New York, NY 10007, near the R at City Hall, 4/5/6 at Brooklyn Bridge, J/M/Z, A/C/E or 1/2/3 at Chambers Street, and 2/3 at Park Place.
DNA PRESENTS 2013–2014 SEASON DETAILS (Full Schedule Follows)
DNA PRESENTS 2013–14 Season Launch Party |
September 17, 2013
The 2013–2014 Season Launch Party will be a celebration with art happenings, performances by season artists, awards, food, drinks, and celebration! DNA Artists in Residence bookend the evening – Dister jumpstarts the evening with his international project
I Love My Hood
, complete with exhibition dance battles, graffiti art, live art and spoken word. Monstah Black offers his party savvy and performative DJ skills to close the evening.
A.O. Movement Collective |
October 25–26, 2013
DNA AIR and BEAM artist Sarah A.O. Rosner of the A.O. Movement Collective presents the
world premiere
of
the ETLE Universe
. This queer/feminist cyborg-time-travel epic party will feature pop-up performances from the Universe's 30+ collaborators and AOMC corps performers. As part of the premiere, the collective will also unveil the project's interactive crowdsourcing web platform and offer a keynote address from Sarah A.O. Rosner, immersive experiences, audience abductions and more. This premiere launches the
AOMC's ETLE Universe,
which will produce a constellation of 10 works over the next two years.
In January AOMC will launch
ETLE immersive
(a 6-month interactive multimedia/IRL game), and invade DNA's gallery with the opening of the
ETLE Universe's photography exhibit
.
Aynsley Vandenbrouke |
November 1– 2, 2013
Vandenbroucke
world premiere
work
Same Room
begins with a twisted docent tour of the DNA dance studios and devolves from there. Five theorists from different fields and five choreographers present short sections of finished work. These works are not created together but are performed simultaneously, in pairs. Writing, lecturing, and dance commentary debate and negate one another. Aesthetically and philosophically problematic the work explores possible areas of intersection such as abstraction, meaning, translation, formalism, and the human body as object.
thefeath3rtheory | raja feath3r kelly |
November 7–9, 2013
the feath3r theory Presents: Andy Warhol's
DRELLA
(I love you Faye Driscoll)
: a movement-based drag performance essay, inspired by Warhol's contradiction of Dracula and Cinderella. The
U.S. premiere
of
DRELLA
combines repetition, iconography and cinema with uncensored, immature and highly rambunctious movement, text and video, loosely based on fiction. The performance focuses on raja feath3r kelly's relationship to Warhol's Drella, and his interpersonal relations and experiences with the concept of persona. It is one of many in-development iterations from a series that will mature into a DNA-produced Artist in Residence final staging of the feath3r theory presents:
WHO'S AFRAID OF ANDY WARHOL?
Mark Lamb Dance |
November 2013 (performance dates TBC)
When Executive Director of Dance New Amsterdam Catherine Peila asked choreographer and storyteller Mark Lamb to be a part of an ongoing discovery of identity, outsider/visionary artists and
Americana
, he never realized the odyssey that would ensue. Peila charged Mark with the mission to find an undiscovered visionary artist in his native South. The woman he found is Mary T. Carson Clements, who happens to be the biological daughter of noted folk artist Zephra May Miller. The slice of "Americana" program will feature Mary's artwork and Mark's choreography. Music will be composed and played by the incomparable folk singer/songwriter Terre Roche.
Catherine Galasso |
November 22–24, 2013
In her second AIR year, DNA Artist, Catherine Galasso will present a chapter of her current multi-year project
Fall of the Rebel Angels
.
The
world premiere
evening length-show, which stands independently from the final project, will feature five performers, an original score by Adam Bach (sampling and distorting pieces by the Baroque composer Claudio Monteverdi), and a narrative through-line co-written with filmmaker and visual artist Brent Green. It is loosely inspired by a Peter Paul Rubens painting of the same title.
LateNite @ DNA: Victoria Libertore |
December 5–7, 2013
Victoria Libertore returns with
Liza and Friends' Winter Cabaret
with her famed Liza Minnelli impression.
DNA's LateNite series gives a voice to artists working within the mediums of performance art, burlesque and experimental theater. The theater's wilder-than-average transformation is contemporary cabaret at its finest.
Yanira Castro/a canary torsi |
December 18, 2013
Court/Garden
is a new dance by
a canary torsi
that investigates experiential shifts in an audience's engagement with a dance: proximity, frame, participation. In August 2012 as part of DNA's AIR program, the cast of
Court/Garden
studied with renown Baroque practitioner and teacher, Catherine Turocy, to learn an early Baroque dance, Il Canario or The Canary. The group then had an intensive residency at MANCC to deconstruct The Canary and reframe it within the context of
Court/Garden
--a dance that plays with strict formalism inside a structure in which the audience's relationship to the event is in constant flux. At this lecture/demonstration, Castro and Turocy return to DNA to share with audiences the research they have explored together, how it has come together to make a contemporary dance and excerpts of
Court/Garden
as a work-in-progress. Through choreographer Yanira Castro's contemporary lens,
a canary torsi
looks at theatrical conventions to consider their role in the experience of today's audience
Spectrum Festival |
January 7–19, 2014
In conjunction with APAP and ISPA, the Spectrum Festival is an organization-wide festival offering performances, showings, discounted classes, panel discussions, gallery exhibits and more by DNA's diverse family of artists. Last year's inaugural weeklong festival, with performances by over 38 different choreographers, was such a success that DNA is expanding this year's festival to span two weeks. A complete schedule of artists and events will be announced in the fall.
LateNite @ DNA: Jaamil Olawale Kosoko |
January 10–11 and 17–18, 2014
Continuing his curatorial exploration of showcasing artists whose work focus within the creative spheres of genre distortion, eroticism, and the presence of the underground in American live performance, Jaamil Olawale Kosoko returns to DNA as a LateNite guest curator (and 2013/14 Artist in Residence). Part of the annual Spectrum Festival, this year's platform will incorporate a wild collection of experimental dance theater, boylesque and performance artists based throughout the Eastern Corridor.
Monstah Black |
January 30–February 1, 2014
DNA Artist in Residence and BEAM artist Monstah Black creates a new series of works, in the
world premiere
of
Cassiopeia.
Fusing glitz and glamour with a gypsy-punk-funk flare, Monstah Black delivers a spectacular event that blurs the line between Fashion Show, Dance/Rock Concert and Happening. His revived performance ensemble, The Sonic Leroy, collectively uses inspiration from the constellation and Greek mythology behind Cassiopeia to deliver a multi-sensory happening featuring Monstah Black's style brand, RompahMonstah.
Kendra Portier |
February 6–8, 2014
BANDkp's Artistic Director Kendra Portier explores working with a highly physical and aggressive group in the
U.S. premiere
of
The Devil Anse,
Inspired by the Hatfield-McCoy feud, the work explores the individual versus herd-mentality, loneliness due to social expectation/standard and the fine line between attraction and expulsion. Portier is interested in the moments that blur consequent apology, defense, and growth; in how pride is frequently the enemy of better judgment; and how friction causes spark that brightens the darkness versus. This work was created, in part, with support from Bates Dance Festival and with support from the DNA Artist in Residence program.
Daniel Clifton |
February 15, 2014 (developmental showing) and June 5–7, 2014 (
world premiere
)
Dance artist and musician Daniel Clifton will be working with Composer Sam Crawford on his currently untitled evening length work. Clifton creates portraits of people and their relationships to one another: their stories, interactions, inner and external dialogues and conflicts and resolutions. He reveals moments in time through bodies, movement, photos, words, music, and videos. The work is cinematic, dramatic, and emotional, with a sense of irony.
RAW Directions |
February 20–22, 2014
RAW Directions
supports up to four mid-career choreographers with more than ten years of professional choreographic experience who are interested in re-examining their artistic process. In support of their artistic examinations, Dance New Amsterdam offers selected artists a small commission, an artist fee, discounted and free rehearsal space, a peer artistic consultant, informal and formal showings and marketing and production support. A culminating public performance invites audiences to be part of the artists' process as they share their investigations and engage in dialogue about the work.
Bill Shannon |
March 2014
Shifting our perspective inside of environments, DNA Artist in Resident Bill Shannon returns to DNA's Lobby Gallery with an immersive
world premiere
video installation during the month of March. Additional events in connection with the installation will be announced at a later date.
Ori Flomin |
May 15–17, 2014
DNA teaching artist and new Artist in Residence Ori Flomin presents a new piece that explores the exhilaration of dancing at a young age. Drawing from early memories of dance, Flomin ignites the spark and freshness of youth into older, more experienced bodies. Danced by six dancers, the untitled world premiere will evolve between solos and group interactions that showcase how personal history and background affect our identity.
Performance Mix Festival |
May 20–25, 2014
A co-presentation of DNA and
New Dance Alliance
, DNA's theater will be home to New Dance Alliance's 28th annual Performance Mix Festival: a presentation of local, national and international emerging and seasoned artists who challenge the definition of dance.
RAW Material |
June 13–14, 2014
RAW Material
has been supporting new and emerging artists since 2000. RAW Material will support the work of up to six new and emerging choreographers who wish to gain more choreographic experience. DNA will provide an artistic advisor, marketing and production support, a small artist fee, 3 informal showings, discounted and free rehearsal space, a marketing workshop and panel feedback on application materials leading up to two performances of new 10-minute works in DNA's theater.