DNA: This Week in the Theater: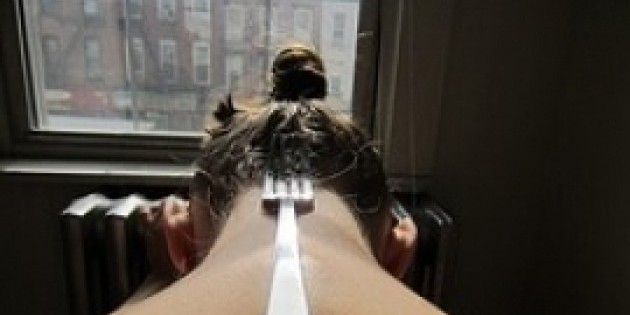 Spectrum Festival APAP 2013
DNA PRESENTS Spectrum Festival APAP 2013:
DNA
PRESENTS
in the Theater
January 11 & 12 at 10:00pm
curated by Jaamil Olawale Kosoko
January 13
CABULA6/Jeremy Xido
The Angola Project
5:00pm Part 1: Lisbon
6:30pm Part 2: Angola
The Angola Project
playfully straddles the worlds of performance and film-making as the audience watches a movie being constructed from fragments of film and narrative right before their eyes, only to crumble again into disarray. Based on Jeremy Xido's true life adventures of trying to make a feature film in Angola,
The Angola Project
takes us on a dizzying journey through the history of colonial Portugal, the Travelogues of Burton Holmes, the films of Bruce Lee and Jim Kelly, the Detroit race riots/rebellion, Berlin documentary film crews in Africa and the blood-thirsty mechanisms of international film finance.
The Angola Project
is a funny and moving investigation into global events and the complex unexpected polycultural mash-up identities emerging in the 21st century.
Tickets
: Special APAP Deal - general public
photo by Lexi Namer
January 14 at 8:30pm
SPLICE: Kendra Portier/Elke Luyten & Kira Alker
DNA's SPLICE series brings together unique artists that share a common thread, however subtle, into a performance setting that offers insightful perspectives into the breadth of contemporary dance.This installment features DNA faculty member Kendra Portier and DNA PRESENTS 2011-2012 RAW Directions artists Elke Luyen & Kira Alker.
Tickets
: Special APAP Deal - general public
photo by Kira Alker
APAP conference attendees may reserve a complimentary ticket by emailing Isabella Hreljanovic, Box Office Manager.
DNA
PRESENTS
in the Studios
CHOREOLAB
January 19 at 7:30pm
Tickets:
0 suggested donation
CHOREOLAB is a three-week guided process that allows choreographers to create work within a supportive, safe and inspiring environment. Weekly, the participants will show work in class and will receive feedback from both the group and the facilitator. The workshop will culminate on the last session with a low-tech produced show in DNA's intimate 130-seat theater and participants will have access to reduced-rate and subsidized free studio rentals. CHOREOLAB offers weekly showings & feedback within the class community, the optional opportunity to have showings and feedback videotaped, subsidized studio rental discounted to 2/hour, free last minute studio space and a DVD of the final product of the work shown in the theater. Students are expected throughout the course to be creating work for the CHOREOLAB session.
Choreographers:
Jamie Boyle, Ariel Jaime, Heidi Kaufman, Belen Labanca, Delaney Larimore, Samantha Pulsifer, Susie Simpson, Jasmin Vrban, and Samsam Yung
photo by Lexi Namer
Japan Society
15th Contemporary Dance Showcase Japan + East Asia
Friday, January 11, 7:30 PM
Saturday, January 12, 7:30 PM
Japan Society's Dance Showcase is back with a thrilling assortment of offerings! This year's line-up includes the new post-post-post-butoh duo dance work from Tokyo,
Misshitsu: Secret Honey Room-Duo Version
, created and performed collaboratively by Makotocluv founder
Makoto Enda
and former Dairakudakan dancer
Kumotaro Mukai
. Also from Tokyo,
Send it, Mr. Monster
, by award-winning choreographer and singer
KENTARO!!
, who leads his group
TOKYO ELECTROCK STAIRS
in a hip-hop dance set to Japanese pop and serenade songs--an organically meshed, unlikely pairing. From Kyoto, Japanese choreographer
Kosei Sakamoto
's new work
HAIGAFURU~Ash is falling
, created in contemplation of Japan's nuclear disaster during his residency in Helsinki and performed by members of his company
Monochrome Circus
. From Taipei, astonishing human body movements are set within a high-tech, real-time interactive space in
Seventh Sense
, choreographed by
Chieh-hua Hsieh
and performed by his company
Anarchy Dance Theatre
. Come check out dance from the other side of the globe without leaving town!
TICKETS
:
8/5 Japan Society members
Photo by Kaneko Manaho
Totally Tubular Time Machine
CULTURE CLUB
20 West 39th St.
(btwn 5th & 6th Ave)
PREMIERES JANUARY 19, 2013!
Time Traveling Every Saturday at 8:00PM
Ever wanted to go back in time? Now's your chance! Witness tabloid stories come to life when you get on board THE TOTALLY TUBULAR TIME MACHINE - New York City's only interactive, inter-galactic, pop music experience! TTTM is a reality based pop musical that allows you to time travel and party up-close and personal with a cast of "celebrity" pop stars (past and present) performing your favorite hits LIVE: Madonna, Britney Spears, Michael Jackson, Lady Gaga, Justin Bieber, Vanilla Ice, and more! This party bus of time machines takes off every Saturday night. It's a blast!
5 tickets
for 1/19, 1/26 and 2/2 - use code
RRMGEN45
0 tickets
for 2/9 and beyond

- use code

RRMGEN50
TO REDEEM:
For Groups, Personalized Party Planning & Bottle Service Call
(212) 921-1999
RESTRICTIONS: Regularly 0. Tickets are General admission. Offer may be revoked at anytime and is subject to availability. Not valid on prior purchase. Offer cannot be combined with other discounts or promotions; blackout dates and restrictions may apply. Maximum of 8 tickets total with offer. Must be 21 and over with valid ID to be admitted to show.