Contribute
Your support helps us cover dance in New York City and beyond! Donate now.
DNA'S LATENITE SERIES FEATURES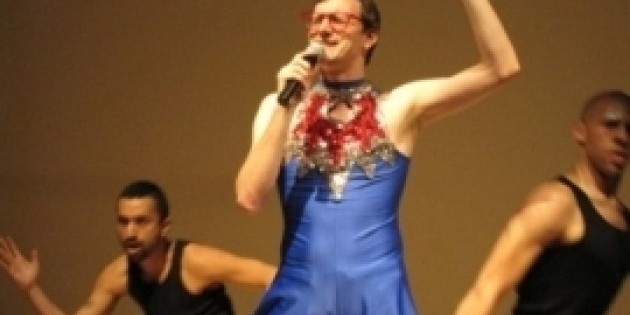 BESSIE AWARD-WINNING SOUND DESIGNER AND PERFORMANCE ARTIST NEAL MEDLYN
DNA'S LATENITE SERIES FEATURES BESSIE AWARD-WINNING SOUND DESIGNER AND PERFORMANCE ARTIST NEAL MEDLYN
Medlyn Creates a Night of Mayhem with World Premiere of

IT'S LIKE WE ARE INFILTRATORS, PART II, October 5 & 6, 2012
NEW YORK,

August 23, 2012

—

Dance New Amsterdam

(DNA), NYC's foremost progressive dance education center and performance space, champions experimentation in its rowdy

LateNite

series, a triannual portion of the DNA

PRESENTSseason, which gives a voice to artists working within the mediums of performance art, burlesque and experimental theater. The season's first installment,

IT'S LIKE WE ARE INFILTRATORS, PART II,

is a multi-disciplinary and installation-based evening curated and conceived by

Neal Medlyn. The performances on

October 5 & 6

will also feature his original music, both live and recorded.

Each hour-long performance begins at 10:00 p.m.

Medlyn's

IT'S LIKE WE ARE INFILTRATORS, PART II

invites a certain level of chaos and will result in a nonstop, freeform jumble of music, performance and mayhem rather than a set of discrete works. Drawing from

PART I, which Medlyn created 12 years ago, he will use conversations in real time to build a comedic performance out of spontaneous and specific artistic directives. The lineup of performers will include DJ Duo Team Company LLC, Farris Craddock, Carmine Covelli and Eleanor Hullihan.

"DNA's LateNite shows encourage a testing of boundaries and melding of genres," says

Artistic and Executive Director Catherine Peila. "Performance art runs rampant in the dance community. Dance has always been an art form ripe for cross-pollination, and calling attention to and experimenting with the influences of burlesque, music, visual art and more is crucial to artistic development in the field today."

Performance artist, dancer and Bessie Award-winning sound designer

Neal Medlyn

has collaborated with a variety of artists including Karen Finley and Adam Horovitz of the Beastie Boys (Neal & Bridget Are F**king, and Adam is Watching

at Le Poisson Rouge); and choreographers Miguel Gutierrez, Adrienne Truscott and David Neumann. Medlyn is also a co-creator and co-host of Our Hit Parade, a monthly cabaret at Joe's Pub. In the past several years, Medlyn has created a series of pop star/music-based performance pieces in New York and on tour in the United States and Europe. There are currently six works in the series:

Neal Medlyn's Lionel Richie Opera

(Ars Nova);

Coming in the Air Tonight

(Galapagos Art Space);

Unpronounceable Symbol

(Performance Space 122);

...Her's a Queen

(Dance Theater Workshop); and

Brave New Girl

(Chocolate Factory) and

Wicked Clown Love

(The Kitchen). His work has also been presented at the New Museum for Contemporary Art (The Neal Medlyn Experience Live, a faithful reenactment of a Beyoncé concert DVD), the Andy Warhol Museum, Joe's Pub, the TBA Festival, the Fusebox Festival, Duckie (UK), as well as in Canada, Australia and Berlin.

PERFORMANCES
Friday, October 5 - Saturday, October 6
Both performances 10:00 p.m.

TICKETS
Tickets may be purchased online at

www.dnadance.org, by calling

212.227.9856, or on site two hours before curtain. Cost is 7 for general audiences, 4 for students and seniors, 2 for DNA members and advanced sales. Discounted tickets are available by phone for groups of six or more. All sales are final.

VENUE INFORMATION
DNA is located at 280 Broadway (entrance at 53 Chambers Street), New York, NY 10007, near the R/W to City Hall, 4/5/6 at Brooklyn Bridge, J/M/Z, A/C/E or 1/2/3 at Chambers Street, and 2/3 at Park Place.
###
ABOUT DANCE NEW AMSTERDAM
Founded in 1984, DNA provides a community hub for the highest quality dance training, choreographic exploration and innovative performance, developing new audiences and bridging communities. It provides valuable opportunities for the aspiring, emerging and established artist, including daily classes, certification courses, commissions and artistic residencies, along with studio and administrative office subsidies. DNA encourages professionalism, entrepreneurial cross-disciplinary initiatives, community engagement and diverse artistic expression. It was the first nonprofit arts organization to move to Lower Manhattan after 9/11, serving as a renewing force in NYC's cultural landscape. To learn more about DNA and supporting its programs through charitable donations, visitwww.dnadance.org

The 2012-2013 DNA PRESENTS Season is supported, in part, by public funds from the New York City Department of Cultural Affairs in partnership with the City Council and the New York State Council on the Arts.

DNA is a 501(c)(3) nonprofit organization and its 2012-2013 programming is made possible through the generosity of its supporters. As of July 2012, public funding provided by: New York City Department of Cultural Affairs in partnership with the City Council; and New York State Council on the Arts with the support of Governor Andrew Cuomo and the New York State Legislature. Private funding provided by: Bloomberg Philanthropies, with support from the Kennedy Center/DeVos Institute; The MAP Fund, a program of Creative Capital supported by the Doris Duke Charitable Foundation and the Rockefeller Foundation; Mertz Gilmore Foundation; Jerome Robbins Foundation; Doris Duke Charitable Foundation; and FJC, a Foundation of Philanthropic Funds. In-kind support from: Arts & Business Council, Fox Rothschild LLP, Pillsbury Winthrop Shaw Pittman LLP, Volunteer Lawyers for the Arts, and Materials for the Arts. Additional support provided by our Advisors, Programming Partners, Neighborhood Partners, International Partners, and DNA's community of individual donors. Dance New Amsterdam is part of The Lower Manhattan Arts League's Fall Downtown, made possible by generous support from The New York Community Trust – LuEsther T. Mertz Advised Fund. For a full list of DNA's partnerships, visit

www.dnadance.org.