DREAM OF THE RED CHAMBER, a performance for a sleeping audience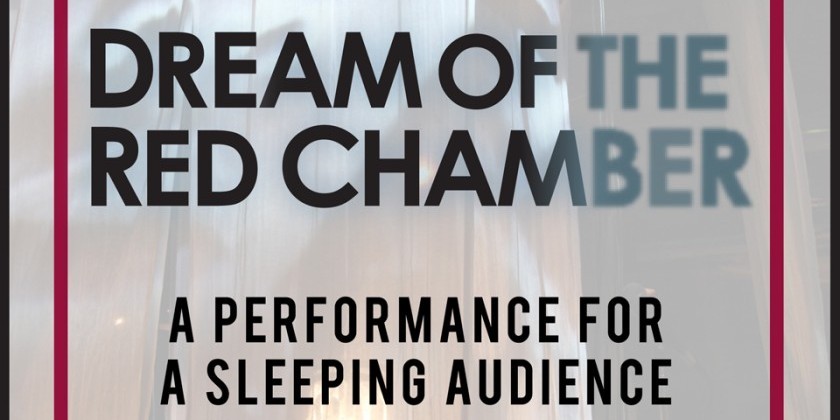 Company:
Times Square Arts; Allied Partners; Brickman Real Estate; A Collapsable Giraffe and 3-Legged Dog Production
Jim Findlay's
DREAM OF THE RED CHAMBER, a performance for a sleeping audience
AT THE BRILL BUILDING IN TIMES SQUARE
MAY 9-17
Presented by Times Square Arts
in partnership with Allied Partners and Brickman Real Estate
A Collapsable Giraffe and 3-Legged Dog Production
Afternoon/evening performances: May 9 & 13-16 @ 5pm–midnight
Overnight performances: May 10 & 17 @ 5pm–6am
Brill Building, 1619 Broadway (between 49th & 50th Streets, NYC)
** FREE ** Audiences may arrive at any time, depart at any time, and return at any time
Conceived as a literal dream play—the work is performed for an audience that is encouraged to experience the piece while they fall in and out of sleep. This durational performance installation invites the audience to take an immersive journey through Cao Xueqin's 18th century Chinese novel "Dream of the Red Chamber"—an epic love story between a stone and a flower, framed by a dizzying series of metaphysical dreams.

DIRECTED BY JIM FINDLAY
CONCEIVED + WRITTEN BY JIM FINDLAY and JEFF JACKSON
SONGS COMPOSED BY ELYSIAN FIELDS
PERFORMERS CHRISTINA CAMPANELLA, JAMES DAWSON,
OKWUI OKPOKWASILI, LIZ SARGENT,
KANEZA SCHAAL, and REBECCA WARNER,
with Aleta Findlay, HyoJu Hong, Emily Pintel,
featuring Jennifer Charles, Kitty Louise, and Kate Moran on video
SET + VIDEO DESIGN – JOSH HIGGASON & JIM FINDLAY
SOUND DESIGN – JAMIE MCELHINNEY
LIGHTING DESIGN – CHRISTOPHER KUHL
COSTUME DESIGN  – ENVER CHAKARTASH
ASSISTANT DIRECTOR - MAURINA LIOCE
STAGE MANAGER – TERESA HARTMANN
DRAMATURG - SISSI LIU
ASSISTANT COSTUME DESIGN – MAURINA LIOCE & CHRISTINE STEVENSON
PRODUCER – JOEL BASSIN
Dream of the Red Chamber, a performance for a sleeping audience has been supported by The MAP Fund, a program of Creative Capital supported by the Doris Duke Charitable Foundation and The Andrew W. Mellon Foundation; Nancy Quinn Fund and Edith Lutyens and Norman Bel Geddes Design Enhancement Fund — programs of A.R.T./NY; The MacDowell Colony; a creative development residency at Mount Tremper Arts; The Performing Garage Presents which is made possible by the Lower Manhattan Development Corporation; Duke Department of Theater Studies' Theater Previews New Works Lab; Martin E. Segal Theatre Center's Prelude.