Dance Against Cancer - An Evening to Benefit The American Cancer Society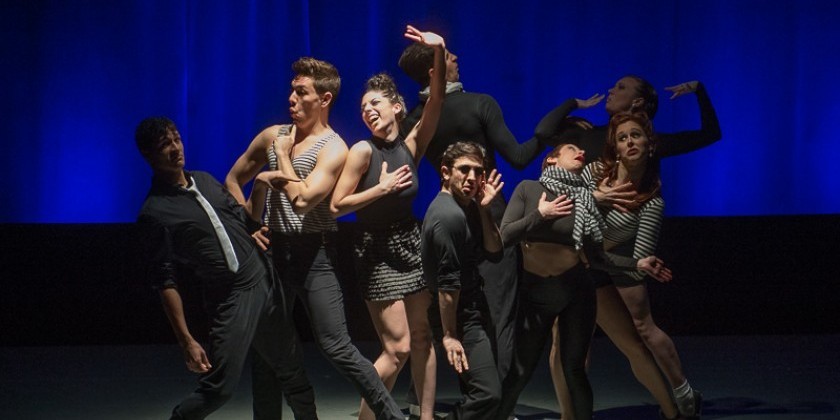 Company:
The American Cancer Society
Dance Against Cancer
An Evening to Benefit
The American Cancer Society
Monday, April 27, 2015 at 7pm
at AXA Equitable Theater
Producers Erin Fogarty and Daniel Ulbricht have partnered with the American Cancer Society to present the 5th annual Dance Against Cancer on Monday, April 27, 2015 at the AXA Equitable Theater, 787 Seventh Avenue (between 51st and 52nd Streets). VIP guests will enjoy cocktails and passed hors d'oeuvres at 6pm, followed by world premiere dance performances at 7pm from companies including New York City Ballet, American Ballet Theatre, Alvin Ailey American Dance Theater, Complexions Contemporary Ballet, Gallim Dance, members of NYC's Broadway community and more. Tickets are $150 for General Admission, $300 for VIP and $500 for Preferred VIP with dress rehearsal access and are available at dacny.org. All proceeds from this event will benefit research initiatives as well as all patient and family service programs that American Cancer Society funds. Since its inauguration, Dance Against Cancer has raised over $325,000 in support of the American Cancer Society.
This year's artists include New York City Ballet's Maria Kowroski, Sara Mearns, Tiler Peck, Robert Fairchild, Amar Ramasar, Taylor Stanley, Daniel Ulbricht; American Ballet Theatre's Stella Abrera, Herman Cornejo, Marcelo Gomes; Alvin Ailey's Matthew Rushing; as well as Desmond Richardson, Sasha Radetsky with more to be announced in the coming weeks.
Both Hearth and Vitae restaurants will generously cater the pre-performance VIP reception.  The post-performance reception will feature a new partnership with the Natural Gourmet Institute as well as supporters such as Brooklyn Brewery, Baron Tequila among others.

Dance Against Cancer
Co-producers and longtime friends Erin Fogarty and Daniel Ulbricht conceived Dance Against Cancer in 2010.  They both have close ties to the cause as Ms. Fogarty lost her father in 2011 after a seven-year battle with colon cancer and Mr. Ulbricht's mother is currently battling uterine cancer.  With so many of their close friends and family sharing stories of their own relation to the disease, the desire to do something grew into what is now a gala benefit for the incredible work that the American Cancer Society does through research initiatives as well as patient and family service programs. The benefit brings together artists from leading dance companies from New York City and beyond for a night of beautiful performances, world premieres and great company. Since its inauguration, Dance Against Cancer has raised over $325,000 in support of the American Cancer Society.
 
About the American Cancer Society
The American Cancer Society is a global grassroots force of more than three million volunteers saving lives and fighting for every birthday threatened by every cancer in every community. As the largest voluntary health organization, the Society's efforts have contributed to a 20 percent decline in cancer death rates in the U.S. since 1991, and a 50 percent drop in smoking rates. Thanks in part to our progress nearly 14 million Americans who have had cancer and countless more who have avoided it will celebrate more birthdays this year. We're determined to finish the fight against cancer. We're finding cures as the nation's  largest private, not-for-profit investor in cancer research, ensuring people facing cancer have the help they need and continuing the fight for access to quality health care, lifesaving screenings, clean air, and more. For more information, to get help, or to join the fight, call us anytime, day or night, at 1-800-227-2345 or visit cancer.org.
Natural Gourmet Institute (NGI), the leading health-supportive culinary school, has signed on as the official culinary sponsor for Dance Against Cancer. NGI's community of culinary experts will be creating a health-supportive, colorful, and seasonal menu for guests to enjoy at the April 27th event.
In addition to training chefs to make the connection between food and health in their professional Chef's Training Program, NGI also offers medical-focused, hands-on culinary training. These courses include extracurricular cooking classes, Continuing Professional Education (CPE)-approved series classes, and a Cooking For People with Illness Certificate Program that teaches students to address common issues of chronic disease; how and what to cook for people with cancer, immune disorders, diabetes, heart disease, celiac, inflammation and other common illnesses; how to develop culinary strategies that support clients' well-being during treatment and more.
About Natural Gourmet Institute
Founded in 1977 by Annemarie Colbin, Ph.D., Natural Gourmet Institute (NGI) is the leader in health-supportive culinary education. Natural Gourmet Institute's Chef's Training Program is a comprehensive and professional program that trains students to meet the growing demand for culinary professionals who are able to make the connection between food and health. NGI's interactive and dynamic Certificate Programs are designed to give students first-hand experience and expertise in the areas of Cooking for People with Illness, Writing for Food Media, Sustainable Meat, Culinary Tours, Culinary Nutrition, Sustainable Farming, and Food Entrepreneurship. Natural Gourmet Institute also offers public intensives, hands-on instruction, demonstrations and lectures for the healthy cooking enthusiast. On Friday night, the school is transformed into an intimate dining room, where Chef's Training Program students and instructors prepare a three-course vegetarian Friday Night Dinner that is innovative, delicious and beautifully presented. www.naturalgourmetinstitute.com