Dance Bloc III - A virtual dance show by Dixon Place Theater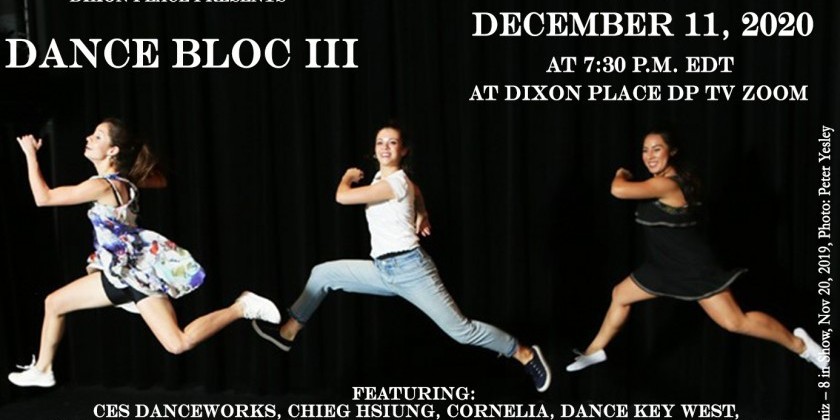 Company:
Dixon Place Theater
Presented by Dixon Place/DP TV
Curated by Sangeeta Yesley/Creative Performances.
Dancers and choreographers showcase recently choreographed digital dance works that were performed/shot outdoors.
Featuring: CES Danceworks, Chieg Hsiung, Cornelia, Dance Key West, Inclined Dance Project, Spark Movement Collective, Vivarta Arts. 
Video Runtime: Approximately 45 minutes
After the streaming, we will meet the choreographers for a conversation.
Please register to receive the zoom link. FREE to attend with suggested donations.

Event Link: http://dixonplace.org/performances/dancebloc3-12-11-20/
Ticket link: https://ci.ovationtix.com/35526/performance/10597500?performanceId=10597500

DP TV programs are free, and participating artists are remunerated. Donations help support the community during this challenging time as Dixon Place continues to bring together visionary artists and adventurous audiences. If you can make a gift at this time, we're very grateful for your consideration!

If you have any question, please feel free to contact me at creativeperformances.nyc@gmail.com.

THANK YOU!

*Image courtesy of Danielle Diniz – 8 in Show, Nov 20, 2019. Photo: Peter Yesley.