Dance For Nepal - All Proceeds To Benefit Earthquake Survivors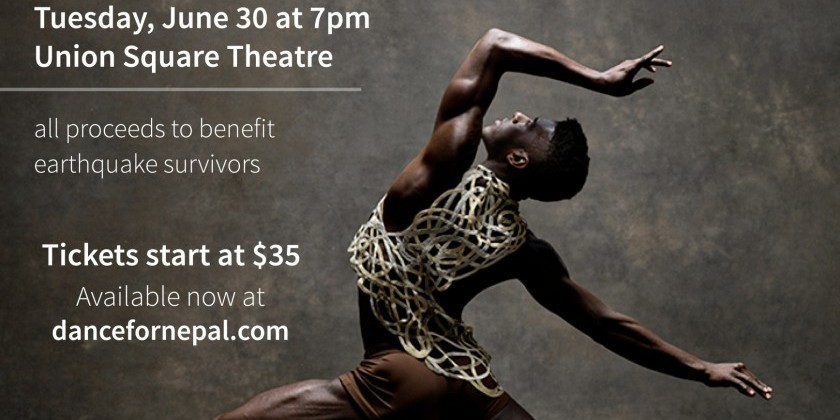 Company:
Simona Ferrara and Lloyd Knight / Dance For Nepal
Simona Ferrara and Lloyd Knight are directing a Fundraiser show to raise money for the victims of Nepal.

What's on the program (Not in this Order):

*Artist from New York City Ballet 
*Carrie Ellmore-Tallitsch from Martha Graham Dance Co.  & Lloyd Knight in a work by Joshua Beamish 
*Artist from Paul Taylor Dance Co.
*Pablo Francisco from the Limon Dance Co.
*Irina Dvorovenko and Maxim Beloserkosky Former American Ballet Theatre 
*Artist from Michelle Dorrance Tap Co.
*Eriko Iisaku from THE FRANCESCA HARPER PROJECT
*Christina llisije from Parsons Dance Co.
*Jillian Hobbs from Sidra Bell
*Artist from Pascal Rioult Dance Co.
*Sevin Ceviker & Fadi Khoury of FJK Dance

-There is also a post show reception taking place right after for VIP guest wanting to meet you beautiful artist! With food and drinks, It will take place at Gina Gibney Studios not too far away from the theatre, it's located at 890 broadway. Refreshments/food by ll Puto Ristorante  (Of course we will give you more info regarding that very soon).

* We are on the following social media sites:
*Instagram, name: Dance For Nepal Fundraiser
*Facebook, we have both a event page and an actual Facebook page titled: Dance For Nepal.