Contribute
Your support helps us cover dance in New York City and beyond! Donate now.
Dance New Amsterdam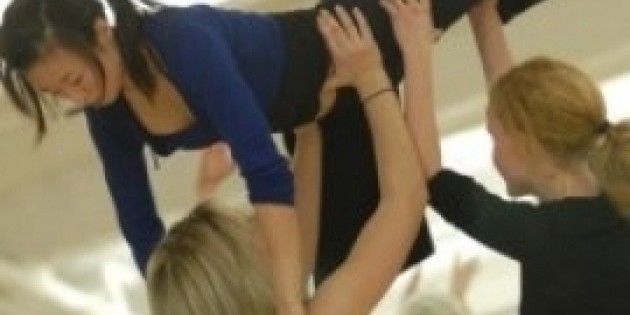 This Week In the Theater: Works in Progress (WIP)
Works in Progress (WIP)
October 27
3:00pm
Featuring:
Frances Lai Baca/Lai Baca Dance
Jeremy Xido/Cabula6
Works In Progress (WIP) provides choreographers an opportunity to show new work at various stages of development in front of a live audience. Participating artists receive written and oral feedback from the audience, offering them objective insight during critical points in the choreographic process.
For more information or an application, please visit our website.

SPLICE Artist Kendra Portier
October 29
5:00 - 7:00pm
FREE!
Get a preview of the show and a sneak peak into Kendra's process!
SPLICE: Kendra Portier/Elke Luyten & Kira Alker
November 30-December 8
FRI 7:30pm | SAT 3:00pm and 7:30pm
Tickets: 7 general, 2 DNA members, 4 students/seniors, 2 advance

*There will be an opening reception at 6:30pm on November 30.
For more information, please visit ourwebsite.
Performance Project Showcase

November 1-3
THUR-FRI at 7:30pm
SAT at 3:00pm and 7:30pm

Tickets: 7 general, 2 DNA members, 4 students/seniors, 2 advance
*Buy your tickets in advance - Performance Project always sells out fast!
Featuring work by:
Doug Elkins
Katiti King
Benny Simon
Sasha Soreff
Akiko Tomikawa
For more information, please visit our website.
The Business of Making Art

with Monica Bill Barnes

The Business of Making Art is a lecture / discussion series helping choreographers and dancers develop strategies to present and market themselves and their work.
Juggling Art and the Business of Being an Artist
with Monica Bill Barnes
Artistic Director and Choreographer,
Monica Bill Barnes & Company

November 2
10:00am - 1:00pm
Battery Dance: 380 Broadway 5th Fl. (2 blocks south of Canal)
This class will focus on the balancing act of building a career which pays you to be a choreographer while at the same time continuing to nurture your own artistic development.
Fee: 0 advance payments, 5 at the door
To pre-register or for more information, contact Hannah Seidel or visit our website.
Japan Society

Japan Society presents:
Saturday, October 27 at 7:30 pm*
*Followed by a MetLife Meet-the-Artists Reception
Sunday, October 28 at 5:30 pm
Tickets: 2/5 Japan Society members
Experience a centuries-old folk music and dance tradition from the 3/11 earthquake and tsunami-devastated region of Japan. The practice of Kuromori Kagura which represents a display of appreciate to the gods of Shintoism, can be traced back to the 17th century when it began in honor of the divine spirit of the Kuromori Shrine in Miyako City, Iwate Prefecture. Designated as an Important Intangible Folk Cultural Asset by the Japanese government, the group will perform a selection of dances from their vast repertoire which includes furious jumps, brisk turns and whimsical moves accompanied by percussion and fue (Japanese flute), and performed with colorful costumes and masks. Pre-performance Lecture led by William Lee, Associate Professor and Director, Asian Studies Centre, University of Manitoba one hour before each performance, free to ticket holders.
photo by Yuichiro Kariya
Don't forget about DNA's daily classes in:
Modern . Contemporary . Simonson Technique . Cunningham Technique . Gaga . Ballet . Floor Barre . Hip Hop
Social Dance . Yoga . Pilates . Thai Massage and more!
For a full class schedule, click here.