Dance New Amsterdam Announces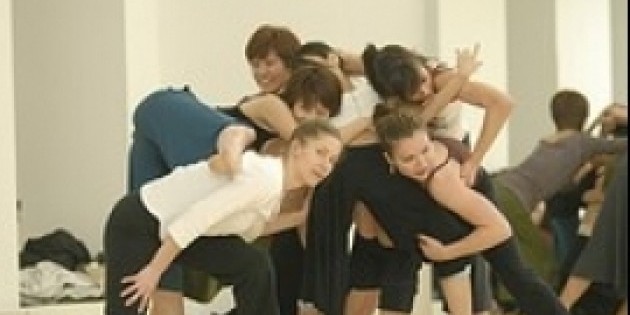 Three Individual Giving Funds
DANCE NEW AMSTERDAM ANNOUNCES THREE
INDIVIDUAL GIVING FUNDS SUPPORTING ITS
"BUILDING BLOCKS TO RECOVERY"
Studio to Stage, Backstage Pass and Community Club Funds Promote Targeted with DNA Programs
NEW YORK,
November 30, 2012—
Dance New Amsterdam
(DNA), NYC's foremost progressive dance education and performance center, announced

three new funds

today as part of the organization's

Building Blocks to Recovery

plan. Launched in conjunction with the organization's end-of-year individual giving campaign, the funds highlight key components of the organization's unique programs and offerings – the heart of DNA. Donations can be made to each fund and well as a general single, monthly, or annual giving pledge.
The following three Building Blocks to Recovery funds have been set up to target specific components of DNA, allowing donors the opportunity to support their favorite programs and play a larger role in reaching the goals of DNA's building blocks initiative:
Studio to Stage -

DNA provides funding to more than 10 artistic development programs, impacting thousands of artists yearly. DNA also provides 120 weekly classes at close to one-third the market rate and provides competitive rental rates. The Studio to Stage fund will allow DNA to keep class and rental prices low, create innovative programs to expand opportunities for dancers, and provide youth and teen training to develop the next generation of artists. This fund also supports specific "studio to stage" programs, including Choreographic Investigation Course, Works In Progress, Visa Voices, Performance Project, RAW Directions and RAW Material.
o
Backstage Pass -
DNA has presented over 380 performances since the launch of DNA

PRESENTS

in 2006. Known for supporting artists who explore and expound upon existing boundaries, DNA's artist residency opportunities give the freedom and opportunity to create and refine their work at all stages. The Backstage Pass fund benefits the artists presented in DNA's theater as well as the avid theater-goer. This fund will keep ticket prices low, provide rehearsal space for artists, and support the hard-working theater apprentices and crew. In addition, this fund will support audience development, a programming and ticket subscription, and innovative ways to develop an interactive relationship between the audience and artists.
o
Community Club -
DNA relocated to Lower Manhattan to be part of the post-9/11 revitalization efforts and provide the community with a central hub for high-quality dance education and performance opportunities. At the center of DNA is a strong community that focuses on quality cultural development and cares about interacting with its local community. The Community Club fund will support outreach events, community engagement and opportunities to increase exposure of DNA classes and performances – starting with local initiatives and growing to encompass DNA's worldwide community.
"DNA is unique because we have implemented holistic cross-discipline educational and artistic programs. Our work regards dance as a necessary community element and a fulfilling career; it ensures the future of culture," states Artistic and Executive Director Catherine Peila. "These Funds offer our donors the opportunity to find a program that resonates with them personally and take a deeper interest in DNA's innovative, diverse and vital programs and artists."
For 28 years, DNA has trained dancers, choreographers and artists, with the mission to serve the whole dancer throughout his or her career. With its 5-year strategy plan, "Building Blocks to Recovery," DNA is taking every measure to increase income through new and strengthened programming. The plan relies heavily on increasing contributed income from individuals, foundations and corporate sponsorships.

It is essential that income increase by 20% before end of June 2013 to complete year one of the "Building Blocks to Recovery" plan.

DNA's earned-revenue stream represents more than 80 percent of its income. An estimated 45 percent increase in philanthropic giving is a primary target over the next 5-years.
In

June 2012 DNA's long-term rental negotiation finalized,

saving DNA over million dollars during the life of its lease. Rent was lowered by 40 percent and DNA's arrears burden decreased by .6 million. DNA launched the 5-year Building Blocks to Recovery plan in September 2012 and announced new performing arts

partnerships in October including the Joffrey Ballet School, Tom Todoroff Studio and Conservatory, Institute of Bollywood Dance and Film, and USA Presenters. The Studio to Stage, Backstage Pass and Community Club funds initiate the next major strategic milestone forward.
ABOUT DANCE NEW AMSTERDAM
Founded in 1984, DNA provides a community hub for the highest quality dance training, choreographic exploration and innovative performance, developing new audiences and bridging communities. It provides valuable opportunities for the aspiring, emerging and established artist, including daily classes, certification courses, commissions, artistic residencies, along with studio and administrative office subsidies. DNA encourages professionalism, entrepreneurial cross-discipline initiatives, community engagement and diverse artistic expression. It was the first nonprofit arts organization to move to Lower Manhattan after 9/11, serving as a renewing force in NYC's cultural landscape. To learn more about DNA and supporting its programs through charitable donations, visit
www.dnadance.org
.
DNA is a 501(c)(3) nonprofit organization and its 2012-2013 programming is made possible through the generosity of its supporters. As of July 2012, public funding provided by: New York City Department of Cultural Affairs in partnership with the City Council; and New York State Council on the Arts with the support of Governor Andrew Cuomo and the New York State Legislature. Private funding provided by: Bloomberg Philanthropies, with support from the Kennedy Center/DeVos Institute; The MAP Fund, a program of Creative Capital supported by the Doris Duke Charitable Foundation and the Rockefeller Foundation; Mertz Gilmore Foundation; Jerome Robbins Foundation; Doris Duke Charitable Foundation; and FJC, a Foundation of Philanthropic Funds. In-kind support from: Arts & Business Council, Fox Rothschild LLP, Pillsbury Winthrop Shaw Pittman LLP, Volunteer Lawyers for the Arts, and Materials for the Arts. Additional support provided by our Advisors, Programming Partners, Neighborhood Partners, International Partners, and DNA's community of individual donors. Dance New Amsterdam is part of The Lower Manhattan Arts League and its downtown festivals, made possible by generous support from The New York Community Trust – LuEsther T. Mertz Advised Fund. For a full list of DNA's partnerships, visit

www.dnadance.org.