Dance On A Shoestring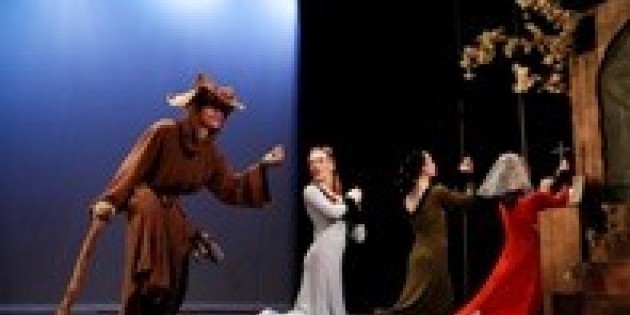 Company:
New York Theatre Ballet
New York Theatre Ballet's Dance On A Shoestring - 30th Anniversary Season
Featuring Agnes de Mille's Three Virgins and A Devil
New York- Three Virgins and A Devil, set to music by Ottorino Respighi was choreographed by Agnes de Mille, and had its first performance in 1941. Based on a story of Boccaccio the ballet is the comic tale of three young virgins on their way to join a nunnery when they are confronted by a devil who uses each of their weakness to entice them into Hell, the mouth of which is a cave. The work is staged by NYTB Artistic Director, Diana Byer. The music will be performed live by NYTB music director Ferdy Tumakaka.
The third performance in New York Theatre Ballet's Dance On A Shoestring series will take place at 7 pm on Friday and Saturday, January 30 & 31 at The Dance Gallery, 30 East 31st Street, 5th Floor, NYC. Hailed as a "discreet little pearl in the oyster of New York dance", by Jennifer Dunning of The New York Times, the Company was recently sited by Pointe Magazine with honorable mention for one of the 2008's season's best performances with their performance of José Limón's "Suite" from Mazurkas.
Join New York Theatre Ballet and Ballet School NY for an evening of dance and music that includes many of the works seen on their most recent mid west tour including excerpts from James Sutton's Sleeping Beauty, created especially for NYTB and the Once Upon A Ballet series. The intimate Dance Gallery offers a unique performance experience where the audience not only sees the dance, but can observe behind-the-scenes elements of an informal theatrical experience. Children from Ballet School NY will also be featured on the program.
Tickets are only 0 and seating is extremely limited. Please reserve in advance by calling 212-679-0401 or visit our new website at www.nytb.org.