Contribute
Your support helps us cover dance in New York City and beyond! Donate now.
Dance On A Shoestring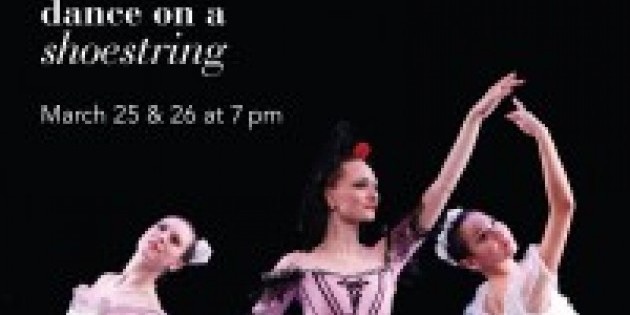 Company:
New York Theatre Ballet
The fourth and final performances of New York Theatre Ballet's Dance On A Shoestring series will take place on Friday and Saturday, March 25 & 26 at 7 pm at The Dance Gallery, 30 East 31st Street, 5th Floor, NYC. Hailed as "an invaluable company" by New York Times dance critic Alastair Macaulay this performance features revivals and new works by Agnes de Mille, Yukiko Kashiki, Keith Michael, Matthew Neenan, and Antony Tudor.
Repertory on the program includes excerpts and full works from NYTB's 2011 season including Keith Michael's The Alice-in-Wonderland Follies, Antony Tudor's Soiree Musicale, Agnes de Mille's Debut at the Opera, Matthew Neenan's Game Two and a new work by NYTB dancer Yukiko Kashiki. The ballets are accompanied by pianists Mariko Miyazaki and Michael Scales.
The Alice-in-Wonderland Follies recreates a gala evening at New York's Palace Theater in 1913 celebrating the 50th anniversary of the Lewis Carroll classic Alice's Adventures in Wonderland, and is set in the electric atmosphere of a vaudeville extravaganza. Headliners reminiscent of Joe Weber and Lew Fields, Lillian Russell, Helen Hayes, and Marie Dresler parody Alice's adventures with dance routines incorporating burlesque, soft-shoe, acrobatics, and ballroom dance all finessed with a touch of classical pointe dancing.
Soiree Musicale, which premiered at London's Palladium Theatre in 1938, was performed professionally for the first time in decades by New York Theatre Ballet to critical acclaim in 2010. It is danced to a suite of Rossini melodies arranged by Benjamin Britten. Sylvia Nolan, Resident Costume Designer of The Metropolitan Opera, reconstructed new costumes from the original design drawings by Hugh Stevenson.
Game Two, a series of duets and trios set to Georges Bizet's Jeux d'Enfants, was created exclusively for New York Theatre Ballet by Philadelphia-based choreographer Matthew Neenan, co-artistic director of BalletX. His works are known for their high caliber of technique and fresh inventiveness.
Agnes de Mille, widely recognized for her theatrical ballets during the golden age of musical theater, choreographed Debut at the Opera. Danced by Tanya Chumak, this solo is a comic depiction of a young ballerina who is about to perform onstage for the first time and has a bad case of stage fright.
About New York Theatre Ballet
New York Theatre Ballet was founded in 1978 by its artistic director, Diana Byer. It is the most widely seen chamber ballet company in the United States. NYTB has earned national acclaim for its restoration and revival of small masterworks by great choreographers and for its innovative hour-long ballets based on children's literature.
NYTB tours family and adult programs both nationally and abroad. Its audiences know the Company for its theatrical expressiveness, high production quality, and intimate accessibility to every audience member.
For more than 30 years, NYTB has produced, for adult and family audiences, dozens of classic masterpieces and contemporary ballets. Its roster includes dances by Frederick Ashton, Merce Cunningham, Agnes de Mille, José Limón and Antony Tudor. In April and December 2010, NYTB appeared with The New York Pops at Carnegie Hall to a sold out houses. NYTB has been invited to perform at dance venues such as Jacob's Pillow, Kaatsbaan, and New York's City Center and has just returned from a three week U.S. tour.
Tickets are 5. The program runs approximately one hour. Advance reservations guarantee a seat. Seating is extremely limited. For reservations and information, call 212-679-0401.