Dance Theatre of Harlem - Teaching Artist Audition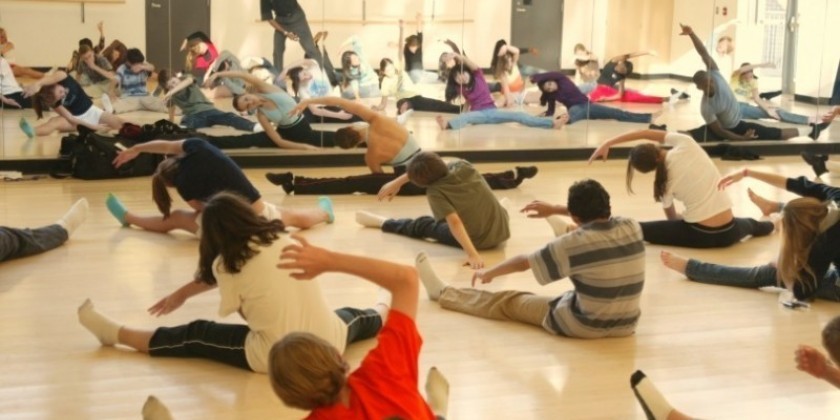 Company:
Dance Theatre of Harlem
DANCE THEATRE OF HARLEM - Teaching Artist Audition
Thursday, September 17, 2015 from 6:00-8:15PM
Application Deadline: 5:00PM on Friday, September 11, 2015 (Limited Audition Slots)
Candidates invited to audition will be notified within 24-48 hours of submitting application documents to DTH.
NOTE: This is a part-time and seasonal hourly paid position.  Teaching assignments are dependent on the number of requests that DTH receives from schools and cultural/community organizations.
Dance Theatre of Harlem is seeking dynamic Teaching Artists to join its innovative, cutting edge education and outreach program, Dancing Through Barriers® (DTB).  Using dance as a medium, DTB offers powerful programs that provide young people with tools for self-actualization, a holistic world view, and empowerment through creative literacy, critical thinking and reflection.  DTB provides arts and education experiences for the five boroughs of New York, New Jersey and Westchester.  (New Jersey and Westchester residents are encouraged to apply.)
Dance Theatre of Harlem is a leading dance institution of unparalleled global acclaim, whose mission is to maintain a world-class school that trains young people in classical ballet and the allied arts; an education and community outreach program that provides positive role models, instruction, and introduction to the arts; and to have a ballet company of artists both of African-American and diverse backgrounds, who perform the most demanding repertory at the highest level of quality.
LOCATION:
Dance Theatre of Harlem
Everett Center for the Performing Arts
466 W. 152nd Street (between Amsterdam and St. Nicholas Avenues)
New York, NY 10031
Please be prepared to dance and teach during the audition, and dress appropriately.  During the audition, each candidate will participate in a short ballet warm-up and demonstrate a 10-minute lesson. For the 10-minute demonstration, please present a short lesson based on a theme of your choice with all of the following exercises.
    1)  A brief ice breaker exercise
    2) A brief ballet technique based exercise
    3) A brief dance making/creation exercise
Make sure to identify the theme, lesson objective, and targeted grade levels in the beginning of your presentation. Your demonstration should highlight your ability to provide clear information as well as your teaching method/style.
All newly hired teaching artists are required to attend a Teaching Artist Training on Sunday, September 27, 2015 from 10:30AM-5:00PM.
For information about DTB, go to http://www.dancetheatreofharlem.org/outreach
We look forward to hearing from you!
TEACHING ARTIST AUDITION GUIDELINES
DTB Teaching Artist Responsibilities include:
- Introducing students to the DTH approach to basic elements of ballet technique
- Exposing students to ballet, as well as other dance genres and disciplines
- Constructing accessible and well-thought out lessons to enhance non-dance specific objectives: language literacy and critical thinking skills
- Designing movement experiences (based on any genre) which facilitate cognitive development: multiple perspectives, multiple solutions and unanticipated outcomes
- Introducing approaches that enable students to represent their ideas through movement exploration, creation, and in performance
- Developing and demonstrating sample lessons, that can be replicated for varied demographics or contexts
How to Apply:
Interested Teaching Artist candidates should apply by submitting the following documents in PDF format via email to rvillanueva@dancetheatreofharlem.org:
1. One-page statement of your personal teaching philosophy (beliefs on the importance of dance education)
2. Sample dance-related lesson plan (based on a theme of your choice) for a 50-minute class
3. Résumé including both professional and personal references
Lesson Plan should:
1. Be dance related and geared for children grades K-12
2. Demonstrate public school classroom management strategies
3. Include a non-dance focused objective (see Teaching Artist Responsibilities), learning outcomes, a theme, and movement exercise
Resumé details should include any familiarity with:
- NYC Department of Education Blueprint Standards for Teaching and Learning in Dance, or similar (local, state or national) arts education standards
- Applying Bloom's Taxonomy and Blueprint Standards
- Curriculum design
- Incorporating literacy components and critical thinking skill development
- Body mind centering techniques (including but not limited to: Bartinieff, Feldenkrais, Alexander)
- Building connections to other areas of learning (e.g., language arts, mathematics, social studies, science)
- Working with special needs children and/or special needs training
- Childhood and human development
- Teaching in multiple or bilingual settings
- Creative movement, choreography and improvisation tools
Qualified Candidates will have:
- An undergraduate or graduate degree in performing arts, or equivalent professional dance experience
- Intermediate to advance proficiency in Ballet
- Professional training in dance education or education related workshops
- Professional experience in the arts
- Proven teaching experience in artist-in-schools programs, ballet schools or other dance classroom settings.