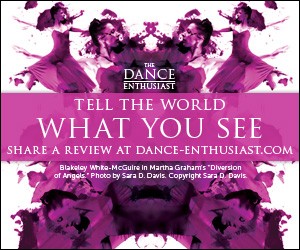 Dance Theatre of Harlem presents Celebrating Twenty Years of Robert Garland's Return
Company:
Dance Theatre of Harlem
Celebrating Twenty Years of Robert Garland's Return
Return was choreographed for Dance Theatre of Harlem's 30th anniversary. Choreographer Robert Garland calls the ballet's style "post-modern urban neoclassicism – an attempt to fuse an urban physical sensibility and a neoclassical one." Staged for 12 dancers to songs performed by James Brown and Aretha Franklin, Return is "… a witty fusion of ballet technique and street gait whose irony toward rhythm-and- blues had the audience in stitches." (The New York Times)
Wednesday, June 17th
The Making of a Choreographer at 8pm
Watch DTH Resident Choreographer, Robert Garland​, and former Principal Ballerina Tanya Wideman-Davis discuss Robert's extraordinary journey to becoming a choreographer on  Instagram, YouTube and Facebook.
Thursday, June 18th
Inside Return at 8pm
Enjoy a recent conversation with original and current ​Return cast members on their experiences dancing in ​what has become Robert Garland's most iconic ballet throughout the years on our YouTube channel.
Friday, June 19th
"What's the Step?" at 3pm
DTH Company Artist Dylan Santos leads a fun session teaching a dance phrase from Return on Instagram live.
Saturday, June 20th
Return at 8pm
Watch ​a special full-length screening of Return. This specially compiled evening features footage spanning 20 years of performance on YouTube andFacebook, with live commentary by Company Artist Lindsey Donnell in the YouTube live chat.