Dances for a Variable Population presents Washington Square Dances‏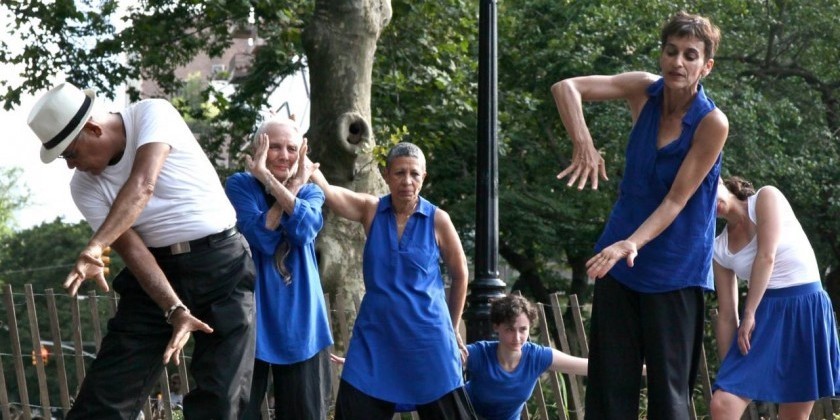 Company:
Dances for a Variable Population
DANCES FOR A VARIABLE POPULATION PRESENTS WASHINGTON SQUARE DANCES 2014
Friday, September 19, 2014 at 6:00 PM
Garibaldi Plaza, Washington Square Park
A Cast of Dancers, Aged 25-85, to Gather at Washington Square Park to present the annual dance performance aligning with final renovation of Washington Square Park

 
New York , August 25, 2014 – Using the power of dance to create community, Dances For a Variable Population (DVP), will present its annual performance of Washington Square Dances celebrating the final phase of the renovation of Washington Square Park. Performed by a multi-generational cast of dancers, spanning ages 25-85, the performance highlights DVP's mission to promote strong and creative movement among adults of all ages and abilities. The fourth year of Washington Square Dances will take place at Garibaldi Plaza. This performance features choreography by DVP's Founder and Artistic Director Naomi Goldberg Haas, guest artists Sandra Genter, Dyane Harvey, Margaret Yuen and The Red Silk Dancers and performances by Walter Rutledge, Gus Solomons jr. and members of DVP's multi-generational company.
"Since our founding in 2005, DVP has lovingly held classes and events in the Washington Square Park community. With the initial phase of the renovation of Washington Square Park in 2011, we initiated Washington Square Dances performances. This year, we held weekly summer movement classes and are excited to celebrate the completion of the project and herald forth more dancing in the park!," says Naomi Goldberg Haas, DVP's Artistic Director
Audiences will have the privilege of spotting notable guest artists—Gus Solomons jr. (NYU/Tisch arts professor, retired), Walter Rutledge (Writer, Choreographer and Performer), Sandra Genter (Barnard College, Professor Emeritus) and Margaret Yuen (Artistic Director of the Red Silk Dancers), who will also perform alongside an impressive collection of dancers of all levels and training backgrounds in the blossoming park. Senior community members performing in Washington Square Dances are drawn from DVP's free and low cost program dance classes held in Washington Square Park, University Settlement and the Rod Rodgers Dance Studio.
Presented by Dances For A Variable Population in partnership with NYC Department of Parks and Recreation, Washington Square Dances is a unique collaboration about age and celebrating the maximum expression found in dance, despite limited movement ability. Technical movement structure, filtered through a conduit of contemporary modernism, will work to weave stories in this lively and imaginative collective.
The musical score to accompany this creation will mimic the diversity of its movers, incorporating works by Ludovico Einaudi, Glen Kotche, Zoe Keating and Daniel Freeman, as well as samplings of classical, alternative, R&B and pop music.

PROGRAM INFORMATION
Dances For A Variable Population will present Washington Square Dances in Garibaldi Plaza in Washington Square Park.
Friday, September 19, 2014 at 6:00 PM
Admission is Free.
The park is located between West 4th and West 8th Streets
http://www.nycgovparks.org/parks/washingtonsquarepark/map
ABOUT DANCES FOR A VARIABLE POPULATION
Founded in 2005 by Naomi Goldberg Haas, Dances for a Variable Population (DVP) creates performances that erases the traditional boundaries between dancers and non-dancers. The organization's three-tiered programming includes: a multigenerational performance company that engages community members as participants and audiences; Movement Speaks® and Dances for Seniors, free, community-based programs for low-income, minority and culturally underserved older adults, which has served over 4,000 seniors; and Variable Pop Method Expressive Dance and Fitness classes, offered year-round to adults of all ages and abilities. DVP's site-related performances have been presented in some of New York City's most iconic public spaces, including Times Square, Washington Square Park, and the High Line. DVP has also performed at Jacob's Pillow Dance Festival, and internationally in Poland and British Columbia. Most recently, DVP presented SOLSTICE STEPS in collaboration with Riverside Park's Harlem Dances at the West Harlem Piers Park in June 2014. This past May 2014, Artistic Director Naomi Goldberg Haas, was awarded the LMCC President's Award for Performing Arts for her work with Dances For A Variable Population.
Washington Square Dances has been made possible with public funds from; the New York City Department of Cultural Affairs in partnership with the City Council, and funded in part by Council Member Margaret Chin, 1st Council District, Speaker Melissa Mark-Viverito and the New York City Council; and the New York City Department for the Aging with support from former Manhattan Borough President Scott Stringer, and the NYU Community Fund.
Photo by: Stephan de las Heras