Dancespace Project Presents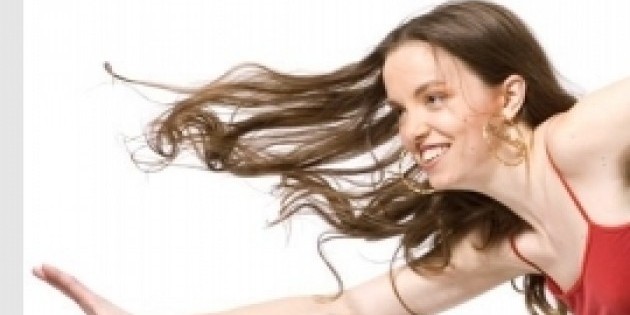 Michelle Dorrance and Dorrance Dance/New York
Danspace Project Presents
MICHELLE DORRANCE AND DORRANCE DANCE/NEW YORK
SOUNDspace
January 17-19, 2013 [Thu-Sat] 8PM
Danspace Project presents the premiere of Michelle Dorrance
's first evening-length work titled SOUNDspace
(January 17-19, 2013). Dorrance has seen a prolific career in rhythm tap as one of her generation's most sought-after performers. Heralded by The New Yorker
as "one of the most imaginative tap choreographers working today," Dorrance received a Bessie Award for work in her company's inaugural production at Danspace Project, part of PLATFORM 2011: Body Madness
. Dancing since the age of four, Dorrance trained with Gene Medler, touring extensively with his North Carolina Youth Tap Ensemble for a decade. Since moving to New York in the 1990s Dorrance has been a company member of STOMP
and Savion Glover's Ti Dii, among countless others. She garnered acclaim for her work in Jason Samuels Smith's Chasing the Bird/Charlie's Angels
and has been presented at festivals internationally. Dorrance is a 2012 Princess Grace Award Winner, a 2012 Field Dance Fund Recipient, and a 2011

Bessie

Award Winner. She founded Dorrance Dance/New York in 2011.
In this Danspace Project premiere, Dorrance creates a rhythm tap piece she titled SOUNDspace
in direct response to the sonic possibilities of St. Mark's Church in its natural acoustic form. Dorrance explores the unique acoustics of St. Mark's sanctuary, examines movement as music, and pushes the boundaries of contemporary tap technique. Masterful dancer/musician and 2012 Bessie Award winner, Dormeshia Sumbry-Edwards
is featured in a cast of unique hoofers and multi-form dancers. Bass player, Greg Richardson
, dancer/percussionist Nicholas Young
and Dorrance collaborate to create the original score.
Featuring: Michelle Dorrance, Dormeshia Sumbry-Edwards, Mishay Petronelli, Nicholas Young, Greg Richardson and Jose "BoyBoi" Tena, Megan Bartula, Elizabeth Burke, Ryan Casey, Warren Craft, Karida Griffith, Demi Remick, Aska Shiozawa, Byron Tittle, with original live music and percussion by Greg Richardson and Nicholas Young.

BIOGRAPHY
Hailing from Chapel Hill, North Carolina, Michelle Dorrance
has been tap dancing since the age of four and performing since the age of eight under her mentor, youth tap trailblazer, Gene Medler. Michelle was formally trained at The Ballet School of Chapel Hill, founded by her mother, former professional ballet dancer M'Liss Gary Dorrance. Michelle joined Medler's groundbreaking North Carolina Youth Tap Ensemble (NCYTE) in the late 1980s and performed and toured extensively with NCYTE for the next decade across the states and at the first major international tap dance festivals held in St. Louis, Chicago, Vienna and Rio de Janeiro. It was during this time that the ensemble came to be known as the premiere youth tap company in the world. Before graduating from high school, Michelle became the youngest cultural ambassador to Saratov, Russia, representing Chapel Hill, North Carolina.
Growing up, Michelle developed a great love for unique, independent music. She was invited to dance with swing-revival icons the Squirrel Nut Zippers while still a teenager. She maintains this passion for independent music today and plays bass for childhood friend and indie-pop sensation, Darwin Deez, with whom she collaborates as deez and deez.
Since moving to New York City in 1997, Michelle has performed with the most notable tap companies in the world and spent four years performing in the New York cast (as well as the North American Tour) of Off-Broadway sensation, STOMP. Her varied company experiences include performing with Heather Cornell's Manhattan Tap, Barbara Duffy & Co., Max Pollak's Rumba Tap, Tony Waag's Tap City on Tour, Cintia Chameki's Ritmico, Rhythm Kaneko's Groovin' High, CPD, Lynn Dally's JazzTap Ensemble and Savion Glover's company Ti Dii. Highlight performances include the Opening Ceremonies for the 2001 Cannes Film Festival, the 2002 Winter Olympics, the Nijinsky Awards, the Jerry Lewis Telethon, Savion Glover at The Beacon Theatre, The Apollo Theater's 70th Anniversary Concert and the debut of Improvography at the Joyce Theater. In addition to this work, Michelle has performed in Ayodele Casel's Diary of a Tap Dancer, Dr. Harold Cromer's original cast of Opus One at The Tap Extravaganza and with legendary Mable Lee's Dancing Ladies at the Apollo Theater. Michelle was critically acclaimed in the World Premiere of Derick Grant's Imagine Tap as well as in Emmy Award-winning choreographer Jason Samuels Smith's Chasing the Bird/Charlie's Angels: A Tribute to Charlie Parker. Michelle also holds a BA from New York University's prestigious Gallatin School.
Michelle has established herself as an accomplished solo artist, performing and teaching master classes throughout the world. From jazz clubs in Tokyo to concert halls in Brazil, Michelle has been described as "dynamite", "brilliant", "a marvel" and "a delight" (The Chicago Tribune, Dance Magazine, Boston Globe, The New York Times). She continues to be featured on stages and in shows across the globe, as well as at countless festivals such as The New York City Tap Festival, the LA Tap Festival, the North Carolina Rhythm Tap Festival, the DC Tap Festival, Tap Kids, the Chicago Human Rhythm Project, Brazil International Tap Festival, Beantown Tap Festival, Stockholm Tap Festival, Barcelona Tap Festival, Prague City Tap Festival, Berlin's Blue Tap Festival, the Düsseldorf Stepptanz Festival, the New Jersey Tap Festival and in workshops from Montana to Moscow. Be it her "sunny charisma", her "wonderful comic timing and compellingly syncopated physicality" or her "killer chops", Michelle's dancing has won exceptional press (The New York Times, The New Yorker). She has notably been the subject of featured articles and the cover/cover story for both Dance Magazine and Dance Teacher Magazine.
Michelle has been on faculty at Broadway Dance Center since 2002 and has taught as guest faculty at Steps on Broadway, Peridance Center, Duke University, New York University, East Carolina University, The Ohio State University, Barnard College, Elon College as well as numerous privately owned studios and national conventions. She owes her passion for teaching to the great and constant teachers in her life, her mother, M'Liss Gary Dorrance, her father, Anson Dorrance, and mentors Gene Medler, Josh Hilberman, Dianne Walker and Savion Glover.
In early 2011 Michelle founded Dorrance Dance/New York with the mission to help audiences view tap dance, a beautiful, old jazz form, in a new and dynamically compelling context. Their sold-out, inaugural production at Danspace Project NYC earned Michelle a New York Dance and Performance Award (a Bessie) for "blasting open our notions of tap" in her works, Remembering Jimmy and Three to One. Since this debut, Dorrance Dance has performed at The Yard, The Ruth St. Denis Studio at Jacob's Pillow and festivals in Washington DC, Barcelona, Chicago, Boston and Austin, TX to rave reviews.
Outside of her work as artistic director and choreographer for Dorrance Dance, Michelle's choreography is also performed throughout the country and internationally. Her work has been presented at countless festivals as well as at Radio City Music Hall, the Joyce Theatre, the Duke on 42nd St., Joe's Pub, Symphony Space, Birdland with members of the Duke Ellington Orchestra, on tour with Thank You Gregory! and in commercials for MTV and Toyota Taiwan.
Most recently, Michelle was honored with a 2012 Princess Grace Award, the first tap dancer to receive a fellowship in Choreography in the organization's thirty year history. With this fellowship, she will set work on Chicago Human Rhythm Project's BAM In 2013.
Michelle has performed as a featured soloist in Toshi Reagon and Allison Miller's Celebrate The Great Women of Jazz and Blues at both the Shomburg Theatre in Harlem as well as the Highline Ballroom as a part of The Blue Note Jazz Festival. She was featured alongside acclaimed flamenco dancer Eduardo Guerrero, directed by Luke Creswell and Steve McNicholas in the opening number of the UK's Royal Variety Performance, and performed with cast members from STOMP on Late Night with Jimmy Fallon accompanying Paul Simon and Fallon in a new rendition of the classic "Cecilia." In a completely new direction, Michelle collaborated with Award-winning shoe designer Tabitha Simmons and fashion photographer/director Craig McDean on a short high-fashion film to promote Tabitha's 2011 Fall line, by choreographing for and performing in the elegant and edgy heels.
LOCATION: Unless otherwise noted, all performances and events take place at Danspace Project in St. Mark's Church in-the-Bowery, 131 East 10th Street, New York, NY 10003.