Dancespace Project Presents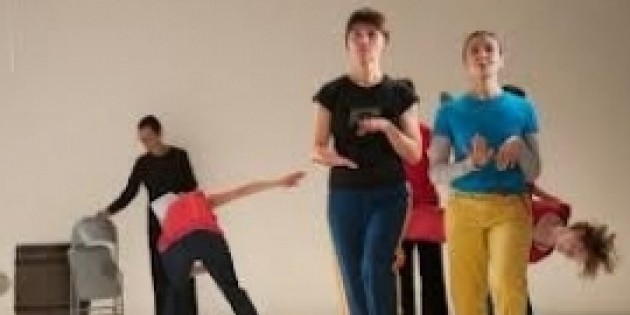 YVONNE RAINER AND GROUP
Danspace Project Presents
YVONNE RAINER AND GROUP
*Rescheduled performances from PLATFORM 2012: Judson Now*
January 24-26, 2013 [Thu-Sat] 8PM
(Post-performance conversation between Douglas Crimp and Yvonne Rainer
on Friday, January 25.)
In Partnership with Performa
FOR IMMEDIATE RELEASE, New York, NY, January 14, 2013
- Danspace Project is pleased to present the anticipated rescheduled evenings of work by Yvonne Rainer
. These evenings (cancelled due to Hurricane Sandy) were originally scheduled for November 2012 as part of PLATFORM 2012: Judson Now
celebrating the 50th Anniversary of Judson Dance Theater. Rainer will be joined in conversation by Douglas Crimp directly following the performance on Friday, January 25. Crimp's interview with Rainer appears in the December 2012 issue of Interview Magazine
.
A seminal member of Judson Dance Theater and Grand Union, Rainer has blurred the line between dance and day-to-day movement, leaving a mark on performance, visual art, and film. "In the course of investigating and honoring human scale, Rainer has, in several senses, redefined virtuosity," writes Deborah Jowitt (DanceBeat). These three evenings feature a reconstruction of a Judson-era work, We Shall Run (1963), as taught to twelve students from Sarah Lawrence by Pat Catterson; Rainer's recent Assisted Living: Good Sports 2, performed by The Raindears; and the premiere of her latest work, Assisted Living: Do You Have Any Money? The Friday, November 2 performance will be followed by a discussion with Rainer. Assisted Living: Do You Have Any Money? was commissioned by Danspace Project's 2012-2013 Commissioning Initiative with lead support from The Andrew W. Mellon Foundation. The work received a creative residency, which was a collaboration between Danspace Project's Choreographic Center Without Walls (CW2), which also receives lead funding from The Andrew W. Mellon Foundation, and Gibney Dance Center.
In 1963 Rainer presented We Shall Run
at Judson Memorial Church. A group of 12 dancers and untrained performers run for 7 minutes in differing patterns to Tuba Miram from Berlioz's "Requiem." Choreographer Pat Catterson, a current member of Rainer's group, The Raindears, who first performed Rainer's work in 1969, has taught We Shall Run
to dancers from Sarah Lawrence College who will revisit the work on this special occasion.
Rainer's Assisted Living: Good Sports 2 (2011), a work for six dancers, is derived from photographs from The New York Times sports section. The photos, collected by Rainer over time, are a starting point for dealing with some of the structural principles inherent in Trio A (1966), Rainer's signature dance. Literary quotations, vocalized by the Rainer, include work by Cynthia Carr, Lydia Davis, Rosalyn Deutsche, William O. Douglas, Lynn Hunt, William James, Louis Menand, and Lawrence Shainberg.
In June and July, 2012, Rainer created a new dance for five performers called Assisted Living: Do You Have Any Money
. This work, premiering at Danspace, is an amalgam of movement and speech derived from a number of different sources, including Rainer's own choreographic imagination and her collaborative process with her dancers. The piece presents new challenges for the group in that they are required to deliver long monologues while performing intricate steps. The texts comprise quotes from authors as diverse as John Meynard Keynes, Emma Goldman, Pierre Proudhon, Adam Gopnik, and Herbert J. Gans. Following her customary penchant for radical juxtaposition, Rainer has taken the risky route of juxtaposing vaudevillian pratfalls with solemn socio-economic analyses. Says Rainer: "The dire times in which we live seem to demand such an approach."
Called "a marvelously unruly extension of (Rainer's) choreographic brain" by Claudia La Rocco (New York Times
) Rainer's distinguished group of dancers, The Raindears, includes: Pat Catterson
, Emily Coates
, Patricia Hoffbauer
, Emmanuélle Phuon
, and Keith Sabado
.
BIOGRAPHY
Yvonne Rainer
, born in 1934, was a dancer/choreographer (1960-75), then a filmmaker (1972-96), then a choreographer/performer again, also an occasional writer, most recently of a memoir, "Feelings Are Facts: a Life" (2006). Her work has been seen internationally and rewarded with museum exhibitions, awards, and grants, most notably two Guggenheims, two Rockefellers, a Wexner, and a MacArthur. A selection of her poetry was published in 2011 by Paul Chan's Badlands Unlimited.


About The Raindears
While working on her first foray back into dance in 2000, after 25 years as a filmmaker, Yvonne Rainer contacted several of the dancers who continue to work with her today. Choreographer Pat Catterson, who had studied with Rainer in 1969, was instrumental in bridging the 25-year hiatus between choreographic creations. Emily Coates, formerly of the New York City Ballet and White Oak Dance Project, immediately took to the postmodern rigors and idiosyncrasies of "After Many a Summer Dies the Swan" (2000). In the late 1990's choreographer Patricia Hoffbauer had learned the early Rainer "Three Seascapes (1962) and Sally Silvers had learned "Three Satie Spoons" (1961). Thus, by 2005 a small company of four women was formed, informally known as "the Raindears." Keith Sabado and Emmanuèlle Phuon, both former White Oak dancers, subsequently joined the group.
LOCATION: Unless otherwise noted, all performances and events take place at Danspace Project in St. Mark's Church in-the-Bowery, 131 East 10th Street, New York, NY 10003.
About Danspace Project
Danspace Project presents new work in dance, supports a diverse range of choreographers in developing their work, encourages experimentation, and connects artists to audiences.
Now in its fourth decade, Danspace Project has supported a vital community of contemporary dance artists in an environment unlike any other in the United States. Located in the historic St. Mark's Church in-the-Bowery, Danspace shares its facility with the Church, The Poetry Project, and The Incubator Arts Project. Danspace Project's Commissioning Initiative has commissioned over 430 new works since its inception in 1994.
Danspace Project's Choreographic Center Without Walls (CW

²

) provides context for audiences and increased support for artists. Danspace Project's presentation programs (including Platforms, FOOD FOR THOUGHT, Draftwork), Commissioning Initiative, residencies, guest artist curators, and contextualizing activities and materials are core components of CW

²

that offer a responsive framework for artists' works. Since 2010, we have commissioned 67 emerging and established artists, produced seven guest-curated Platforms, published seven print catalogues and four e-books, launched the Conversations Without Walls series, and explored models for public discourse and residencies.