Dancewave presents....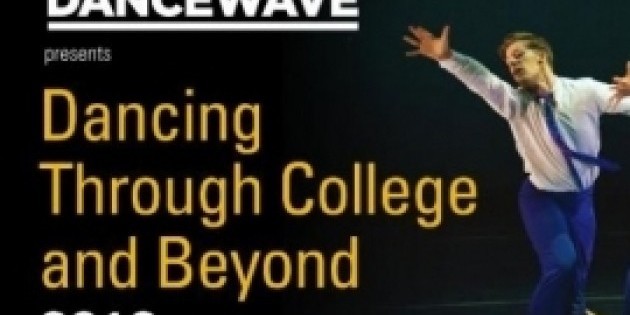 DANCING THROUGH COLLEGE AND BEYOND
Dancewave presents....



DANCING THROUGH COLLEGE AND BEYOND

Sunday, October 28th, 2012, 9:15 am - 3 pm

Marymount Manhattan College

221 East 71st Street, NY, NY 10021




FREE EVENT for High School Juniors & Seniors!

NEW YORK, NY

- The third annual

Dancing Through College and Beyond

(DTCB)

is a nationwide symposium, produced by Dancewave, held at and hosted by Marymount Manhattan College, 221 East 71st Street (bet 2nd & 3rd Ave) New York City on Sunday, October 28, 2012 9:15am-3pm.

The goal of this

free, full-day event is to help high school students explore college dance opportunities and assist them in negotiating the college admissions process.

Providing

a much needed service to the dance industry, Dancing Through College and Beyond is a truly unique, comprehensive conference where talented young dancers can access a bounty of college choices, information and advice.

Respected dance professionals, faculty, and choreographers guide over 300 of America's young dancers to the next level of greatness, strengthening

the connection between the leaders of this current dance generation and the next.

The event also seeks to educate high school parents, admissions counselors, and dance teachers about the opportunities available to high school students interested in pursuing dance in college and beyond. Programming includes discussion panels with leading college department chairs and education specialists; movement classes taught by renowned college dance faculty; and a two hour "College 4 Dancers" college fair where students meet over 25 college dance departments. Participating colleges discuss how their departments interact with the greater dance community; their track record of alumni achievements; and how their departments help graduates transition to the job market.

DTCB INCLUDES:

* One-on-one conversations with college dance reps

* Movement class for students taught by renowned college dance faculty

* Panel discussions on applying, auditioning, and financial aid

* Networking with current college students and alumni

Pre-Registration Required

This special event is FREE but requires pre-registration for students, parents and

Participating Colleges

Adelphia University * Aliey/Fordham * Brockport * Buffalo University * Cal Arts * The New School

Hofstra University * Julliard * Kent College *

Marymount Manhattan College *

Montclair State University * New York University * Ohio State University * Rider University *

Rutgers University *

Sarah Lawrence * Slippery Rock University *

The Hartt School * UCLA *

AND MORE TO BE CONFIRMED....

Additional information or questions - Contact us

The event is a part of Dancewave's Kids Cafe Festival Goes to College 2013.

About Dancewave

Dancewave, Inc., a nonprofit dance center in Brooklyn, New York, was founded in 1995 by dancer/choreographer Diane Jacobowitz. Dancewave uses an innovative model of dance education that combines rigorous training and mentoring by accomplished dance professionals in a nurturing and non-competitive environment. Its core programs areas are: dance education for students of all ages and backgrounds; training and presenting pre-professional dance companies; and arts in education programs in New York City public schools.

Dancewave companies have been featured on PBS and have performed at: New York State's Governor's Arts Awards, the Joyce Theatre, The Kitchen, DanceNOW Festival, the City Parks Foundation's Summerstage, and the renowned Jacob's Pillow Dance Festival in Massachusetts. In 2010, Dancewave was the only company chosen to represent the United States at the prestigious Aberdeen International Youth Festival in Scotland. Dancewave serves 3,700 students annually, and Dancewave Company graduates have a 100% college admittance rate.