Dancewave's Dancing Through College and Beyond Scholarship Award Ceremony in NYC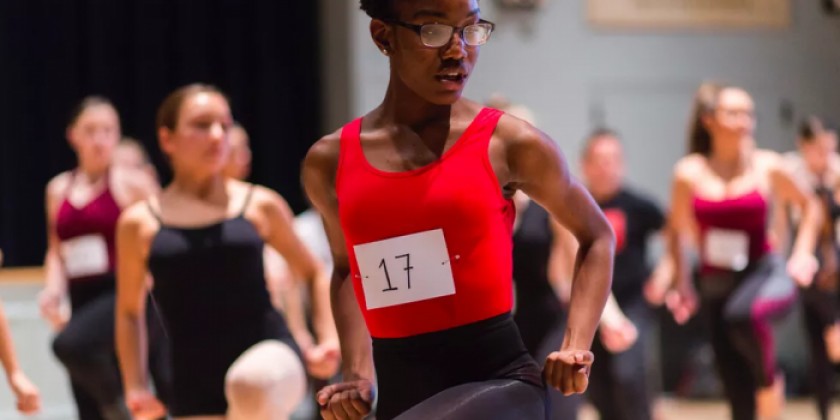 Company:
Dancewave
15 College Dance Programs and Organizations Present Scholarships at Dancewave's DTCB Scholarship Award Ceremony in NYC
New York, NY— Brooklyn-based dance education nonprofit Dancewave is pleased to announce that 15 college dance programs are set to award scholarships at the DTCB Scholarship Award Ceremony, which will take place from 2:00pm-4:00pm on Sunday, March 12 at Gibney Dance Center (280 Broadway). The event is sponsored by Gibney Dance Center, and follows the free-to-attend college fair, Dancing Through College & Beyond (DTCB), which welcomed more than 300 students from all over the country for an opportunity to explore college dance programs in October 2016. DTCB is an annual event that includes a live audition and an opportunity to apply for college dance program scholarships. This year, over 35 students have been offered scholarships.
The free DTCB Award Ceremony will include performances by the Dancewave Company I, choreographed by 5 Time Bessie Award Winner David Dorfman, and MMU Alum Douglas Burkhardt. The evening will be followed by a short reception in the Gibney Art Gallery.
"We are proud to offer free access to college opportunities for a diverse range of high school students particularly because the college application process is so confusing and expensive," said Diane Jacobowitz , Executive and Artistic Director of Dancewave . "To further be able to eliminate the financial barriers that often come with the audition process and enable those high school seniors who are serious about dance the opportunity to audition for these elite programs speaks to our mission to make dance accessible to all." For more information and sponsorship opportunities, visit Dancewave.org, register bit.ly/DTCBMarch, or email jessica@dancewave.org.
Awarding Colleges & Organizations Include: Adelphi University, American Musical & Dramatic Academy (AMDA), Broadway Dance Center, Cornish College of the Arts, Dancewave, Drexel University, Gaynor Minden, Hofstra University, New World School of the Arts, Slippery Rock University, Steps on Broadway, Temple University, Towson University, University of the Arts, University of Massachusetts
Dancewave is the dance education nonprofit focusing on the development of the whole person through an accessible dance experience. Dancewave envisions a world where, through access to the dance experience, youth become empowered individuals who contribute to the fabric of their communities... and beyond. For more information visit www.dancewave.org.