Dancy Film THE YOUNG GIRLS OF ROCHEFORT at BAMcinématek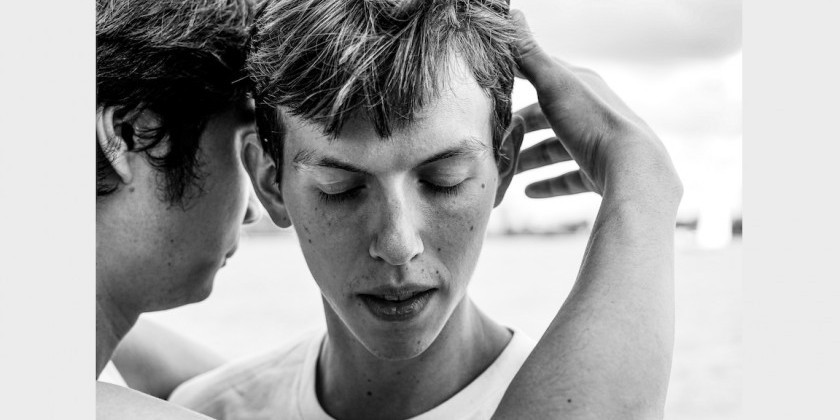 Company:
BAM
Image: Ralph Bakshi's Cool World
APR & MAY 2014 at BAMcinématek

The Wall Street Journal is the title sponsor for BAMcinématek and BAM Rose Cinemas.


MAR 31, APR 29 & MAY 19 (Three Days, Three Films)
SCIENCE ON SCREEN
Special guests at every screening
Back by popular demand after its first season at BAM last spring, this series explores the surprising connections between seemingly far-fetched Hollywood fantasy and real-life science—with scientists on hand at each screening to explain it all. Neuroscientist Joseph LeDoux discusses the emotionally fraught, sci-fi-inflected trips down the rabbit holes of memory in Michel Gondry's Eternal Sunshine of the Spotless Mind (2004); wildlife journalist and author Jon Mooallem explores the relationship between humans and endangered species with Werner Herzog's Grizzly Man (2005); and Sonia Shah, author of The Fever: How Malaria Has Ruled Humankind for 500,000 Years, discusses another kind of epidemic with George Romero's zombie classic Night of the Living Dead (1968). Support for Science on Screen is provided by The Coolidge Corner Theatre Foundation, supported by a grant from the Alfred P. Sloan Foundation.

APR 1—3 (Three Days, Three Films)
JONATHAN GLAZER
Sneak Preview of Under the Skin with Glazer in person!
After a nine-year break from the big screen, British director Jonathan Glazer—who went from commercial and music video visionary (Massive Attack, Blur, Radiohead, and Jamiroquai, to name a few) to gutsy iconoclast—returns this spring with his most audacious movie yet. His films reveal a master of style and mood who is unafraid to go bold. BAMcinématek's three-day series opens with a sneak preview of Under the Skin, a hallucinatory sci-fi brainteaser starring Scarlett Johansson as a buxom alien predator who lures her male victims to a most peculiar fate. Glazer will appear in person for a Q&A following the screening. Sneak preview of Under the Skin courtesy A24. 
ALSO INCLUDES: Birth (2004), Sexy Beast (2001).

APR 4—10 (Seven Days, Seven Films, All in 35mm!)
BLONDE VENUS: THE FILMS OF DIETRICH and von STERNBERG
"One of the most dazzling runs of creativity in the history of the movies." 
—Dave Kehr, The New York Times
An actor-director match made in Hollywood heaven, arch-stylist Josef von Sternberg found the perfect muse for his sumptuous experiments in lighting and mise-en-scène in the supremely glamorous screen siren Marlene Dietrich. All films directed by Josef von Sternberg, starring Marlene Dietrich and presented in glorious 35mm.
FILMS INCLUDE: Blonde Venus (1932), The Blue Angel (1930, both the German and American versions), The Devil is a Woman (1935), Dishonored (1931), Morocco (1930), The Scarlet Empress (1934), Shanghai Express (1932).

APR 11—17 (One Week) New restoration!
Jacques Demy's THE YOUNG GIRLS OF ROCHEFORT (1967)
Starring Catherine Deneuve, Françoise Dorléac, and Gene Kelly 
In this big-budget tribute to the American musical, real-life sisters Catherine Deneuve and Françoise Dorléac (just before her tragic death) play twins who dream of romance and life in the city from their tiny seaside town. The "entranced, romantic, utopian, and utterly French" (Michael Atkinson, The Village Voice) Jacques Demy packs his CinemaScope canvas with energetically choreographed dance numbers (featuring a sublime Gene Kelly) and eye-popping color while Michel Legrand contributes the brilliant, jazz-inflected score. BAMcinématek presents Demy's delightful follow-up to The Umbrellas of Cherbourg (1964) for a week-long run in a new restoration. DCP. A Janus Films release. 

APR 18—27 (Eight Days, Eleven Films)
BACK WITH A VENGEANCE
The women's revenge tale may have been fodder for many a lurid exploitation flick, but that is merely one chapter in this particular history of cinematic retribution and reprisal. Following the success of Vengeance is Hers in February, BAMcinématek brings back series highlights, new additions, and rare discoveries for Back With a Vengeance, gathering even more of cinema's most unforgettable heroines and anti-heroines as they seize control and take no prisoners.
FILMS INCLUDE: The Bride Wore Black (Truffaut, 1968), Bury Me an Angel (Peeters, 1972), Flamingo Road (Curtiz, 1949), Foxy Brown (Hill,1974), I Was a Teenage Serial Killer (Jacobson, 1993), Jeanne Dielman, 23 quai du Commerce, 1080 Bruxelles (Akerman, 1975), The Little Foxes (Wyler, 1941), Nine to Five (Higgins, 1980), Riddles of the Sphinx (Mulvey & Wollen,1977), Sudden Impact (Eastwood, 1983), Xala
(Sembene, 1975).

APR 30—MAY 6 (One Week, Nine Films)
ELLEN BURSTYN
Burstyn in person!
In a remarkable six-decade (and counting) career, Ellen Burstyn has gone from leading light of New American Cinema to one of the grande dames of Hollywood, scooping up every major award (Oscar, Tony, and Emmy) along the way. Her complex, fully lived-in characters are models of superbly judged, wholly committed screen acting. Highlights include Burstyn's breakthrough role in Peter Bogdanovich's The Last Picture Show (1971) and Martin Scorsese's Alice Doesn't Live Here Anymore (1974), featuring Burstyn's Oscar-winning performance as a New Mexico housewife who goes on the road to chase her dream of becoming a singer. 
ALSO INCLUDES: A Dream of Passion (Dassin, 1978), The Exorcist (Friedkin, 1973), The King of Marvin Gardens (Rafelson, 1972), Providence (Resnais, 1977), Resurrection (Petrie,1980), Requiem for a Dream (Aronofsky, 2000), Same Time, Next Year (Mulligan, 1978).

MAY 7—JUN 1 (Nine Days, Twelve Films)
PUNK ROCK GIRLS
Lukas Moodysson in person for a sneak preview of We Are The Best! 
To mark the release of Lukas Moodysson's (Show Me Love, Together) punk rock valentine, We Are the Best!, BAMcinématek pays homage to the fearless, mohawk-sporting, safety pin-wearing, guitar-wielding women who stick it to The Man. Punk Rock Girls opens with a sneak preview of Moodysson's new film, which premiered at Toronto last year and simultaneously "captures the DIY empowerment of punk rock, the bond of female friendships, and parodies the era's Oi!-scenester stances all in one blissful swoop" (David Fear, The Village Voice). Other highlights include Lou Adler's brash and bratty music industry satire Ladies and Gentlemen, The Fabulous Stains (1982), Derek Jarman's post-punk anti-comedy Jubilee (1978), and Gillian Armstrong's punk rock musical Starstruck (1982). Sneak preview of We Are the Best! courtesy Magnolia Pictures.
ALSO INCLUDES: Black Box (Beth B, 1978), Breaking Glass (Gibson, 1980), Desperately Seeking Susan (Seidelman, 1985), Josie and the Pussycats (Elfont & Kaplan, 2001), Liquid Sky (Tsukerman, 1982), Out of the Blue (Hopper, 1980), Times Square (Moyle, 1980), You Killed Me First (Kern, 1985).

MAY 9—20 (Seven Days, Seven Films)
COOL WORLDS: THE ANIMATION OF RALPH BAKSHI 
Bakshi in person!
The outrageous, groundbreaking, rude, crude, and weirdly beautiful films of Ralph Bakshi pushed the art of animation into bold new territory. Combining frank depictions of sex, violence, and societal ills with a freewheeling, surrealistic style that pushed back against decades of Disneyfied fantasias, they demonstrated the medium's capacity for ultra-personal, defiantly uncompromising expression. Highlights include Bakshi's feature film debut Fritz the Cat (1972), the first animated film to receive an X rating; and Heavy Traffic (1973), a kaleidoscopic tale of pimps, pushers, pinball, and an aspiring cartoonist in nightmarish 1970s New York. Bakshi will appear in person for Q&As following the screenings of Heavy Traffic and Coonskin (1973).
ALSO INCLUDES: American Pop (1981), Cool World (1992), Hey Good Lookin' (1982), Wizards (1977).

MAY 23—26 (Four Days, Fourteen Films)
FILMAFRICA
This year's cinematic companion to the 37th annual DanceAfrica, in association with the New York African Film Festival, features films from the Ivory Coast, Sudan, South Africa, Kenya, France, the United States, and a special focus on Madagascar. Highlights include Haminiaina Ratovoarivony's Legends of Madagascar (2012), a "lively and impassioned" (Ben Sachs, The Chicago Reader) road movie in which three friends confront the future of their country as they travel from the capital to the deep countryside; Roberta Durrant's Felix (2013), the weekend's BAMkids Movie Matinee, following a teenager who defies his mother to pursue his dream of becoming a saxophonist; and Nuotama Frances Bodomo's Boneshaker (2013), a short film about the African immigrant experience starring Oscar nominee Quvenzhané Wallis (Beasts of the Southern Wild) and shot in gloriously grainy Super 16mm.
ALSO INCLUDES: Angano, Angano (Paes, 1989), Burn it Up Djassa (Solo, 2012), Cassa, Cassa (Lefebure, 2013), The Child of the Sun (Louhichi, 2013), Faisal Goes West (Brown, 2012), Felix (Durrant, 2013), Fueling Poverty (Baku, 2012), Nairobi Half Life (Gitonga, 2012), The Promise (Okunrinboye, 2013), Something Necessary (Kibinge, 2013), When the Stars Meet the Sea (Rajaonarivelo, 1996).