Danspace Project Announces Fall 2013 Programming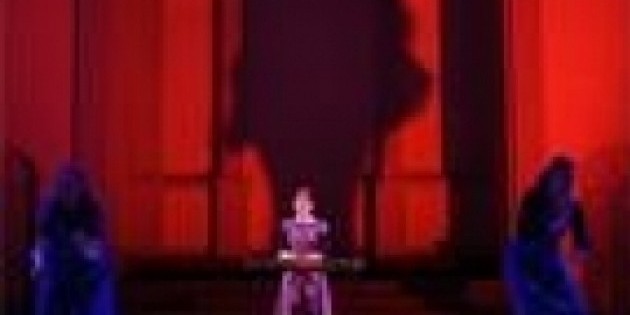 September - December
Danspace Project Announces Fall 2013 Programming
(September - December)


FOR IMMEDIATE RELEASE, New York, NY, July 23, 2013
- Danspace Project is pleased to announce performances and events for fall 2013 (September through December). The season features a host of premieres, special one-night-only engagements, production residencies, and the continuation of our Conversations Without Walls series.
Exclusive one-night-only performances include a new collaboration by Legacy Russell and Clifford Owens (November 1), plus a solo by French artist Noé Soulier (November 7), presented in collaboration with Performa. Sarah Skaggs (October 3-5), taisha paggett and Rebecca Davis (October 10-12), Rashaun Mitchell & Silas Riener (November 14-16), Patricia Hoffbauer (November 21-23), and Cori Olinghouse (December 12-14), each of whom have presented work at Danspace in recent years, return with all new premieres. Melanie Maar and Megan Kendzior join us for their first Danspace commissions. Audiences also have a chance to catch the reprisal of Katy Pyle and the Ballez Company's acclaimed The Firebird, a Ballez, which had its premiere at Danspace in May.
Danspace Project's fall 2013 season opens with one of two Conversations Without Walls (September 28 & November 2), co-organized by performance scholar Jenn Joy and Danspace executive director Judy Hussie-Taylor. Hussie-Taylor and Joy invite choreographers, visual artists, curators, writers, philosophers, composers, performers, and academics to consider topics around contemporary dance. Subjects include language as a choreographic force and a revisitation of the 2012 Ralph Lemon-curated series Some sweet day at The Museum of Modern Art.
Our popular works-in-progress series, DraftWork, curated by Ishmael Houston-Jones, presents work in development by Anna Marie Shogren and Rebecca Warner (October 19) and Ashley Anderson and Helen Simoneau (December 14).
Looking ahead to winter and spring 2014, Danspace focuses on expanding residency time and performance runs for artists, providing the support of artistic and curatorial advisors, and expanding elements of our Platform programming into standalone evening presentations. We look forward to new work by Vanessa Anspaugh, Souleymane Badolo, and Lance Gries, and extended runs of new work by Faye Driscoll and Okuwi Okpokwasili (in collaboration with PS122's COIL festival), whose production residency takes place the week of October 28. This spring brings the 8th in our series of Platforms, DD Dorvillier: Diary of an Image, which takes the form of a single artist's survey, giving significant time and focus - a rare resource in the contemporary dance field - to one choreographer's body of work.


Tickets
Unless otherwise noted, admission is 0 General Admission and 5 for Danspace members.


All performances and events take place at Danspace Project, unless otherwise noted.
Danspace Project is located inside historic St. Mark's Church in-the-Bowery, 131 East 10th Street (at 2nd Avenue), New York, NY 10003.
Fall 2013 Performances and Events
| | | |
| --- | --- | --- |
| DANCE: Access | | |
| | September 14-16, 2013 [Thu-Sat] | |
| John J Zullo Dance/Raw Movement | September 19-21, 2013 [Thu-Sat] | |
| | September 26-28, 2013 [Thu-Sat] | |
DANCE: Access is Danspace Project's self-production series.


Conversations Without Walls

Another sweet day: reflections on walking and dancing across the rubble
Location: The Parish Hall at St. Mark's Church in-the-Bowery, 131 East 10th Street (at 2nd Ave.), NYC.
Created in 2011 to continue dialogue sparked by our Platforms series, Conversations Without Walls are long form conversations addressing current issues in dance, performance, and the arts. This discussion, organized by performance scholar Jenn Joy and Danspace executive director Judy Hussie-Taylor, brings together choreographers, performers, visual artists, curators, and academics to continue
the dialogue following Some sweet day, a series of performances in the Museum of Modern Art (MoMA) atrium curated by Ralph Lemon and Jenny Schlenzka. Participants consider how choreography acts as translation, as occupation, and as insurgent conversation.
Following a November 2012 conversation that responded to the aesthetic and historic dialogue proposed by Some sweet day performances, this conversation asks
How do movement, stillness, silence, sound, and spacing interrupt theoretical and ideological patterns? How might the experiential qualities of dance effect curatorial process? What is black music? Where do we go next?
Joy moderates this four-hour conversation, which is followed by Q&A with participants. More information to follow.
Sarah Skaggs

The New Ecstatic

October 3-5, 2013 [Thu-Sat]
Sarah Skaggs
' years of choreographic investigations have focused on the intersection between social and concert dance, the casual and formal, the ambiguous and the definitive; her performances often taking place in public settings.
A retrospective understanding of Skaggs' earlier work, The New Ecstatic is an examination of the changing nature of ecstatic dance forms as impacted by cultural shifts in the meaning of the "out-of-body" in a post-disaster world. Skaggs' latest material, a duet made in collaboration with dancer Cori Kresge, draws from vocabularies and cultural artifacts as broad as the 13th-century French labyrinth at Chartres, medieval dance form Danse Macabre; the woodcuts of Albrecht Dürer; Martha Graham's "Steps in the Street;" and Joseph Beuys' social sculpture. Excerpts (danced by Emie Hughes, Meredith Fages and Joanna Kotze) from her signature 1990s work, Higher Ground, which took influence from artist Dan Graham's Rock My Religion, are woven into the new work.
The evening also includes documentary footage of Skaggs's 9/11 - A Roving Memorial, a movement installation danced on the ten-year anniversary of 9/11, and documented by filmmaker Heidi Scheuermann. Joining the film screening will be a cameo appearance of twenty-five dancers from the film.
Share:

Rebecca Davis / taisha paggett

October 10-12, 2013 [Thu-Sat]
A shared evening of premieres by Rebecca Davis and taisha paggett.
Rebecca Davis
' choreographic work encompasses performance, installation, and sculpture. In recent years Davis has performed with Deborah Hay, Steve Paxton, and Kathy Westwater. She choreographed three works for visual artists Allora & Calzadillafor the U.S. Pavilion in the 54th Venice Biennale and was a re-performer in the Marina Abramovi
c
retrospective: The Artist is Present at the Museum of Modern Art in 2010 and has since taught with Abramovic.
Foot to eyes, hands on hair, breath in hand, jaw and arm, and arm with head. In her latest work, will however happen, Davis annunciates the complexity of these gradations. Performers
Erin Cairns
, Lydia Chrisman, Carolyn Hall, and Kay Ottinger
pass from pedestrian to abstract.
Sound by Zach Layton.
Los Angeles and Chicago-based taisha paggett is a full-time lecturer at the Dance Center of Columbia College. As a dancer she has worked extensively with David Roussève, Stanley Love Performance Group, Fiona Dolenga-Marcotty, and Vic Marks, among others. Her own choreography investigates the body, agency, and the phenomenology of race. Her recent work has been presented in New York City at Danspace Project and The Studio Museum in Harlem.
a right-angled object
who lost her faith in being upright
is a new group dance work performed by
paggett, Anna Martine Whitehead, and Willy Souly
thatbuilds upon paggett's recent performance and installation work and ongoing inquiries into how we come to understand ourselves as individuals and as members of a society. Centered around a trans-historical figure named Fila Buster,
the piece draws on paggett's research into .gifs,
the
cyclical
fragmented image, text clips popularized in social media,
as well as
Zumba, aerobics, cheerleading, colorguard, 19th century Shaker dances and contradance.
Sound design by Yann Novak. Costumes by James Kidd.
Melanie Maar

Our Other

October 17-19, 2013 [Thu-Sat]
A New York based choreographer and performer originally from Vienna, Austria, Melanie Maar's dances evoke nature and myth. As a dancer Maar has worked with New York choreographer luciana achugar, RoseAnne Spradlin, and Luis Lara Malvacias.
Our Other
questions choreography and situation, observation and experience, the self and being other, and the energy of empathy in dance that drive Maar's process. This new work is the sequel to Maar's Same Selves, which she presented at
Baryshnikov Arts Center
in 2012.
In Our Other Maar and dancers Laurel Atwell and Marilyn Maywald relate to their other selves within the devotional space of Danspace Project inside St. Mark's Church. With them scenes of religious, sexual and animal nature morph in carefully crafted light and dark, created by lighting designer Carrie Wood and Maar. Sound composition and performance Abraham Gomez-Delgado and Taylor Ho Bynum.
DraftWork:

Anna Marie Shogren / Rebecca Warner
Admission:
Free and open to the public
Curated by Ishmael Houston-Jones, the DraftWork series hosts informal Saturday afternoon performances that offer choreographers an opportunity to show their work in various stages of development. Performances are followed by discussion and a reception during which artists and audiences share perspectives about the works-in-progress.
Katy Pyle and the Ballez Company

The Firebird, a Ballez (reprisal)

October 24-26, 2013 [Thu-Sat]
"...this 'Firebird' blazes with heart," wrote Gia Kourlas in the New York Times in May 2013. Danspace Project presents the reprisal of this groundbreaking work,
a ballet-inspired theatrical with female-assigned, lesbian/queer/transmasculine cast redefining traditional gender roles, technical expectations, and narratives of
Mikhail Fokine and Igor Stravinsky's eponymous 1910 ballet. Pyle introduces a yearning Lesbian Princess and a Tranimal (part bird, part Prince) as they seek liberation in a magically perverse landscape of Polyamorous Princes and their Dominant Sorceress. Accompanied by the Queer Urban Orchestra, a simulated landscape by Hedia Maron, costumes by Mikki Olson, and a cast of 15 queer performers, including Pyle as Lesbian Princess, The Firebird, a Ballez,
deconstructs balletic elements and reconstitutes them into a community-oriented, gender-fluid, queer utopian vision of what is possible in dance.
This cast includes Jules Skloot (Firebird), Regina Rocke (Sorceress), Katy Pyle (Lesbian Princess),
Effie Bowen, Zari Esaian, Ariel "Speedwagon" Federow, Leah Hafezi, Sam Greenleaf Miller, Francis Rabkin, Mary Read, Lindsay Reuter, Lollo Romanski, Silky Shoemaker, Sacha Yanow, and Nyx Zierhut (Princes).
Friday evening's performance will be followed by a dance party. Details to follow.
Legacy Russell & Clifford Owens

The Kiss
Admission:
0 suggested donation at the door.
Legacy Russell and Clifford Owens have each explored themes of intimacy within their respective bodies of work. As part of a 2013 commission for digital publication Rhizome, Russell created the video short Social Sculpture: In Remembrance of Poise and a Choreography of Loving You Down, a work exploring the impact of sexuality and desire on the single female form within club space. In Owens' project Anthology he performed a score written by artist Kara Walker that instructed the performer to "French kiss an audience member."
On this one-night-only engagement of The Kiss, Russell and Owens debut a newfound creative intimacy exploring the construct of "the kiss" as a mechanism of performative action. Within an abstracted construction of nightclub space, Russell and Owens map out the geography of the dancehall and the physicality of pursuit that comes with searching for real connection within the artificial construct of club space. The work condenses a full evening's worth of motion into 45 minutes. Drinks will be served.
Conversations Without Walls

Glitter and desire: language or something else
Location: The Parish Hall inside St. Mark's Church at 131 East 10th Street, New York City.
Language is a choreographic force: the graphic of the choreographic. How do the tremulous histories of fascia, bone, memory, desire incite writing as its own kind of dance? The second of two Conversations Without Walls this fall, Glitter and desire: language or something else invites writers, dancers, and artists to speak of thought and sensation as so many speculative fictions bleeding across writing, dancing, and living. Organized by Jenn Joy and Judy Hussie-Taylor, this four-hour conversation is moderated by Joy and followed by Q&A with participants. Participants to be announced.
Noé Soulier

Ideography
French choreographer Noé Soulier received first prize at the prestigious Danse Élargie competition in 2010. He has performed in the work of Daniel Linehan and has been creating his own hybrid lecture performances analyzing the language of dance and canonical philosophical discourse.
Created while working on his MA in Philosophy at the Sorbonne, Ideography combines Soulier's interests in dance, music, and philosophy, revisiting classical philosophical discourse through live experience and exploring the relationship between movement and thought. This one-night-only performance is presented in collaboration with Performa.
Rashaun Mitchell & Silas Riener

Way In

November 14-16, 2013 [Thu-Sat]
Inspired by a mutual interest in space as an agent of performance, together
Rashaun Mitchell
and
Silas Riener
explore how to create dance in response to complex and active spatial environments. Both Bessie award winning former Merce Cunningham dancers, they have been collaborating since 2009 on varied performance projects, including site-specific installations, improvisational dances, traditional proscenium pieces, and immersive experiences. They were noted in Dance Magazine's 25 To Watch for 2013.
Their latest collaboration, Way In, starts from a conversation around bad and good taste and the racial, cultural, and class issues that inform taste. Formed by layers of context contained within the experience of New York City, Way In considers the objectified performer and the fetishization and perceived identities of the performing body. A series of texts created and compiled by critic and poet Claudia LaRocco act as an intervention, offering comparisons and contrasts of the body and movement as they relate to taste. Costumes by Jmy Leary. Lighting design by Davison Scandrett.
Patricia Hoffbauer

Para-Dice (Stage 2)

November 21-23, 2013 [Thu-Sat]
Para-Dice (Stage 2) is a performance work created by Patricia Hoffbauer, a Brazilian-born choreographer, director, educator, and, a longtime member of Yvonne Rainer's Raindears.
Stage 1 of Para-Dice, presented as part of Danspace Project's Trajal Harrell-curated Platform certain difficulties, certain joy (2010), deconstructed the structure of an academic lecture. A combination
of dance, performance, film, academic lecture, language, and anthropology,
Stage 2 of Para-Dice navigates racial politics and colonialism, mixing original and borrowed texts and projections from the past, present, and future, to investigate the meaning of cultural alterity.
Focusing on ways different bodies have been used to affirm fictonalized accounts of popular historical events, Para-Dice (Stage 2) juxtaposes contrasting performance styles to present simultaneously different narrative perspectives. Hoffbauer
Integrates film images of Brazilian director Glauber Rocha along with the music of the Brazilian singer Simonal.
This collaboration brings together Hoffbauer, George Emilio Sanchez (writer/performer), Peter Richards (videographer/performer/stage manager), Peggy Gould (dancer/choreographic collaborator), Tom Rawe (dancer/physical trainer), Elisa Osborne (dancer/performer), Alyssa Alpine (dancer/performer), and Laura Gilbert (dancer/performer).
| | | |
| --- | --- | --- |
| Movement Research Festival: Fall 2013 | December 5-7, 2013 [Thu-Sat] | |
Admission:
5 / 2 Danspace members
Movement Research, one of the world's leading laboratories for the investigation of dance and movement-based forms, returns to Danspace Project with its annual Fall Festival. The Movement Research Festival: Fall 2013, curated by Adrienne Truscott and Jibz Cameron (Dynasty Handbag), will feature acclaimed experimentalists, highlighting and juxtaposing their varied investigations into the artistic currents of dance and performance. The Festival will also include additional events during the week of

December 2-8

, as well as classes and workshops taught by Festival artists.
Cori Olinghouse

Ghost lines

December 12-14, 2013 [Thu-Sat]
A former member of Trisha Brown Company, Cori Olinghouse has taught technique and repertory classes for the company while developing her own choreographic work based on her unique freestyle movement practice. Her 2011 Danspace premiere was part of the Body Madness Platform, which considered dance artists who employ play, wit, and absurdity through rigorous improvisational practice.
Olinghouse's latest work Ghost lines
features a 16mm black & white experimental film, created by Olinghouse and film artist Shona Masarin,
which uses traditional animation techniques, hand processing, chemical experiments, collage, painting, and drawing, to connect the slapstick of the camera and that of the body.
Following the short film is the
premiere of interlocking ghost and shadow solos performed by a cast of accomplished dancers Michelle Dorrance, Elizabeth Keen, Mina Nishimura, Eva Schmidt, and Olinghouse,
invoking the spirit of Vaudeville through a Surrealist/Dada eye, experimenting with absurdity, non-sequitor timing, visual rhyming, and comedic rhythms.
Costumes by Andrew Jordan. Sound design by Jake Meginsky.
DraftWork:

Ashley Anderson/

Helen Simoneau
Admission:
Free and open to the public.
Megan Kendzior

Witness

December 19-21, 2013 [Thu-Sat]
Megan Kendzior is a New York based choreographer, performer, educator and administrator. Her work offers explorative scores that interfere with past and present, personal and collective experiences, to dissect memory and divulge truth. Kendzior has been immersed in the process of creating Witness since 2009. This work blends song, movement and draws directly from the monstrosity and horror of the Holocaust. Performed in an earlier stage at Danspace's Draftwork series, Witness engages an ensemble of artists who work to challenge complicity, responsibility and spectatorship through embodied historical research. Witness explores the thin line between humane and inhumane -- citing injustice, abuse, and lack of privacy as triggers for rebuttal, rebellion, and submission.
Select Winter and Spring 2014 Performances and Events
Okwui Okpokwasili

January 14 & 16 - 19, 2014

Conversations Without Walls

Prelude to an image: diagrams of the sonic

Souleymane Badolo

Vanessa Anspaugh

Faye Driscoll

March 3-15 (exact dates TBA)

Lance Gries

Platform 2014: DD Dorvillier: Diary of an Image
Danspace Project presents new work in dance, supports a diverse range of choreographers in developing their work, encourages experimentation, and connects artists to audiences.
Now in its fourth decade, Danspace Project has supported a vital community of contemporary dance artists in an environment unlike any other in the United States. Located in the historic St. Mark's Church in-the-Bowery, Danspace shares its facility with the Church, The Poetry Project, and The Incubator Arts Project. Danspace Project's Commissioning Initiative has commissioned over 430 new works since its inception in 1994.
Danspace Project's Choreographic Center Without Walls (CW²) provides context for audiences and increased support for artists. Danspace Project's presentation programs (including Platforms, FOOD FOR THOUGHT, DraftWork), Commissioning Initiative, residencies, guest artist curators, and contextualizing activities and materials are core components of CW² that offer a responsive framework for artists' works. Since 2010, we have commissioned 67 emerging and established artists, produced seven guest-curated Platforms, published seven print catalogues and four e-books, launched the Conversations Without Walls series, and explored models for public discourse and residencies.
Danspace Project's 2013-2014 Commissioning Initiative, a core component of The Choreographic Center Without Walls (CW²), receives generous support from the Jerome Foundation, The Andrew W. Mellon Foundation, and the New York State Council on the Arts, as well as the generous individuals that support the Creation Fund.

Danspace Project's 2013-2014 season, including the DraftWork and FOOD FOR THOUGHT series, are presented, in part, with public funds from the New York City Department of Cultural Affairs, in partnership with the City Council as well as City Council Member Rosie Mendez.

Danspace Project programs are made possible in part through PUBLIC FUNDS from the National Endowment for the Arts; the New York State Council on the Arts; the New York State DanceForce with funding from the New York State Council on the Arts Dance Program; the New York City Department of Cultural Affairs, in partnership with the City Council; and Materials for the Arts (a joint program of the NYC Department of Cultural Affairs and the Department of Sanitation). Danspace Project extends special thanks to New York State Senator Thomas K. Duane, State Assembly Member Deborah J. Glick, City Council Member Rosie Mendez, City Council Cultural Affairs Committee Chair Jimmy Van Bramer, Finance Chair Domenic Recchia, and City Council Speaker Christine C. Quinn for their advocacy and support.

Danspace Project gratefully acknowledges the PRIVATE SUPPORT of Anonymous donors; the Arnhold Foundation, Inc.; Arup; Asian Cultural Council; Bloomberg Philanthropies; Community Funds, Inc. - LuEsther T. Mertz Advised Fund; The Joseph and Joan Cullman Foundation for the Arts; Cultural Services of the French Embassy; Doris Duke Charitable Foundation; Foundation for Contemporary Arts; Gotham Arts Exchange; The Greenwich Collection Ltd.; The Harkness Foundation for Dance; the Jerome Foundation; King's Fountain; Lambent Foundation Fund of the Tides Foundation; The Andrew W. Mellon Foundation; Mertz Gilmore Foundation; the National Dance Project of the New England Foundation for the Arts, with lead funding from the Doris Duke Charitable Foundation and additional funding from the Andrew W. Mellon Foundation, the Community Connections Fund of the MetLife Foundation, and the Boeing Company Charitable Trust; Netherlands Cultural Services; NYC Dance Response Fund; Open Society Foundations and the Fund for the City of New York; the Robert Rauschenberg Foundation; The Jerome Robbins Foundation; the James E. Robison Foundation; The Fan Fox & Leslie R. Samuels Foundation, Inc.; The Shubert Foundation; Snøhetta; Joseph S. and Diane H. Steinberg Charitable Trust; and the Patrons and Members of Danspace Project.

Danspace Project receives additional support from Chase Community Giving, Dance Films Association, French Institute Alliance Française, The Kitchen, Lutz & Carr; Mt. Tremper Arts, New York Live Arts; Pentacle; ; as well as from Bank of America; Doris Duke Foundation, ExxonMobil Foundation, Google Foundation, IBM, Moody's Foundation, and The Starr Foundation through matching gifts programs.

Lighting equipment provided courtesy of Dance Theater Workshop and The Joyce Theater; Danspace Project offers a very special thanks to Chloe Z. Brown, Linda Shelton, Nathan Hurlin, Valerie Simmons, and Geoff Freeman.

Danspace Project gratefully acknowledges Pangea, the official restaurant of Danspace Project, as well as Artpix, Canard Inc., The City Bakery, Dancing Camera, Dia Art Foundation, Digital Color Concepts, Dumpling Diva/Marja Samsom, East Village Wines, The Grey Dog, Microcinema International, Open Pantry, Orange Mountain Music, Ozone Design Inc., Pine Ridge Wines courtesy of The Joseph S. and Diane H. Steinberg Charitable Trust, The Poetry Project, Tom Cat Bakery, Katherine Moore at Union Square Wines & Spirits, Vassilaros Coffee, and Veselka,; generous providers of food, beverages, products, and services for Danspace Project events.

Danspace Project is a member of the Association of Performing Arts Presenters, Dance/NYC, Dance/USA, and the New York State DanceForce.