Danspace Project Announces Spring 2013 Performances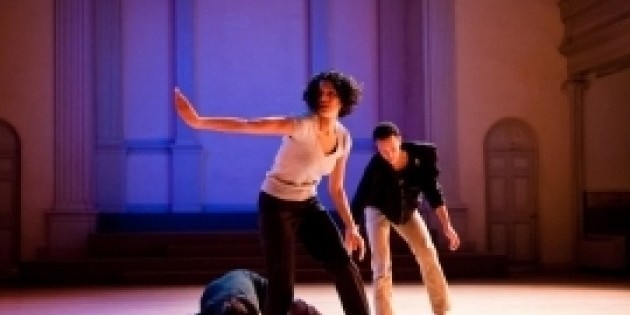 What to expect from April till June
Danspace Project Announces Spring 2013 Programming
(April - June)
FOR IMMEDIATE RELEASE, New York, NY, March 6, 2013 - Danspace Project is pleased to announce spring 2013 performances. The season includes a lively and diverse group of emerging choreographers creating innovative and provocative solo and collaborative work.
Danspace Project has commissioned and supported hundreds of new works by emerging artists, primarily with the generous support of the Jerome Foundation. In recent years promising young choreographers Kyle Abraham, Michelle Dorrance, Rashaun Mitchell, and Liz Santoro have all received accolades, awards, and critical attention for their first-ever evening-length works presented by Danspace.
With the support of the Jerome Foundation, The Andrew W. Mellon Foundation, and the individuals who give to the Creation Fund, we continue our longstanding commitment to presenting new, original voices in dance this spring.
The season features premieres by emerging artists Darrell Jones (May 23-25, 2013), Joanna Kotze (May 30-June 1, 2013), Katy Pyle (May 16-18, 2013) and Marýa Wethers (April 4-6, 2013). Choreographer Enrico Wey works alongside established multi-disciplinary artist Jon Kinzel to create a new duet (April 4-6, 2013), and Vicky Shick, who has been creating and performing for over thirty years, collaborates with a cast of emerging and established dance makers for the world-premiere of her latest piece (April 18-20, 2013).
This spring our Food for Thought benefit series (April 11-13, 2013) is a nod to the rich history of, and associations between, poetry and dance with poets Bruce Andrews, Christine Hou and Stacy Szymaszek curating three nights of dance. The Danspace Project Gala (May 7, 2013) honors visionary film artists Charles Atlas, Molly Davies, and Babette Mangolte who each work collaboratively with dance artists. We are thrilled to bring back Solos & Solitudes (April 25-27, 2013), three nights of new solos by Hilary Clark, Caroline Gravel, and Taisha Paggett. The Ishmael Houston-Jones curated series DraftWork returns with new works-in-progress by Diana Crum and Gillian Walsh (May 18, 2013); and the season concludes with our DANCE: Access series, which provides independent choreographers with space and resources to self-present their work.
LOCATION: Danspace Project is located inside historic St. Mark's Church in-the-Bowery at 131 East 10th Street (at 2nd Avenue), New York, NY 10003.
TICKETS: Tickets are available for purchase online at www.danspaceproject.org or by phone at (866) 811-4111.
DANSPACE PROJECT SPRING 2013 CALENDAR
APRIL 4-6, 2013 [THU-SAT] 8PM
Shared Evening: MARýA WETHERS / ENRICO D. WEY & JON KINZEL
Admission: 8 (2 Danspace members)
(w)hole, again is a solo dance created and performed by Marýa Wethers. Described in the New York Times as an "eloquent dancer whose fierce intelligence is cut by a quiet humor," Wethers has performed in the work of Deborah Hay, Daria Faïn, and Susan Rethorst, among many others. She has presented her own work in New York at The Yard, Movement Research at the Judson church, and AUNTS. (w)hole, again follows an isolated character through a landscape of discarded objects, navigating a psychological and energetic journey through loneliness, aggression, vulnerability, and surrender. Wethers' work was presented as part of Danspace Project's PLATFORM 2012: Parallels in an evening curated by Bebe Miller.
harmony hard, a pulsing vein, began as an invitation from Enrico D. Wey to Jon Kinzel to work on a collaborative duet. Enrico D. Wey is a choreographer and performer who has participated in acclaimed work by Ishmael Houston-Jones, Yvonne Meier, and Trajal Harrell. He has pupeteered in Tall Horse and William Kentridge's Il Ritorno d'Ulisse and played the role of "Joey" in the Tony Award-winning play War Horse, for which he will serve as Assistant Puppetry Director for the upcoming production in Berlin. Jon Kinzel has been an important fixture in the performance scene in New York since the 1990s. He is a professor and multi-media artist whose works on paper have been exhibited in New York City and Boston. Kinzel's long list of artistic collaborators include Matthew Barney, John Kelly, Susan Rethorst, Jeremy Nelson, and Jean Butler, whose latest work at Danspace Project is directed by Kinzel.
Acknowledging and accepting the realities of their varying histories, Wey and Kinzel incorporate physical partnering, dance, and a considered visual aesthetic in lieu of sticking to one specific medium. Wey and Kinzel aim to accentuate the architecture of St. Mark's Church by framing a smaller passage within it. The rigor of their exchange serves as an undercurrent for this duet, inspired in part by Chinese garden arrangement and scroll paintings.
APRIL 11-13, 2013 [THU-SAT] 8PM
Food for Thought
Curated by Bruce Andrews, Christine Hou, and Stacy Szymaszek
Admission: with 2 cans of food; or 0*
Food for Thought presents multiple artists over one weekend with a different guest curator each evening.
In the spirit of Danspace Project's co-founder and first-ever Program Director, poet Larry Fagin, we present three nights of dance performances curated by poets Bruce Andrews (author and editor of L=A=N=G=U=A=G=E Magazine), Christine Hou (author, artist, critic, hypothetical arrangements, hyperallergic, Brooklyn Rail), and Stacy Szymaszek (author and artistic director of the Poetry Project, St. Mark's Church, NYC).
*Food for Thought collects canned food over the course of the run to support the St. Mark's Church food distribution program.
APRIL 18-20, 2013 [THU-SAT] 8PM
VICKY SHICK
Everything You See
Admission: 8 (2 Danspace members)
Two-time Bessie Award-winning choreographer Vicky Shick has been an esteemed member of the New York City dance community for over three decades, working and collaborating with Yoshiko Chuma, Susan Rethorst, Juliette Mapp, and Jodi Melnick, among others. Shick has been consistently creating her own work for the last twenty years.
Everything You See is an entry into commotion that sits alongside Shick's ongoing devotion to intimacy and a passion for physical detail. Consciously avoiding narrative hints, Shick and her long-term collaborators, set and costume designer Barbara Kilpatrick, sound designer Elise Kermani, and lighting designer Carol Mullins reimagine their experience of space, sound and light. A large ensemble, including Shick, Jodi Bender, Donna Costello, Lily Gold, Jon Kinzel, Marilyn Maywald, Heather Olson, Wendy Perron, and Laurel Tentindo offers a wide range of disparate movement explorations and pairings.
A member of Trisha Brown Dance Company from 1980-84, Shick recently performed Brown's Homemade (1966) as part of the Company's BAM season. She will reprise the performance for the Danspace Project Gala on May 7, 2013.
APRIL 25-27, 2013 [THU-SAT] 8PM
Solos & Solitudes: Hilary Clark, Caroline Gravel, Taisha Paggett
Curated by Jenn Joy and Noémie Solomon
Admission: 8 (2 Danspace members)
What does philosophy desire of dance--a virtuosic muse, a line of flight, a romantic pas de deux? Performance scholars Jenn Joy and Noémie Solomon consider Georges Didi-Huberman's text Le Danseur des solitudes (2006) and explore the philosopher's romantic meditation on dance in this evening of solos, originally presented as part of Danspace's Food for Thought series in 2012. "Sometimes language falters, must fail," Joy and Solomon wrote, "In these moments the materiality of the dancer/muse returns." Joy and Solomon invite Hilary Clark, Caroline Gravel, and Taisha Paggett to imagine a solo that might address the material and temporal qualities of dance as "so many flights from the normal order of things."
Bessie Award-winning dance artist Hilary Clark's Accessories of Protection (2012) is structured through intuition and improvisation. This work evokes, in Joy's words, "a melancholic magic that speaks of the warrior's weakness and longing."
Montreal-based dance and performance artist Caroline Gravel's Ma mère est un mâle alpha (My Mother is an Alpha Male) (2012) looks at questions of relations, inheritance, and corporality using a technique of impulsion and "bodystorming" to generate materials, while questioning gestural authorship.
Taisha Paggett's work for stage, gallery, and public sphere include investigations of the body, agency, and the phenomenology of race. Private Realness (2012) emerged from an interest in understanding the expressive systems of pop culture phenomena Zumba and the Autotune as well as the parasitic relationship that pop culture orchestrates between people and things.
MAY 7, 2013
DANSPACE PROJECT GALA
Honoring Visionaries in Dance and Film: Charles Atlas, Molly Davies, Babette Mangolte
Admission: Single tickets start at 00/00. Performance-only tickets are 5.
Wine Reception: 6pm; Welcome & Dinner: 7pm; Performance & Films: 8:30pm
For more information, contact Peggy Cheng at peggy@danspaceproject.org or (212) 674-3838
Through their collaborative work with choreographers, these three artists have crafted innovative, genre-bending fusions of film and dance.
Gala co-chairs: Douglas Dunn & Pat Steir
Performances include Dancenoise (Lucy Sexton and Anne Iobst), Richard Move, Vicky Shick performing Trisha Brown's Homemade (1966), and films by honorees Charles Atlas, Molly Davies, and Babette Mangolte. Silent Art Auction throughout the evening.
Location: Danspace Project (at St. Mark's Church), 131 East 10th Street (at Second Avenue), New York City, 10003
MAY 16-18, 2013
KARY PYLE AND THE BALLEZ COMPANY
The Firebird, a Ballez
Admission: 8 (2 Danspace members)
Katy Pyle is a multimedia performance artist whose works explore fantasy, transformation, queer failure, and the lineage of performance. The "Ballez" is a ballet-inspired theatrical with female-assigned queer and transpeople redefining the traditional gender roles, technical expectations, and stories of ballet through the queering of a classic form. Pyle teaches Ballez classes for dancers to explore ballet movement outside of heteronormative constructs.
The Firebird, a Ballez follows a yearning, Lesbian Princess and a Tranimal (part bird, part Prince) as they seek liberation in a magically perverse landscape of Polyamorous Princes and their Dominant Sorceress.
Accompanied by the Queer Urban Orchestra, a simulated landscape by Hedia Maron, costumes by Mikki Olson, and a cast of 15 queer performers, the work challenges the roles that ballet has classically prescribed, and seeks new embodied expression. Performers include Jules Skloot (Firebird), Cassie Mey (Sorceress), Katy Pyle (Lesbian Princess), Effie Bowen, Devynn Emory, Zari Esaian, Leah Hafezi, Sam Miller, Francis Rabkin, Mary Read, Lindsay Reuter, Lollo Romanski, Ariel Speedwagon, Sacha Yanow, and Nyx Zierhut (Princes).
MAY 18, 2013 [SAT] 3PM
DraftWork: Diana Crum / Gillian Walsh
Admission: Free and open to the public
Curated by Ishmael Houston-Jones, the DraftWork series hosts informal Saturday afternoon performances that offer choreographers an opportunity to show their work in various stages of development. Performances are followed by discussion and a reception during which artists and audiences share perspectives about the works-in-progress.
MAY 23-25, 2013 [THU-SAT] 8PM
DARRELL JONES
Hoo-Ha (for your eyes only)
Admission: 8 (2 Danspace members)
Darrell Jones has performed worldwide with Urban Bush Women, Bebe Miller Company, Min Tanaka, and Ralph Lemon. He has been working with collaborators Damon Greene and Jsun Howard since 2007 to deconstruct and experiment with recognized voguing vocabularies, as recently seen in an excerpt of his Hoo-Ha series presented during Danspace Project's PLATFORM 2012: Parallels.
An associate professor at The Dance Center of Columbia College in Chicago, Jones' research into voguing aesthetics seeks "to unravel the physical poetics of this dance form and how it has become a present metaphor for ideas of power and transgression." Hoo-Ha (for your eyes only) is the release of the oppressed feminine in the male body. Pulling from voguing vocabularies, Jones forges forbidden moments and movements in this danced ritual of passage seeking physical and psychic liberation. Dramaturge: Talvin Wilks.
MAY 30 - JUNE 1, 2013 [THU-SAT] 8PM
JOANNA KOTZE
it happened it had happened it is happening it will happen
Admission: 8 (2 Danspace members)
Joanna Kotze seeks to rigorously explore the potential of the body in movement, challenging the habitual. Born in South Africa, she studied architecture at Miami University while dancing for Miami University's Dance Theatre and traveled to Ghana to study African dance. Creating her own choreographic work in New York City since 2004, Kotze has worked extensively with Wally Cordona, Kimberly Bartosik/daela, Christopher Williams, and Netta Yerushalmy.
it happened it had happened it is happening it will happen is a trio for Kotze, Stuart Singer, and Netta Yerushalmy that confronts the seductiveness of classifying, ordering and structuring while attempting to hold onto the character of the unnamable, vulnerable and imaginable. Through rich and varied movement, these three distinctive dancers introduce the space and themselves to the viewers in unique ways making time feel at once past, present and future.
Sound Design: Dave Ruder, Lighting Design: Kathy Kaufmann, Costumes: Reid Bartelme.
DANCE: Access
DANCE: Access is Danspace Project's self-production series.
MAY 2-4, 2013 [THU-SAT] 8PM
BARE Dance Company
Admission: 8 (2 Danspace members)
JUNE 6-8, 2013 [THU-SAT] 8PM
Avalanche (2012) Directed by Headlong Dance Theater, Co-Conceived and Performed By Rachel Boggia, Todd Coulter, Carol Dilley, Annie Kloppenberg, and Michael Reidy
Admission: 8 (2 Danspace members)
JUNE 13-15, 2013 [THU-SAT] 8PM
Patricia Noworol Dance
Admission: 8 (2 Danspace members)
JUNE 20-22, 2013 [THU-SAT] 8PM
Overground Physical Theatre Company
Admission: 8 (2 Danspace members)
JUNE 27-29, 2013 [THU-SAT] 8PM
DANCE: Access: Share: Racoco/Rx / Jody Sperling/Time Lapse Dance
Admission: 0 (5 Danspace members)