Danspace Project Gala Honors Steve Paxton and Dia Art Foundation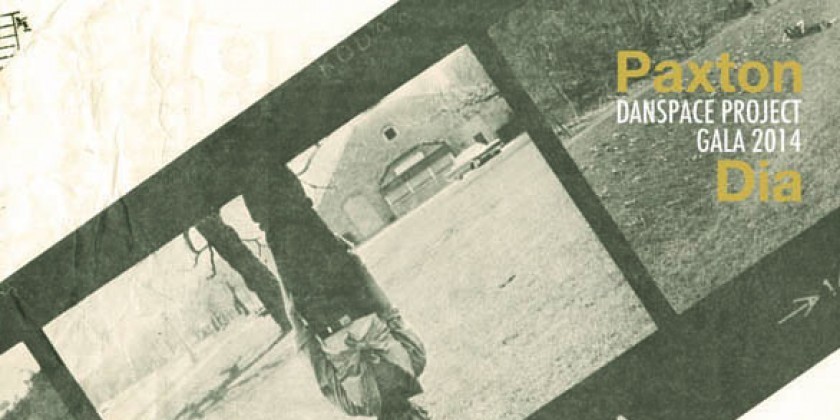 Company:
Danspace Project
Danspace Project's Annual Gala Honors Steve Paxton and Dia Art Foundation
Tuesday, April 29, 2014
Garden Reception 6PM / Dinner 7PM / Performances & Films 8:30 PM
FOR IMMEDIATE RELEASE - New York, NY, April 15, 2014 - Danspace Project's annual Gala takes place on Tuesday, April 29. This special evening honors legendary dance innovator Steve Paxton for his masterful investigations into movement forms, which have defined a generation of postmodern choreographers, and Dia Art Foundation for its historic commitment to dance and performance and four decades of supporting visionary artists' projects. In October of 2013 Dia Art Foundation presented the U.S. premiere of Night Stand, a work created and performed by Paxton with longtime collaborator Lisa Nelson, marking Dia's first performance program in New York City in 10 years.
Co-chaired by Suzanne Bocanegra & David Lang, Yvonne Rainer, and Helen & Peter Warwick, the Gala begins at 6pm with a reception in the garden at St. Mark's Church in-the-Bowery, Danspace's home.
At 8:30pm, following dinner and introductory remarks by Yvonne Rainer, Danspace Project is pleased to present a host of singular performances and films. Musical performances include New York-based circus-theater group Circus Amok, and experimental ensemble Ghost Trio (Iarla Ó Lionáird, Ivan Goff, Cleek Schrey). Dance performances include longtime Trisha Brown Dance Company member Diane Madden, performing in a work by Trisha Brown, and a performance by Bessie Award-winning choreographer Jennifer Monson. Dance/video pioneer Cathy Weis screens work featuring Steve Paxton. Tickets for this portion of the evening are available at $80 each.
A Silent Auction, chaired by Danspace Project Board Member Mary Barone, takes place throughout the evening. The auction features work by Martin Creed, Karin Davie, Joanne Greenbaum, Marcia Hafif, Shirin Neshat, Peter Moore, Emily Sundblad and Eve Sussman. Bidding is live on Paddle8.com as of 10am on Tuesday, April 15. All online bids will transfer over to the live event at noon on Tuesday, April 29.

TICKETS
Tickets start at $80 (online) each for performance-only
Individual Balcony Dinner Seats are $310 (online) each
Main Floor Individual Dinner Seats are $520 (online) each
Tickets on sale online at www.danspaceproject  or by phone at (866) 811-4111 (TheaterMania/OvationTix)
Contact Peggy Cheng at peggy@danspaceproject.org or (212) 674-3838 for information on Event Sponsorship.
Steve Paxton was born in Arizona in 1939. He began his movement studies in gymnastics and then trained in ballet and modern dance. In summer 1958, Paxton attended the American Dance Festival at Connecticut College, where he trained with choreographers Merce Cunningham and José Limón. Soon after, he moved to New York City. He was a member of the José Limón Company in 1959 and a member of the Merce Cunningham Dance Company from 1961 to 1964. He was a founding member of Judson Dance Theater (1962-64) and Grand Union (1970-76), two movements that indelibly redefined dance for the following decades. In the late 1960s, Paxton created work from pedestrian, everyday movement, including such preeminent early dances as Flat (1964), Satisfyin Lover (1967), and State (1968). In the 1970s, Paxton was involved with Grand Union, a dance theater collective that included Becky Arnold, Trisha Brown, Douglas Dunn, David Gordon, Nancy Lewis, Barbara Lloyd (Dilley), Yvonne Rainer, and Lincoln Scott. It was during his time with Grand Union that he first formulated Contact Improvisation, which has remained an influential dance form. He then developed the movement practice Material for the Spine from Contact Improvisation in 1986. Paxton's interest in improvisation has continued to guide his choreographic practice over the past twenty-five years.During his fifty-year career, Paxton has received two New York Dance and Performance Awards, or Bessies, in 1987 and 1999, and has been the recipient of grants from the National Endowment for the Arts; the Rockefeller Foundation; the Contemporary Performance Arts Foundation; Change, Inc.; and Experiments in Art and Technology. He received the Vermont Governor's Award for Excellence in the Arts in 1994 and a Guggenheim Fellowship in 1995. He has also been a contributing editor to Contact Quarterly dance journal. In 2008, Paxton published the four-hour DVD Material for the Spine, which examines technical movement outward from the core of the body. He lives in Vermont.

Founded in 1974, Dia Art Foundation is dedicated to commissioning, supporting, presenting, and preserving contemporary works of art and performance, and to fostering critical discourse. Throughout its history, Dia has championed an institutional dedication to realizing new works and retrospective projects in dance. From 1985-96, Dia's dance program in SoHo, conceived by Joan Duddy, fostered a community of artists by offering low-cost rehearsal space and presenting works by choreographers including Arthur Aviles, Bill T. Jones, Molissa Fenley, Ralph Lemon, Lucio Pozzi, Sarah Rudner, and Anna Sokolow. While Dia Center for the Arts in Chelsea was open from 1987-2003, Dia commissioned new work by Yves Musard as well as Hiroshi Sugimoto and Naohiko Umewaka, among others. Since Dia:Beacon opened in 2003, performances have been presented by Joan Jonas, Robert Whitman, Merce Cunningham Dance Company, Trisha Brown Dance Company, and Yvonne Rainer. This October at Dia:Beacon, Dia will present works created by Steve Paxton from 1964-2010, which continues from the extraordinary performance of Lisa Nelson and Steve Paxton's Night Stand (2004), presented at Dia:Chelsea in 2013. www.diaart.org
 
ABOUT DANSPACE PROJECT: Danspace Project presents new work in dance, supports a diverse range of choreographers in developing their work, encourages experimentation, and connects artists to audiences. Now in its fourth decade, Danspace Project has supported a vital community of contemporary dance artists in an environment unlike any other in the United States. Located in the historic St. Mark's Church in-the-Bowery, Danspace shares its facility with the Church, The Poetry Project, and The Incubator Arts Project. Danspace Project's Commissioning Initiative has commissioned over 450 new works since its inception in 1994.

Danspace Project's Choreographic Center Without Walls (CW²) provides context for audiences and increased support for artists. Our presentation programs (including Platforms, Food for Thought, DraftWork), Commissioning Initiative, residencies, guest artist curators, and contextualizing activities and materials are core components of CW² offering a responsive framework for artists' works. Since 2010, we have produced seven Platforms, published seven print catalogues and five e-books, launched the Conversations Without Walls discussion series, and explored models for public discourse and residencies.


www.danspaceproject.org
Facebook: Danspace Project
Twitter: @DanspaceProject
Tumblr: danspaceproject.tumblr.com