Contribute
Your support helps us cover dance in New York City and beyond! Donate now.
Danspace Project Hosts Houses Without Masters: a celebration of PLATFORM 2015: Dancers, Buildings and People in the Streets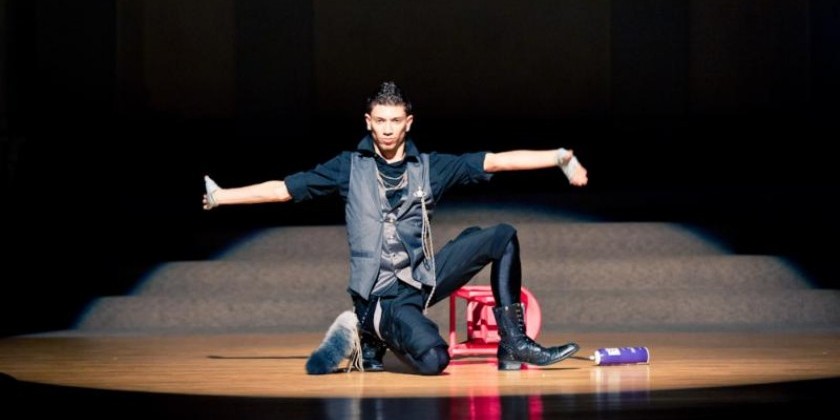 Company:
Danspace Project

Danspace Project Hosts Houses Without Masters:
a celebration of PLATFORM 2015: Dancers, Buildings and People in the Streets
with performances by
Jean Butler
Chrybaby Cozie
Michelle Dorrance
Javier Ninja
New York Theatre Ballet's Elena Zahlmann performing James Waring's An Eccentric Beauty Revisited
Larissa Velez-Jackson & Yackez
and music by DJ Douze
Thursday, March 26, 2015, 8-11pm 
(Box office opens at 7:30pm)
 
New York, NY, March 12, 2015 - Danspace Project hosts a party in celebration of PLATFORM 2015: Dancers, Buildings and People in the Streets on Thursday, March 26 from 8-11pm. This event takes place inside the sanctuary at St. Mark's Church in-the-Bowery (131 East 10th Street in Manhattan's East Village), Danspace Project's home of 40 years.
PLATFORM 2015: Dancers, Buildings and People in the Streets, curated by Claudia La Rocco, brought together singular dance artists who've engaged in exchanges across ballet, modern and postmodern dance. In that spirit, Danspace has invited singular dance innovators from diverse genres to perform throughout the evening. They are: Jean Butler, Chrybaby Cozie, Michelle Dorrance, Javier Ninja, New York Theatre Ballet's Elena Zahlmann performing James Waring's 1972 solo An Eccentric Beauty Revisited (inspired by Nijinsky's Le Dieu Bleu) and Larissa Velez-Jackson & Yackez. DJ Douze will provide danceable sounds throughout the evening.
Tickets and admission: Tickets are $20 General Admission and $15 for Danspace Project members. Tickets available for purchase at www.danspaceproject.org or by phone through TheaterMania/OvationTix at (866) 811-4111.
 
#houseofdanspace
ABOUT THE ARTISTS:

Jean Butler is a New York City-based choreographer and performer. Best known as a practitioner in Irish Dance, Butler originated the female principle roles and co- choreographed Riverdance the show and Dancing on Dangerous Ground which Anna Kisselgoff of the NY Times reviewed as "channeling Irish step dancing into genuine artistic expression." Trained under renown teacher Donny Golden, Butler toured internationally as a soloist with the Chieftains for a period of 6 years. She also danced with Greenfield's of America, Donal Lunny, The Kodo Drummers, Kila, Solas and Martin Hayes. Butler Holds a BA in Theatre Studies from Birmingham University, UK and a MA in Contemporary Dance Performance from the University of Limerick, Ireland. Since 2005 she has been working in a contemporary context. Butler's work has been commissioned and supported by The University of Limerick's Irish World Academy (Artist in Residence 2003-2005), The Arts Council of Ireland, Culture Ireland,The Dublin Dance Festival (2007-2013) The Project Arts Center (Dublin), The Abbey Theatre (Dublin), Plankton Productions (Japan), Movement Research, Lower Manhattan Cultural Council Jacobs Pillow Dance Festival, and Danspace Project. Her 2007 work 'does she take sugar?' was awarded Most Innovative Production in the Critics' Survey in the 'Ballet-Tanz Magazine's 2007 Yearbook.' In 2010 Butler had the pleasure of premiering 'DAY' choreographed by Tere O'Connor  at the Abbey Theatre, Dublin. Her latest solo work, entitled 'hurry', was co-created with dance artist Jon Kinzel and premiered at Danspace Project in March 2013. Since moving to NY in 2006 Butler has worked with Yoshiko Chuma, Jodi Melnick, Tere O'Connor, Jen Rosenblit and Jon Kinzel. She was also editor at Movement Research's online dance journal Critical Correspondence. Although Butler's substantial history and training in traditional Irish Step Dance continues to influence her work, it is not defined by it. Her ongoing creative focus bridges the gap between a culturally specific practice and a contemporary approach to dance making- either as a soloist or in the work of others. Butler is currently a Lecturer in Irish Studies at NYU and a Baryshnikov Arts Center Spring 2014 Resident.

Chrybaby Cozie is a dancer/entertainer from Harlem NY. He is one of the forefathers of a new Freestyle Dance Called "LiteFeet." He's also been featured in Hip Hop videos Such as DJ Webstar "Chicken Noodle Soup," Jason Fox "Aunt Jackie," Chris Brown "Kiss Kiss", Ron Brows. Ft. Jim Jones & Juelz Santana "Pop Champagne, & DJ webstar ft. Jim Jones & Juelz Santana "Dancing On Me" to name a few. Cozie, along with artists Salome Asega and Ali Rosa-Salas, collaborated to produce "Level Up: The Real Harlem Shake," an interactive video game that uses hacked Kinect software to teach the original Harlem Shake, which was commissioned by the New Museum for it's recent AUNTSforcamera exhibition.
Michelle Dorrance, founder and artistic director of Dorrance Dance, is one of the most sought after tap dancers of her generation and "one of the most imaginative tap choreographers working today" (The New Yorker). A 2012 Princess Grace Award Winner, 2012 Rockefeller Foundation & Mertz Gilmore sponsored Field Dance Fund Recipient, and 2011 Bessie Award Winner, Dorrance performs, teaches and choreographs throughout the world. Mentored by Gene Medler, Michelle grew up performing with the North Carolina Youth Tap Ensemble and has since performed with; STOMP, Manhattan Tap, Savion Glover's 'Ti Dii', JazzTap Ensemble, Barbara Duffy & Co, Rumba Tap, Derick Grant's Imagine Tap and Jason Samuels Smith's Chasing the Bird to rave reviews. She holds a BA from NYU and teaches on faculty at Broadway Dance Center.

Dyani Douze is a multimedia artist, raised in Miami, DC, and Paris and currently residing in Bed-Stuy, Brooklyn.Dyani recently returned from a study abroad program in Johannesburg, South Africa, and is currently finishing up her final year at the Gallatin School of Individualized Study, NYU. While at Gallatin, Dyani is continuing her research on the relationship between aural and visual media, studying sound design, film scoring, film editing and production. She has served as an editorial apprentice on Spike Lee's documentary Bad 25, and has produced several personal projects, including a short documentary exploring architectural spaces in Paris. In her spare time, Dyani produces music and DJs at local venues.
 
Javier Madrid also known as 'Javier Ninja' is a name known worldwide. With the different styles of dance Javier has learned and integrated, he has managed to develop a unique style of his own.Javier has the ability to contort his body in ways unimaginable and leaves the audience in awe, craving to see more. Although it may appear that his unique style of dancing is an easy task to accomplish, I can assure you, that is untrue.Javier has performed solos and collaborated with The House of Ninja all around the world, most notable was for the original House of Ninja Production, East is Red and appeared as a guest starred on America's Next Top Model. He was the "VOGUE Champion of the Year" for three consecutive years for the House Dance International competition. Additionally, Javier has expanded his horizons nationally and internationally including a performance at the 2010 world competition Juste DeBout in Paris and televise live performance at the 2012 Super Bowl halftime with the "Queen of Pop," Madonna. Javier's latest accomplishments include a performance in the music video All Night by award winning Icona Pop, and America's Got Talent in 2013.

Larissa Velez-Jackson is a NYC-based choreographer and multimedia artist. Of her 2010, critically acclaimed show at Danspace Project, the New York Times said, "Ms. Velez-Jackson demonstrates her own formidable presence as she bursts into the space... A choreographer who is not afraid of being (or showing) ugly onstage, she disarms her audiences with humor...." She has presented work at numerous NYC venues such as: Dixon Place, People's Improv Theatre, New Museum of Contemporary Art, Dance Theater Workshop, Danspace Fall Platform '10 and American Realness Festival '11 at Abrons Arts Center. In 2011, she launched a new musical collaboration with her husband Jon Velez-Jackson called Yackez, "The World's Most Loveable Hip Hop Duo." Between October 2011 and the present, Yackez self-released a debut double album called "The Comeback Album" and three EP's. For more info on their albums and performance dates visit www.yackez.comLVJ was a danceweb scholar at the prestigious Impulstanz International Dance Festival via the Jerome Foundation Travel and Study Grant in 2012. Following that, she was a Movement Research Artist in Residence '12-'13, a SPARC resident '13 with the Lower Manhattan Cultural Council and a Boo-Koo resident '14 at Gibney Dance Center. In May '14, LVJ performed an exciting mobile outdoor work, S.P.E.D. THE BX, with the support of Bronx non-profit, Pepatían and Casita Maria Center for Arts and Education.  S.P.E.D. THE BX was a durational site-speciific work that culminated for an audience of 70 children and BRONXNET cable television. Velez-Jackson teaches mind/body wellness and fitness classes, teaching at 92 St Y and West Side Y in Manhattan for eight years, specializing in the older adult population. Larissa's private teaching includes Pilates, ballroom dance and Rasa Yoga. She continues 2014 with an exciting residency at Museo Del Barrio which will feature a new project with the Yackez dancers and LVJ's active older adult dance students.LVJ creates under several company names, depending on the work. For educational outreach she presents under the moniker, Star Particle Experimental Dance (S.P.E.D.) Her dance ensembles also include The Star Crap Dancers and Yackez Dancers.

James Waring was a leader of the dance avant-garde in the 50s and 60s. He choreographed and designed over 100 works for his own company and for other modern dance and ballet companies. Many of the dancers who formed the nucleus of the Judson Dance Theater and of the subsequent postmodern movement worked and studied (both technique and composition) with him, including Lucinda Childs, Yvonne Rainer, Aileen Passloff, David Gordon and Valda Setterfield.

An Eccentric Beauty Revisited, to music by Erik Satie, is one of a series of solos choreographed by James Waring for favorite dancers, this for Gretchen MacLane, who first performed it in 1972 and staged it for New York Theatre Ballet in 1985. The "beauty" depicted is a cabaret artiste of the Belle Epoque.
 
Elena Zahlmann trained with Elisabeth Carroll at the Princeton Ballet School, and on full scholarship at the New Jersey Governor's School of the Arts. Before joining New York Theatre Ballet, she was a member of American Repertory Ballet's junior company. As Principal Dancer at NYTB, she has performed in works by Ashton, de Mille, Tudor, Límon, and Cunningham among others. In addition to her principal roles with NYTB, Elena has danced soloist roles from Oklahoma! and The King & I. She has served as assistant to Gemze de Lappe and Diana Byer in the staging of the works of Agnes de Mille and Antony Tudor. She recently staged Liza Gennaro's original choreography from A Charlie Brown Christmas at the San Francisco Symphony. Elena has twice been awarded the Byer Fellowship and is on faculty at Ballet School NY.


ABOUT DANSPACE PROJECT

Danspace Project presents new work in dance, supports a diverse range of choreographers in developing their work, encourages experimentation, and connects artists to audiences. Now in its fourth decade, Danspace Project has supported a vital community of contemporary dance artists in an environment unlike any other in the United States. Located in the historic St. Mark's Church in-the-Bowery, Danspace shares its facility with the Church, The Poetry Project, and The Incubator Arts Project. Danspace Project's Commissioning Initiative has commissioned over 450 new works since its inception in 1994.
Danspace Project's Choreographic Center Without Walls (CW²) provides context for audiences and increased support for artists. Our presentation programs (including Platforms, Food for Thought, DraftWork), Commissioning Initiative, residencies, guest artist curators, and contextualizing activities and materials are core components of CW² offering a responsive framework for artists' works. Since 2010, we have produced eight Platforms, published eight print catalogues and five e-books, launched the Conversations Without Walls discussion series, and explored models for public discourse and residencies.
www.danspaceproject.org | Facebook: Danspace Project | Twitter: @danspaceproject | Tumblr: danspaceproject.tumblr.com