Danspace Project Presents A Shared Evening on APRIL 4-6, 2013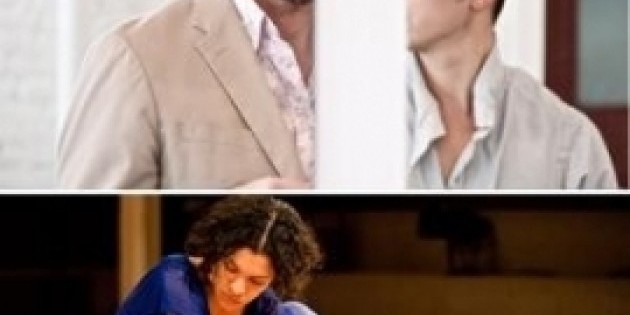 Marya Wethers + Enrico D. Wey & Jon Kinzela
Danspace Project Presents
A Shared Evening:
MAR

ý

A WETHERS / ENRICO D. WEY & JON KINZEL
APRIL 4-6, 2013 [THU-SAT] 8PM
Admission: 8 General Admission | 2 Danspace Members
FOR IMMEDIATE RELEASE, New York, NY, March 28, 2013
- Danspace Project presents the opening performances of our spring 2013 season. With the support of the Jerome Foundation, The Andrew W. Mellon Foundation, and the individuals who give to the Creation Fund, this spring is a continuation of Danspace's longstanding commitment to commissioning new, original, emerging voices in dance. This shared evening features new solo work by Marýa Wethers
and a new collaboration between Enrico D. Wey
and Jon Kinzel
.
Mar
ý
a Wethers'
(w)hole, again
is a solo dance created and performed by Wethers herself. Described in the New York Times
as an "eloquent dancer whose fierce intelligence is cut by a quiet humor," Wethers has performed in the work of Yanira Castro, Faye Driscoll, Deborah Hay, and David Thomson, among others. She recently
commissioned, produced, and performed the soloTARGET::furnace

a collaboration with Daria Faïn at the Chocolate Factory.

Her writing, UnCHARTed Legacies: women of color in post-modern dance
, was published in the 25th Anniversary Movement Research Performance Journal #27/28 (2004). (w)hole, again

follows an isolated character navigating a psychological and energetic journey through loneliness, aggression, vulnerability, and surrender. "

Ms. Wethers was right in the present in her uneasy jostling with form and content, offering us the barest hint of her gorgeous expressivity as a dancer," wrote the New York Times
of Wethers' performance in Danspace Project's PLATFORM 2012: Parallels

.
Starting as an invitation from Enrico D. Wey
to Jon Kinzel
, harmony hard, a pulsing vein
is a collaborative duet. Wey and Kinzel aim to accentuate the architecture of St. Mark's Church by framing a smaller passage within it. The rigor of their exchange serves as an undercurrent for this duet, inspired in part by Chinese garden arrangement and scroll paintings. Acknowledging their varying histories, Wey and Kinzel incorporate physical partnering, dance, and a considered visual aesthetic. Called "an extraordinary mover, the kind with whom the bizarre becomes haunting and even beautiful" by The New York Times
, Wey has performed in acclaimed work by Ishmael Houston-Jones (THEM
) and Yvonne Meier (Brother of Gogolorez
). He is an accomplished puppeteer (Tall Horse
and William Kentridge's Il Ritorno d'Ulisse
) and played the role of "Joey" in the Tony Award-winning play War Horse
, for which he will serve as Assistant Puppetry Director for the upcoming production in Berlin. Jon Kinzel has been a significant fixture in the performance scene in New York since the 1990s. He is a professor and multi-media artist whose works on paper have been exhibited in New York City and Boston. Kinzel's dance work endeavors to expand relationships between the body and space. His long list of artistic collaborators include Matthew Barney, John Kelly, Susan Rethorst, Jeremy Nelson, and Jean Butler, whose latest work premiered at Danspace Project in March 2013.
FUNDING

:
(w)hole, again
and harmony hard, a pulsing vein
were commissioned by Danspace Project's 2012-2013 Commissioning Initiative with support from the Jerome Foundation. (w)hole, again
was created at The Yard, a contemporary artist residency, dance and performance center, as part of the Bessie Schonberg Choreographers Mentorship Residency.
LOCATION

:
Danspace Project is located inside historic St. Mark's Church in-the-Bowery at 131 East 10th Street (at 2nd Avenue), New York, NY 10003.
BIOS
Marýa Wethers
has been living and working in NYC for over 15 years. Most recently, she performed in Blues
by Deborah Hay at the Museum of Modern Art (MoMA) as part of the "Some Sweet Day" performance series curated by Ralph Lemon (November 2012). She participated in Danspace Project's acclaimed Parallels Platform 30th Anniversary, performing in Jawole Zollar's "Black Jam" evening of improvisation and performing a solo-in-process on Bebe Miller's shared evening which will premiere at Danspace in their Spring 2013 season. Her work has also been performed at The Yard (as a 2012 Bessie Schonberg Choreographers Residency artist), Movement Research at the Judson Church, the BAAD Ass Women Festival, and AUNTS. In addition, Marýa has studied and collaborated with choreographer Daria Faïn, including commissioning, producing, and performing the solo TARGET::furnace
at The Chocolate Factory (Premiere, November 2011) and Dance New Amsterdam (phase one, February 2010), conceived in collaboration with and choreographed by Daria Faïn. Previously, Marýa worked extensively with Yanira Castro + Company, Faye Driscoll, and Joyce S. Lim, and in short term projects with Susan Rethorst and Mina Nishimura. She was an invited participant in the Trisha Brown Dance Company scholarship program in 2001. Marýa curated the Out of Space @ BRIC Studio series from 2003-07, and three evenings of Food for Thought, both through Danspace Project. Her writing, UnCHARTed Legacies: women of color in post-modern dance, was published in the 25th Anniversary Movement Research Performance Journal #27/28 (2004). She has been a guest speaker on panels through Movement Research, CLASSCLASSCLASS, and other performing arts organizations in the tristate area. Marýa was featured in an interview/article in

Gay City News

in June 2006. In her role as Program Manager at New York Live Arts (previously Dance Theater Workshop), she manages The Suitcase Fund and is very inspired by recent opportunities to travel and coordinate an international exchange program with contemporary dance artists in Africa (among other responsibilities). She graduated from Mount Holyoke College in 1997 with a Bachelor of Arts in Dance with High Honor, cum laude
and a Minor in African-American Studies.
Enrico D. Wey
's
work has been on view since 2006, notably for Danspace, New Museum, St. Ann's Warehouse Puppet Lab, and as a curator for Movement Research Spring Festival 2012. He was selected as an LMCC SwingSpace and DTW Fresh Tracks Resident in 2010. As a member of Handspring Puppet Company (South Africa) since 2004, he puppeteered in Tall Horse
(BAM, Kennedy Center) and in William Kentridge's Il Ritorno d'Ulisse
(SF MOMA, Theater der Welt, Edinburgh International Festival) After a two-year engagement on Broadway as "Joey" in the Tony Award-winning play, War Horse,
he shared the stage with Jen Rosenblit, Chris Cochrane, and Jassem Hindi in ...or and animal...
at the American Realness Festival. He has had the pleasure of working with choreographers Milka Djordjevich, Trajal Harrell, Yvonne Meier, and for Ishmael Houston-Jones in his Bessie Award-winning reconstruction of THEM
(PS122, Pompidou, TanzImAugust, REDCAT). He is slated to be the Assistant Puppetry Director for the upcoming production of War Horse
in Berlin, Germany and is the proud participant of LMCC's Extended Life program for 2013/14.
Jon Kinzel
has received numerous commissions and created over 30 pieces in a variety of national and international venues: recently at The Kitchen, and La MaMa. He is the recipient of a Martha Duffy Fellowship at the Baryshnikov Arts Center and The 2012 Artist Award from the Brooklyn Arts Exchange. His flat art/works on paper have been exhibited in Boston and New York City. He directed Jean Butler's evening length solo hurry
(2013) at Danspace Project. He will present, The Generalist
, a new duet created for the Dublin Dance Festival in May. He has had the good fortune to have collaborated and worked with Matthew Barney, John Kelly, John Jasperse, Jodi Melnick, Vicky Shick, Susan Rethorst, Jeremy Nelson, Vivian Stoll, Jonathan Bepler, Bob Ajar, Othershore, and Rachid Ouramdane, among others. He has taught at New York University, Yale University, Barnard College at Columbia University, and Movement Research.