Danspace Project Presents Legacy Russell & Clifford Owens "The Kiss"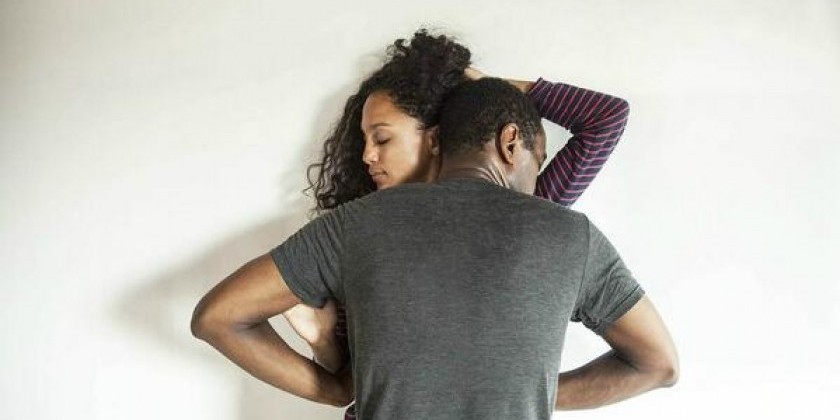 Company:
Legacy Russell & Clifford Owens

Danspace Project Presents
Legacy Russell & Clifford Owens
The Kiss
November 1, 2013 [Fri] at 8PM
FOR IMMEDIATE RELEASE, New York, NY, October 18, 2013 - Danspace Project presents a one-night only event by performance artists Legacy Russell and Clifford Owens. The Kiss marks the debut of a newfound creative intimacy between these two compelling New York-based artists. Bridging dance and performance, The Kiss condenses a full evening's worth of motion into 45 minutes.
Russell and Owens have each investigated themes of intimacy within their respective bodies of work. In Owens' project Anthology (MoMA PS1, 2011) he performed a score written by artist Kara Walker that instructed the performer to "French kiss an audience member." In 2013 Russell created the video short Social Sculpture: In Remembrance of Poise and a Choreography of Loving You Down, which explored the impact of sexuality and desire on the single female form within club space.
This new work examines the construct of "the kiss" as a mechanism of performative action. Russell and Owens map out the geography of the dancehall and the physicality of pursuit in the search for real connection within the artificial construct of the club. The audience is encouraged to participate in the performance by joining Russell and Owens on the stage to dance, drink, and engage. The audience is also encouraged to make use of their cellphones to photograph and videotape throughout the course of the performance; all documentation should be tagged via social media as #TheKiss and directed to @DanspaceProject via Twitter.
Admission: $10 suggested donation at the door. RSVP suggested at www.danspaceproject.org
Location: Danspace Project is located inside of St. Mark's Church in-the-Bowery at 131 East 10th Street (at 2nd Avenue), New York, NY 10003. Phone: (212) 674-8112.
ABOUT THE ARTISTS
Clifford Owens' art has appeared in numerous group and solo exhibitions. His solo exhibitions include, "Anthology: Clifford Owens" Museum of Modern Art PS1 (2011-2012) and "Perspectives 173: Clifford Owens" Contemporary Arts Museum Houston (2011); his group exhibitions include, "Radical Presence: Black Performance in Contemporary Art" Contemporary Arts Museum (2012), "Deliverance" Atlanta Contemporary Art Center (2012), "Greater New York 2005" Museum of Modern Art PS1 (2005), and "Freestyle" The Studio Museum in Harlem" (2001). He studied at The School of the Art Institute of Chicago, Mason Gross School of Visual Arts Rutgers University, and the Whitney Museum Independent Study Program. He was an artist in residence at The Studio Museum in Harlem and he attended the Skowhegan School of Painting and Sculpture. Clifford has received many grants and fellowships including the William H. Johnson Prize, Art Matters Grant, a Louis Tiffany Comfort Award, New York Foundation for the Arts Fellowship, the New York Community Trust, the Lambent Foundation, and the Rutgers University Ralph Bunche Distinguished Graduate Fellowship. Publications, reviews, and interviews about his work include the New York Times, Art + Auction, Village Voice, Art in America, The New Yorker, BOMB, The Wall Street Journal, The White Review, Greater New York 2005, Performa: New Visual Art Performance, and Rethinking Contemporary Art and Multicultural Education. He has written about contemporary performance art for numerous exhibition catalogues and for the New York Times. He has lectured widely about his work and he has held visiting artist faculty positions at The School of the Art Institute of Chicago, The Cooper Union for the Advancement of Science and Art, Yale University, and the University of North Carolina, Chapel Hill. Clifford's recent project, Anthology, was the subject of a solo exhibition at MoMA PS1 and his first book Clifford Owens: Anthology. He currently is working on a commission from Cornerhouse in Manchester, England in anticipation of his first European solo exhibition in 2014; and "Seminar," a project about the pedagogy of performance art at Pioneer Works in Brooklyn, New York. Clifford was born in Baltimore, Maryland in 1971, and he lives and works in New York City.
Legacy Russell was born and raised in New York City's East Village in 1986; she lives and works between London and New York. Russell is a writer, artist, and curator. She has worked at and produced programs for The Bruce High Quality Foundation, Creative Time, the Brooklyn Museum, the Whitney Museum of American Art, and the Metropolitan Museum of Art, NY. Legacy is one-third of the curatorial production team Limited Time Only. In September 2011, she was appointed as Art Editor of BOMB Magazine's renowned online journal, BOMBlog, where she has since stayed on as a Contributing Editor. Outside of BOMB, her work can be found in a variety of publications: DIS, Canteen, The Well & Often Reader, Exit Strata, The Society Pages, Guernica, berfrois, and beyond. Her most recent performance, "Initiation", debuted December 2012 as a commission for The Museum of Arts and Design in New York. A candidate for an MRes of Visual Culture at Goldsmiths University in London, her creative and academic work explores ritual, mourning, remembrance, iconography, and idolatry within the public realm.