Danspace Project Presents Michelle Boulé's "White," April 23-25, 2015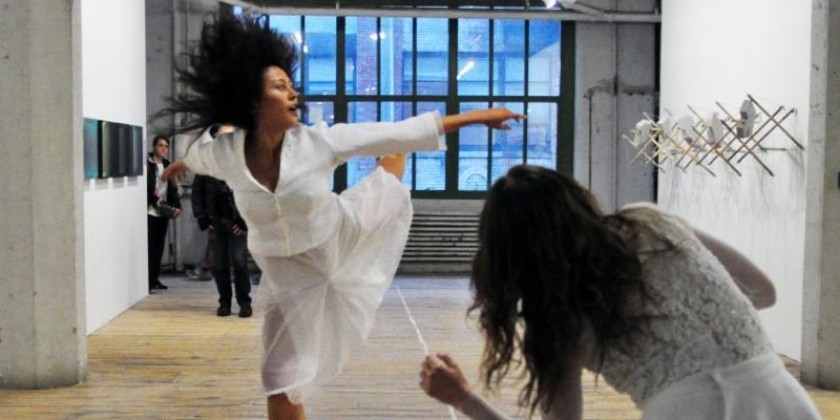 Company:
Danspace Project
Photo: Elyssa Goodman
Danspace Project Presents
MICHELLE BOULÉ
White
Thursday, April 23 - Saturday, April 25, 2015 at 8pm
New York, NY, April 13, 2015 - Danspace Project welcomes Bessie award-winning choreographer, performer, and teacher, Michelle Boulé, with the premiere of her latest choreographic work, White. White is performed by Boulé with Lauren Bakst and Lindsay Clark, and features original music by composer Chris Seeds, costumes designed by Reid Bartelme, and lighting designed by Natalie Robin. Please note: there is no late seating for this performance.
 
"When Ms. Boulé is onstage, it's hard to take your eyes off of her..." (Siobhan Burke, New York Times) 
An accomplished performer/collaborator with Miguel Gutierrez, John Jasperse, Deborah Hay, John Scott, and others since 1999, Boulé has shown her own work in venues across the U.S. and abroad, and has choreographed for educational institutions such as the Latvian Academy of Culture, University of Illinois, and University of Oregon. "My work as a dance artist stems directly from an exploration of the body-what information it holds and conveys and how this relates to a cultural landscape," explains Boulé, a certified BodyTalk practitioner who has explored eastern and western views on somatics, healing, and the physical expression of consciousness.  
 
White stems from an interest in the color white-colors being a frequent reference for Boulé-as well as stylized hairdos, lace, quantum physics, and fractals. "These interests led me into research about material and immaterial worlds and how our moving, living bodies exist inside a matrix of invisible connections." Boulé received a grant from the Jerome Foundation to study BioGeometry, which looks at the invisible frequencies and architectures that surround us, and how different shapes, sounds, and colors all emit specific qualitative frequencies.
 
White considers how movement effects space -the invisible architectures and frequencies created by choreographic form- treating movement like sound in its ability to travel across space. Boulé envisions herself, Bakst, and Clark as physical participants in a "subtle world," as tools for transmitting information beyond that which is immediately perceivable through the 5 senses. She writes, "White is about the harmony and connectivity of our place, potential, and possibility."

An in-progress, site-specific version of White was performed in 2013 at Danspace Project's Performing the Precarious curated by Judy Hussie-Taylor as part of Come Together: Surviving Sandy, Year 1: a collaboration with the Dedalus Foundation and The Brooklyn Rail at Brooklyn's Industry City.
Michelle Boulé (choreographer) is a choreographer, performer, teacher and BodyTalk practitioner based in New York. Her work has been presented by American Realness, ISSUE Project Room, Mount Tremper Arts Festival, "Come Together: Surviving Sandy" at Industry City, Dance and Process at The Kitchen, Movement Research at Judson Church, Center for Performance Research, and Catch Performance Series. Boulé has toured her work to Latvia, Ireland, Canada, Chicago, and Philadelphia. She has received commissions from ISSUE Project Room (Emerging Artist Commission), Danspace Project (April 2015), the Latvian Academy of Culture, Trevor Day School, and the Universities of Oregon and Illinois. Her collaborative duo with composer/cellist Okkyung Lee was most recently featured as the closing performance for (((send + receive))) festival in Winnipeg, Canada, and has also been shown at The Stone and as part of ISSUE Project Room's 10th Anniversary Season. Boulé has been a choreographic assistant and performance coach for Deborah Hay solo adaptations, including an adaptation presented by El Auditorio in Tenerife, Spain. Her choreography has received support from the Jerome Foundation Travel & Study Grant, Foundation for Contemporary Arts Emergency Grants, and Brooklyn Arts Exchange Space Grant. She is a 2015-16 Lower Manhattan Cultural Council Extended Life Dance Development Artist-in-Residence, and she has also had residencies at Movement Research (2012-14), DanceHouse in Dublin, Ireland (2010), and at SKITE in Caen, France (2010). She received the 2014-15 Boekelheide Creativity Award from the University of Oregon, and in 2002, she was a DanceWeb scholarship recipient at Impulstanz in Vienna. As a performer, Boulé has collaborated with Miguel Gutierrez and the Powerful People since 2001, receiving a New York Dance and Performance Award "Bessie" for her performance as James Dean and collaboration in the creation of "Last Meadow." Other artists she has worked with include John Jasperse, John Scott, Deborah Hay (William Forsythe commission "If I Sing to You"), David Wampach, Donna Uchizono, Mark Dendy, Neal Medlyn, Christine Elmo, Neal Beasley, Beth Gill, Judith Sanchez-Ruiz, Doug Varone (Metropolitan Opera Ballet, Opera Colorado), Gabriel Masson, and playwright/director Rosie Goldensohn. She is part of the teaching faculty at The New School and at Movement Research in New York. She has also been faculty at Hollins University and the University of Illinois, as well as a guest teacher at dance institutions in North America, Europe, Australia and Asia. She received her B.F.A. from the University of Illinois, Urbana-Champaign. www.michelleboule.com
Tickets & Location
Location: Unless otherwise noted, all performances and events take place at Danspace Project inside St. Mark's Church in-the-Bowery at 131 East 10th Street (corner of 2nd Avenue) in Manhattan's East Village, New York City.
Tickets and admission: Unless otherwise noted, tickets are $20 General and $15 for Danspace Project members. Tickets available for purchase at www.danspaceproject.org or by phone through TheaterMania/OvationTix at (866) 811-4111.
About Danspace Project
Danspace Project presents new work in dance, supports a diverse range of choreographers in developing their work, encourages experimentation, and connects artists to audiences. Now in its fourth decade, Danspace Project has supported a vital community of contemporary dance artists in an environment unlike any other in the United States. Located in the historic St. Mark's Church in-the-Bowery, Danspace shares its facility with the Church, The Poetry Project, and The Incubator Arts Project. Danspace Project's Commissioning Initiative has commissioned over 450 new works since its inception in 1994.
Danspace Project's Choreographic Center Without Walls (CW²) provides context for audiences and increased support for artists. Our presentation programs (including Platforms, Food for Thought, DraftWork), Commissioning Initiative, residencies, guest artist curators, and contextualizing activities and materials are core components of CW² offering a responsive framework for artists' works. Since 2010, we have produced eight Platforms, published eight print catalogues and five e-books, launched the Conversations Without Walls discussion series, and explored models for public discourse and residencies.
www.danspaceproject.org | Facebook: Danspace Project | Twitter: @danspaceproject | Tumblr: danspaceproject.tumblr.com