Danspace Project Presents Rebecca Davis and taisha paggett Oct. 10-12, 2013 at 8pm.‏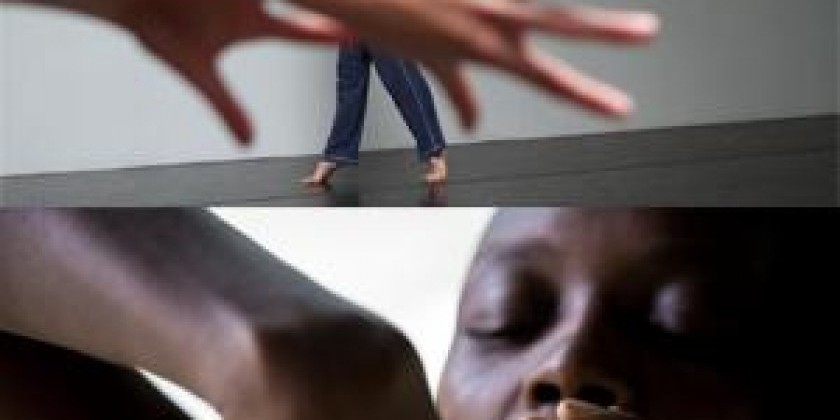 Company:
Rebecca Davis and taisha paggett

Danspace Project Presents
A Shared Evening

Rebecca Davis: will however happen
taisha paggett: a right-angled object who lost her faith in being upright
FOR IMMEDIATE RELEASE, New York, NY, October 2, 2013 - Danspace Project presents a shared evening of work by Rebecca Davis and taisha paggett. "In the fall I am intrigued by the number of artists engaged with history and the way bodies hold and reveal complicated layers of these histories," writes Danspace executive director Judy Hussie-Taylor. Both Davis and paggett are choreographers with an acute awareness of their relation to both dance and art history.
"My pieces begin with reckoning...I search for small things...then I search for moments: a sidelong glance, emphatic pause, problems and inefficiencies. I compose constellations of these," explains Brooklyn-based Rebecca Davis, who has choreographed for visual artist duo Allora & Calzadilla for both the Manchester International Festival (UK) and the United States Pavilion at the 54th Venice Biennale in 2011, and worked with Marina Abramovic as a re-performer in her 2010 Museum of Modern Art retrospective. She has danced with Kathy Westwater, Ursula Eagly, Deborah Hay, Juliette Mapp, and Steve Paxton. Her recent work at Judson Memorial Church explored weather as a physical and metaphorical force of change.
Expressing a gravitation "toward the temporal, fleeting, unpredictable," Davis's work seeks to encompass performance, installation, and sculpture and reflects an interest in the connection between visual and performing arts. In will however happen performers Erin Cairns, Lydia Chrisman, Carolyn Hall, and Kay Ottinger gradate the complexity between the relationships of foot to eyes, hands on hair, breath in hand, jaw and arm, and arm with head. Davis's movement palette combines familiar pedestrian functions and convoluted abstract forms she has been developing over the past six years. Sound by Zach Layton.
Los Angeles and Chicago-based taisha paggett has performed with David Roussève, Stanley Love, Fiona Dolenga-Marcotty, and Victoria Marks. She recently presented work at Danspace Project in an evening exploring the material and temporal qualities of dance within the solo. A recent commission by The Studio Museum in Harlem deconstructed Zumba and the structures of repetition within the popular fitness craze. In this new work, a right-angled object who lost her faith in being upright, paggett calls upon past work to further consider collective movement to build upon performance and installation work centered around a trans-historical figure named Fila Buster. Pulling from her research into GIFs, the cyclical fragmented image and text clips popularized in social media, paggett builds her ongoing inquiry into how we come to understand ourselves as individuals and as members of a society. In a recent conversation with Dancer's Turn, paggett elaborates:
"...I got interested in...exploring the possibilities around inserting character and subjectivity into a dance, seeing what that might add to these questions around identity and fixed-ness. The specificity of identity but also the ambiguity of identity is really interesting to me. And so, all the works I make now have Fila Buster. Her questions, her thought process and subjectivity are present, and she's the one who guides and helps me make sense of it."
a right-angled object who lost her faith in being upright insists on our capacity to re-shape ourselves and to become more human at a time in which physical experience is increasingly replaced by a saturated cyber experience. Performed by paggett, Rebecca Bruno, Anna Martine Whitehead, and Willy Souly. Sound design by Yann Novak. Costumes by James Kidd.
Lighting designer Kathy Kaufmann.
Tickets: Admission is $20 General and $15 for Danspace Members.
Tickets on sale at www.danspaceproject.org or call (866) 811-4111.
BIOGRAPHIES
Rebecca Davis's work encompasses performance, installation and sculpture. Rebecca is a current Resident Artist at HERE Art Center and she was a Movement Research Artist-in-Residence from 2010-2012. Her work has been supported by grants from the American Music Center, Foundation for Contemporary Arts, and Mertz-Gilmore Foundation. In 2011, Rebecca choreographed three works for visual artists Allora & Calzadilla: Body in Flight (Delta) and Body in Flight (American) for the U.S. Pavilion in the 54th Venice Biennale, and Revolving Door for the Manchester International Festival 12 Rooms Exhibition. Davis was a Re-performer of Point of Contact in the Marina Abramovic retrospective: The Artist is Present at the Museum of Modern Art in 2010. She has since taught with Ms. Abramovic on several occasions, including training 40 performers for the exhibition's run at the Garage Center for Contemporary Culture in Moscow, and leading over 1,000 people in the Abramovic Method in Milan. She danced for Kathy Westwater from 2009-2012 and has also performed in the work of Ursula Eagly, Deborah Hay, Juliette Mapp, and Steve Paxton. Rebecca has been in residence at The Atlantic Center for the Arts, Baryshnikov Arts Center, The Bogliasco Foundation, Dance Theater Workshop, and The Field. Her work has been presented by The Chocolate Factory, Dance Theater Workshop, Danspace Project, DiverseWorks (Houston, TX), Chelsea Art Museum, HERE, Movement Research at the Judson Church, The Old American Can Factory, P.S. 122, and Performance Works Northwest (Portland, OR), among others. Davis established the Dance Forum series at The Brooklyn Museum and served as its curator from 2001-2006. She received a Brooklyn Arts Exchange Passing It On Award for her work on this program, which advanced ties between the performing and visual arts. Rebecca is a certified practitioner of the Feldenkrais Method.
taisha paggett makes things and is interested in what bodies do. She believes language is tricky, thoughts are powerful, and that people are most beautiful when looking up. Her work for the stage, gallery and public sphere include individual and collaborative investigations into questions of the body, agency, and the phenomenology of race, and has been presented nationally and abroad, including The Studio Museum in Harlem, Danspace Project(New York City), Defibrillator (Chicago), The Off Center (San Francisco), and BAK Basis Voor Actuele Kunst (Utrecht, NL). As a dancer she's had the honor of working extensively with David Roussève, Stanley Love Performance Group, Fiona Dolenga-Marcotty, Vic Marks, Cid Pearlman, Cheng-Chieh Yu, Baker-Tarpaga Projects, Rebecca Alson-Milkman, Kelly Nipper, Meg Wolfe, Ultra-red, and with Ashley Hunt in their ongoing collaborative project, "On movement, thought and politics." She lives between Los Angeles and Chicago where she's a full-time Guest Lecturer at the Dance Center of Columbia College. She holds an MFA from UCLA's Department of World Arts and Cultures/Dance and is a co-instigator of the Los Angeles-based dance journal project, itch.
Location: Danspace Project is located inside of St. Mark's Church in-the-Bowery at 131 East 10th Street (at 2nd Avenue), New York, NY 10003. Phone: (212) 674-8112.