Danspace Project Presents new work by Anna Azrieli and Rebecca Brooks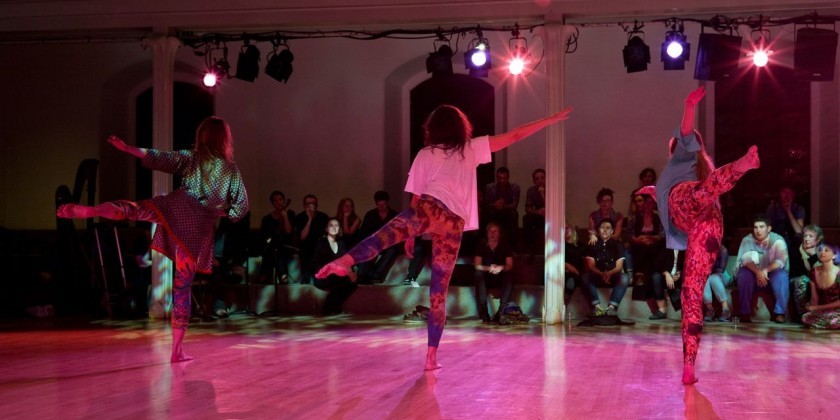 Company:
Danspace Project
[Image © Rebecca Brooks. Photo by bibiaba]


Danspace Project Presents a Shared Evening of New Work by Emerging Artists Anna Azrieli and Rebecca Brooks
April 10-12, 2014 [Thu-Sat] at 8pm
FOR IMMEDIATE RELEASE - New York, NY, April 2, 2014 - Danspace Project Presents three evenings of all new work by New York-based emerging choreographers Anna Azrieli and Rebecca Brooks. Both Azrieli and Brooks offer trios for their first Danspace commissions.
Soviet-born and raised in New York City, Anna Azrieli's choreography has been presented throughout the city. She is a founding company member of Miguel Gutierrez & the Powerful People and has worked with Wendy Perron, Fred Darsow, Sam Kim, luciana achugar, Clarinda Mac Low, and David Thompson. Third in a series, Azrieli's third skirt scrum explores perspective and the process of hiding and revealing. Seeking refuge from the quotidian via literature and film, Azrieli found solace in the manners and rituals exemplified in the writing of Jane Austen as well as the dark, romantic obsessions of Charlotte Brontë's Jane Eyre. "The tug of romantic nostalgia for eras I never experienced, nor in harsh reality would ever want to, would overtake me after a day of dealing with the drudgery of everyday life. I wondered if this addiction stymied my life so I created my way out of the obsession," says Azrieli. Outfitted in large hoop skirts, performers Azrieli, Talya Epstein, and Connor Voss are pulled by a mysterious gothic object as they seek transformation through repetition. With sound by Karl Scholz.
As a performer Rebecca Brooks has worked with Marina Abramovic, luciana achugar, Maria Hassabi, Susan Rethorst, and robbinschilds. She is co-founder of popular New York performance entity, AUNTS. Still Left On This Rock made in collaboration with fellow performers Ursula Eagly and Emily Wexler, is inspired by the subterranean limestone caverns of Virginia and the cathedral-like caves of Myanmar. Through elements of improvisational scores, Brooks excavates perceptions of timelessness, unearthing experiences of irreconcilable loss. Internal landscapes emerge as the three women explore sequences intended to enhance sensory integration and challenge neural connectivity. Explains the choreographer, "questions relating to permeability, togetherness, solitude and relief haunt this work," which features sound design and live music by Hart of Gold (Jessie Gold and Elizabeth Hart), and costumes by Rebecca Brooks & Electric Feathers with Costume Consultant James Kidd. Lighting design by Carol Mullins.
Anna Azrieli is a choreographer, performer, and teacher. She worked primarily as a dancer until starting to create her own work five years ago. Later this Spring 2014 she will participate in New Dance Alliance's Performance Mix Festival. In 2013 she took part in the Kitchen's Dance and Process series with an exploration of "Average" and Food for Thought at Danspace Project with the second incarnation of her "Skirt Scrum" series. The first incarnation of "Skirt Scrum" was shown at Movement Research Spring Festival 2012, Center for Performance Research, and Movement Research at the Judson Church. She was a Movement Research Artist-in-Residence 2010-2012, co-curating two Studies Projects and moderating several Open Performances. She showed "If you look up" there as well as at Roulette, Open Source Gallery, Ulla's Salon, and Aunts. Her first work "Belly" was shown at Danspace Project's DraftWork, Catch 40, and Dixon Place's Brink. Anna has also made work collaboratively, with Marya Wethers, with Pascale Wettstein, and with Abby Crain/Samuael Topiary. As a performer she has worked with David Thompson, Clarinda Mac Low, luciana achugar, Sam Kim, Donna Uchizono, Wendy Perron, Fred Darsow, Maya Ciarrocchi, Erin Cornell, Olase Freeman, and Lynn Marie Ruse/Freefall. She is a founding member of Miguel Gutierrez & the Powerful People, working and touring with the group 2001-2011 on "Everyone", "Retrospective Exhibitionist/Difficult Bodies", "dAMNATION rOAD", "I succumb", and "enter the seen". Anna has taught through ClassClassClass, Moscow's TSEKH, and University of Texas Pan-American. She is also a yoga teacher. She holds a BFA in Dance from NYU's Tisch School of the Arts. Anna emigrated from the Soviet Union at age 7 and grew up in Queens, NY. She resides in Brooklyn, NY.
Rebecca Brooks is a dance artist who, since earning her BA from Sarah Lawrence College in 2003, has worked in New York City as a choreographer, performer, advisor, and teacher. Often durational in nature, Rebecca's recent performance works have been presented at Danspace Project's Performing the Precarious program at Industry City, TIMESHARE at Arts@Renaissance, NADA Art Fair through Café Dancer's Contemporary Dancing Program, the Not Festival at Greenspan Center, Solar One produced by Dance Films Association, and Veronica People's Club. Earlier, shorter works were presented from 2005-2007 throughout NYC at Danspace Project (Food For Thought), Brooklyn Arts Exchange (Women's Performance Festival), LaMaMa (Catch! at LaMaMa Moves), and Dixon Place (Brink, Crossing Boundaries, Body Blend). Rebecca is committed to working as a performer for independent artists and choreographers. Recent projects have included work with Marina Abramovic (Imponderabilia, Museum of Modern Art's Abramovic retrospective, 2010), luciana achugar (FEEL...FORM, 2012), Maria Hassabi (The Ladies, 2011-12), Susan Rethorst (Beau Regard, 2011), and robbinschilds (Sonya and Layla Go Camping, 2009-10; Seriously Heavy, 2006). She has also performed with Walter Dundervill, Jillian Peña, Katy Pyle, Kathy Westwater, MGM and others. Work in an advisory role includes projects with Heather Kravas (a quartet, 2013-14; The Green Surround, 2011) and Milka Djordjevich (Kinetic Makeover, 2013). Rebecca's dedication to the field extends to include curation, production, and administration. She co-directed the Rockbridge Artist Exchange in Lexington, Virginia (2009-2013). She worked deeply and in various capacities with Movement Research (2005-2011). In 2005 she co-founded the shape-shifting entity AUNTS. Rebecca is an AmSAT certified Alexander Technique teacher and has a private practice in Brooklyn and Manhattan. She is currently on faculty at Movement Research and Balance Arts Center, and was previously on faculty at Playwrights Horizons Theater School (NYU Tisch), St. Margaret's House, and CLASSCLASSCLASS. She has taught workshops at the Fieldston School, General Theological Seminary, and the Freedom To Move conference in NYC, at On the Boards in Seattle, WA, and at the American Dance Festival in Durham, NC. Rebecca grew up in Lexington, VA. She now lives in Brooklyn, NY, with her wife and their three cats. www.rebeccakelleybrooks.com
 
Tickets and Admission: Performance admission is $20 General and $15 for Danspace Project members. Purchase tickets online at www.danspaceproject.org or by calling OvationTix/TheaterMania at (866) 811-4111.
Location: Danspace Project is located inside St. Mark's Church in-the-Bowery in New York City's East Village. 131 East 10th Street (at 2nd Avenue), New York, NY 10003.  
Phone: (212) 674-8112. Website: www.danspaceproject.org.
Funding: The creation of third skirt scrum was made possible, in part, by the Danspace Project 2013-14 Commissioning Initiative, with support from the Jerome Foundation. third skirt scrum was created at the Mark Morris Dance Center. The creation of Still Left On This Rock was made possible, in part, by the Danspace Project 2013-14 Commissioning Initiative, with support from the Jerome Foundation. The creation of this work was also made possible through a residency, which is a partnership between Mount Tremper Arts and Danspace Project's Choreographic Center Without Walls, and is supported by the New York State DanceForce with funding from the New York State Council on the Arts Dance Program. Still Left On This Rock was also created during the 2013-14 LEIMAY Fellowship at CAVE, Brooklyn, NY. Additional residency support provided by Rockbridge Artist Exchange, a program of the Community Dance Connection Theater, Lexington, VA. Some materials for Still Left On This Rock provided by Materials for the Arts (a joint program of the NYC Department of Cultural Affairs and the Department of Sanitation).

ABOUT DANSPACE PROJECT:
Danspace Project presents new work in dance, supports a diverse range of choreographers in developing their work, encourages experimentation, and connects artists to audiences. Now in its fourth decade, Danspace Project has supported a vital community of contemporary dance artists in an environment unlike any other in the United States. Located in the historic St. Mark's Church in-the-Bowery, Danspace shares its facility with the Church, The Poetry Project, and The Incubator Arts Project. Danspace Project's Commissioning Initiative has commissioned over 450 new works since its inception in 1994.

Danspace Project's Choreographic Center Without Walls (CW²) provides context for audiences and increased support for artists. Our presentation programs (including Platforms, Food for Thought, DraftWork), Commissioning Initiative, residencies, guest artist curators, and contextualizing activities and materials are core components of CW² offering a responsive framework for artists' works. Since 2010, we have produced seven Platforms, published seven print catalogues and five e-books, launched the Conversations Without Walls discussion series, and explored models for public discourse and residencies.