"Detroit" - two stories by Douglas James and Sandra Osip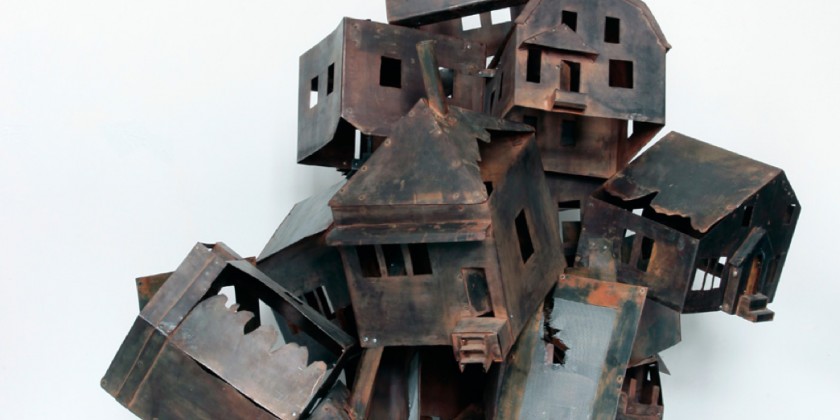 Company:
Douglas James and Sandra Osip

November 1 - November 29, 2015
Opening reception: Fri., Nov. 6, 6-8pm
Detroit - two stories
Douglas James and Sandra Osip
With this installation in the FiveMyles garage space, two native Detroit artists tell two different stories about their hometown. When Sandra Osip went back to Detroit two years ago to visit her childhood neighborhood, she found nothing but decaying vandalized houses and broken up sidewalks; her own home as well many others had completely disappeared.
Sandra Osip's sculptures in the exhibition lament the destruction of a city she loves. She has created a series of "junk heaps" of urban ruin, crushed and piled-up buildings that represent entire neighborhoods in Detroit, left to disintegrate
James Douglas' new paintings are a tribute to the lively art scene that existed in Detroit 40 years ago, and in which he actively participated.
A generation of artists emerged in the late 1960's and 70's setting up studios along Cass Avenue and establishing a new lifestyle in Detroit. A rapid cycle of exhibitions took place at the legendary Willis Gallery, an artist's collective, with other galleries following in quick succession. The Detroit Institute of Art celebrated this era of artistic ferment with the 1981 retrospective exhibition Kick out the Jams.
Today Detroit's art scene inherits and builds upon those origins with new generations of emerging artists, and with many of the pioneers still living and working in the city. Douglas James' vibrant paintings celebrate this earlier scene.
Gallery Hours: Thu-Sun, 1-6pm

Directions: Take 2,3,4 or 5 trains to Franklin Ave in Bkln. Walk 2 blocks against the traffic on Franklin, turn left into St. Johns Place. Walk past construction site to FiveMyles, 558 St. Johns Place.