Diwali Festival at Flushing Town Hall (WATCH FROM HOME)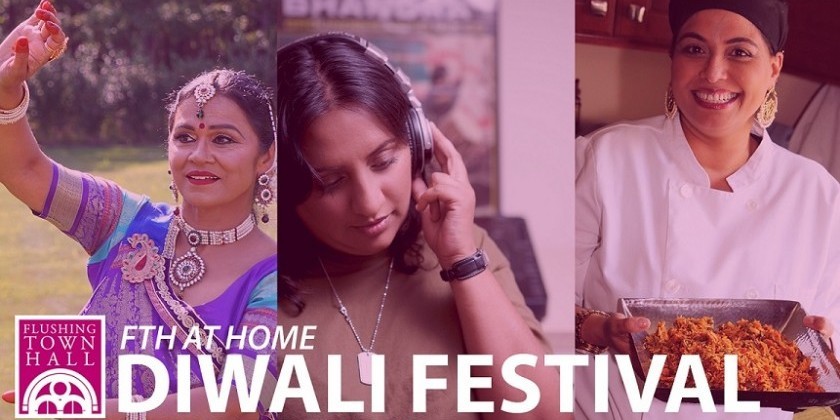 Company:
Flushing Town Hall
Diwali Festival
SAT, NOV 7, 7 PM EST
STREAMING ON ZOOM 
On Saturday, November 7, Flushing Town Hall will celebrate the Festival of Lights with its sixth annual Diwali Festival–reimagined as a FREE virtual event. Our virtual celebration mixes live and pre-recorded content and opens with footage of a home traditionally decorated for Diwali and an explanation of the holiday and traditional foods. Then Nupur Arora, owner of Queens Curry Kitchen will demonstrate mouth-watering authentic Indian dishes with ingredients that you can find at your local grocer, including aloo gobhi (spiced potato and cauliflower), tikka marsala sauce for chicken or tofu, and chai tea. Then move the furniture and get ready to move as master Indian dancer Abha B. Roy and the Srijan Dance Center shows you traditional, folk and Bollywood dance moves.  This is followed by, a three-minute, fun-filled set with Rutgers Tamasha performing a choreographed piece entitled "Riot Maari," blending a variety of dance forms starting with hip-hop, transitioning to their roots of traditional Bollywood dance, and then ending with classical Southie moves! The piece has been choreographed by Bhaavi Patel and Aarushi Bhardwaj. Now that you are energized, keep moving as DJ Rekha spins the music for a 30 minute Bhangra dance party.
The free event runs from 7:00 PM - 8:30 PM on Zoom: https://us02web.zoom.us/j/83474221283.
Audiences can support these amazing artists and Flushing Town Hall by making a donation- and receive some fantastic gifts.
Please visit http://www.flushingtownhall.org/diwali-festival for more information and updates.