Dixon Connect Virtual, A Networking event for Every Creative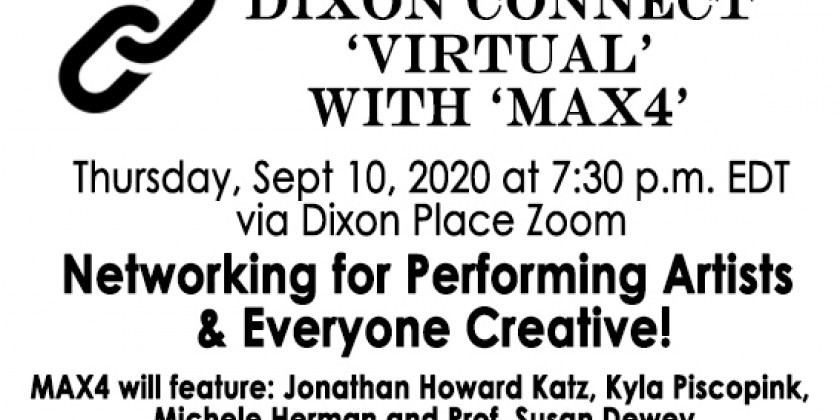 Company:
Creative Performances
A Virtual Networking Event with "MAX4" Performance Segment
Presented by Dixon Place and Creative Performances, via DP TV Zoom
If you are in Facebook, please RSVP in the Facebook event and you will be notified when we share the zoom link. Here is the FB event link: https://www.facebook.com/events/2686030674992352/
Event link: http://dixonplace.org/performances/dixonconnect-virtual-9-10-2020/
Date: THU, SEPT 10, 2020,
Time: 7:30 PM EDT
Where: DP TV Zoom. 
You may also register in Eventbrite..  It is FREE to attend.  But, there are donation options, as well.* You will receive the zoom link via email on the day of the event.   https://tinyurl.com/y6mpzwsd
Calling everyone creative of all backgrounds – artists, dancers, choreographers, designers, musicians, actors, writers, comedians, photographers, and everyone in-between and beyond….to come and network, connect, share your events/projects,  explore ideas, learn about other projects and learn how to be involved, and have fun! This is a great opportunity for creative people to come together to find ways to collaborate and cross-pollinate.
MAX4 presents 4 live performances of max 4 minutes each before we start introductions and networking. 
MAX4 Performers for the virtual version:
* Musician/Composer: Jonathan Howard Katz
* Dancer: Kyla Piscopink of Dance Key West collaborating with Prof Susan Dewey, lead editor of "Telling My Story: Voices from the Wyoming Women's Prison". 
* Writer: Michele Herman 
Estimated runtime is 60 minutes. 
I hope you will join us to support the MAX4 artists and mingle and share about yourself and your work after the performance.