Dixon Place Presents CREATURES OF HABIT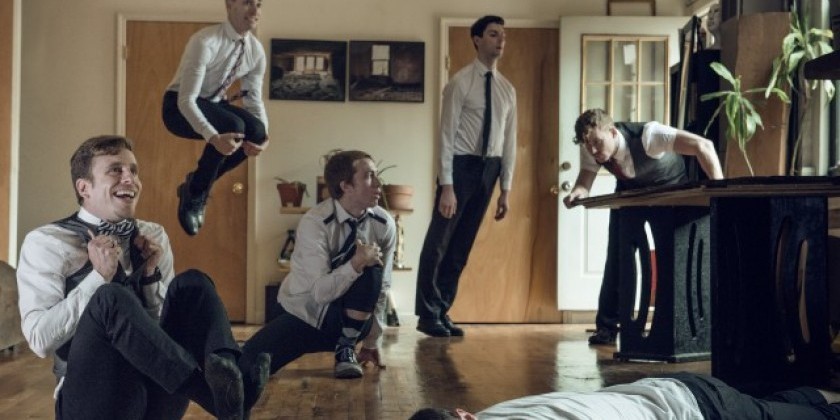 Company:
Dixon Place
DIXON PLACE
Presents 
THE WORLD PREMIERE OF A NEW DANCE WORK
CREATURES OF HABIT
CHOREOGRAPHED BY JONATHAN ROYSE WINDHAM
 PERFORMANCES OCTOBER 3RD, 4TH, 10TH, 11TH, 17TH AND 18TH AT 7:30 PM 
AT DIXON PLACE ~ 161A CHRYSTIE STREET ~ NYC
Dixon Place (Ellie Covan, Artistic Director) is pleased to present a world premiere of Creatures of Habit, choreographed by Jonathan Royse Windham to original music composed by Daniel Kazemi.  Mr. Windham was recently named one of Dance Magazine's "25 to Watch."   Creatures of Habit will play for three weekends beginning Friday, October 3rd through Saturday, October 18th.  Tickets are $16 in advance, $20 at the door and $12 for students and seniors. For tickets for all performances at Dixon Place (161A Chrystie Street), call 212.219.0736 or go to www.dixonplace.org.
In Creatures of Habit, Jonathan Royse Windham's latest work, seven dancers with dynamic physicality find themselves in an absurd, yet strangely familiar universe.  Choreographed to an original score, the piece draws its inspiration from slapstick comedy, children's stories, game shows and existential drama.
Current cast includes:  Eric Berry, Clinton Edward, Niall Lessard, Elliott Reiland and Joshua Stansburry.   Additional performers are soon to be announced.
Creatures of Habit will pay the following performances at Dixon Place:
Friday, October 3rd at 7:30pm
Saturday, October 4th at 7:30pm
Friday, October 10th at 7:30pm
Saturday, October 11th at 7:30pm
Friday, October 17th at 7:30pm
Saturday, October 18th at 7:30pm
Dixon Place is located at 161A Chrystie Street (between Rivington and Delancey), in Manhattan's Lower East Side (by subway: F to 2nd Ave, J/Z to Bowery, 6 to Spring St, M to Essex St).  
For tickets and information for all shows, call 212.219.0736 or go to www.dixonplace.org.
The Dixon Place Lounge is open before, during, and after the show. Proceeds directly support Dixon Place's artists and mission.
Jonathan Royse Windham a native of Vail, CO, was recently named one of Dance Magazine's "25 to Watch." He has worked with The Metropolitan Opera, The Santa Fe Opera,Gallim Dance, American Repertory Ballet, Brian Brooks, Brice Mousset (OUI danse), Terra Firma Dance Theater, the Kevin Wynn Collective, Ramon Oller, Alexandre Proia, and the DASH Ensemble. His choreography has been shown several times at Dixon Place, Dancers Responding to AIDS at the Cedar Lake Theater, the American Repertory Ballet choreography workshop, Philadelphia Fringe Festival, The Staller Center at Stony Brook and Center for Performance Research. He is also founding choreographer and former curator at the Current Sessions.
Dan Kazemi (Music) is a composer, actor, orchestrator, music director and educator. Dan's original music has been performed at the World Festival Of The Circus Of Tomorrow in Paris, at the A.W.A.R.D. Show, Philadelphia, and in 213 Productions collaborations, Untitled Project #213 and Your Attention Please! Dan most recently orchestrated and musically directed the world premiere musical, Tulipomania at the Arden Theatre Company. He has pioneered Milwaukee Rep's new musical programming with recent productions of Always Patsy Cline, Next To Normal and last season's Cabaret. Dan musically directed Tick, Tick... Boom!, Austentatious, the PhillyRocks! concerts, The World Goes Round (Barrymore nomination), Reefer Madness, Little Shop Of Horrors, Rooms and The Great American Trailer Park Musical for 11th Hour Theatre Company. He received a Helen Hayes Nomination for his work on the D.C. premiere of The Musical Of Musicals: The Musical, a Barrymore Nomination for The Flea And The Professor (Arden Theatre Company), and a Barrymore Award for 11th Hour's Avenue X. At the Walnut Street Theatre, Dan musically directed, arranged and performed in The Irish And How They Got That Way (Two Barrymore Nominations).
Dixon Place, an incubator for performing and literary artists since 1986, is a non-profit organization committed to supporting the creative process by presenting original works of dance, theater, music, puppetry, literature, performance and visual art at all stages of development. Presenting over 700 artists each year, this local haven inspires and encourages diverse artists of all stripes and callings to take risks and push personal and professional limits. Dixon Place's foremost priorities are to serve as a safety net for artists, and to provide vivid experiences for audiences. Many artists, such as Deb Margolin, Blue Man Group, John Leguizamo, Lisa Kron, David Cale, Penny Arcade, and Reno began their careers at Dixon Place. In addition to emerging artists, Dixon Place has also been privileged to present evenings of new and experimental work by more established artists, such as -- Theater/Performance: Justin Vivian Bond, Taylor Mac, Lily Tomlin, Wallace Shawn, Craig Lucas, BD Wong, John Fleck, Kate Bornstein, Ethyl Eichelberger, Holly Hughes, Karen Finley, Kate Clinton, Peggy Shaw, Alan Cumming, Big Art Group; Literary: A.M. Homes, Rick Moody, and Oscar Huelos; Dance: Mark Dendy, Jane Comfort, Douglas Dunn, and Yoshiko Chuma; Music: Vernon Reid, Rodney Crowell, Diamanda Galas, Martha Wainwright, Loudon Wainwright, Lucy Wainwright Roche, Suzzy Roche, Maggie Roche, Rodney Crowell, Cyndi Lauper, and They Might Be Giants.
In 1989, Ellie Covan, founding director, was a recipient of a Bessie, a New York Dance and Performance Award, for her service to the community; and Dixon Place received a Village Voice Obie Grant Award in 1990 and 1999. Additionally, in 1999, Dixon Place was awarded an Edwin Booth Award for Excellence in Theater.
For more info, visit: www.dixonplace.org 
Twitter:  @dixonplace     Facebook: facebook.com/dixonplace.